Welcome to the STJVs U11s Warriors
Welcome to Sidmouth U11 Warriors pages! Browse below for news (latest first), match reports, photos (coing soon) etc. If you have anything you would like to add - especially photos - please email me. Contact details are on the Club Directory page. Happy browsing...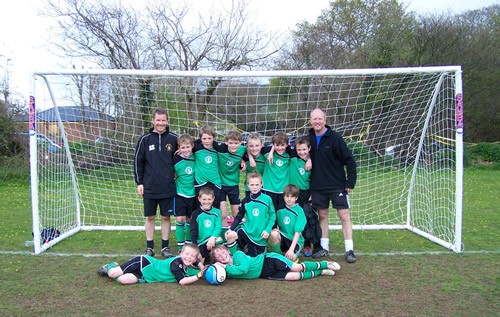 ECFC Shoot-out 21/4/12 It's come round at last! Players (& parents sitting in Flybe stand), we're meeting outside the Flybe Grandstand by 2.15pm please, in kit even if a bit muddy from the morning! Please bring boots. At 3.35 (ie towards end of the first half) we'll be taken to change into boots, then during the half-time interval will have 8 minutes of continuous shoot out (to be practiced after Saturday's match). At the start of the second half the boys will also do a guard of honour at the players' tunnel as the teams return to the pitch. Should be a great day!
Match 21/4/12 We're playing Twyford at home this Saturday April 21st, meeting at Sidford by 9.45 please. We'll be doing a quick penalty practice after the match in preparation for the afternoon, should be all done by midday.
All dates on the U11s Warriors Fixtures & Training Schedule below.
April 18th: Alphington 1 Sidmouth 5
So, another must-win game. Pressure? Not a bit of it! The boys transformed any pre-match nerves into energy & determination to pick up 3 vital points for the fourth time in a row.
After an even start Sidmouth began to win the midfield battles and looked threatening on the break. Dylan Nicholas put in awesome crosses which we couldn't quite put away. Meanwhile in defence Will Ashby was faultless, timing tackles, headers & clearances to perfection, James Emmett on hand too to sweep up any further danger behind. Meanwhile novice keeper Ollie Truman was a revelation. Decisive & intelligent, he caught & distributed confidently, and made a great save with his legs.
Eventually the first goal came, Louis Spalding running on to a ball down the right and lobbing the ball over the despairing keeper. With the celebration you could sense the team's belief grow - go Greens!
The 2nd half couldn't have started better. Using the full width of the pitch Jacob Rice & Toby Garrick carved through Alphington's midfield, Dylan Nicholas eventually collecting in the area and with a great, first-time right-foot finish made it 2 nil. Two minutes later Jay Harris finished a similar, delightful move with his right to make it 3! Alphington tried desperately to rally and although they got one back they were losing heart. One reason was Ben Shorthouse who made life very hard for his opponents, marking closely and fearless in 50-50s.
A fine long-range effort by Jacob Rice made it 4, then Toby Garrick's lovely through ball found its way into the net too to make it 5 and put the game out of reach. In such a good team performance there were several man-of-the-match candidates, Will Ashby deservedly edging the honours for his bravery and commitment.
Brilliant boys! Now, let's do it again - just one more time!!
March 31st: Sidmouth U11 Warriors 2 West Exe 1
Another Saturday, another nail-biter!
The Sidmouth boys knew the strapping West Exe team would take some beating, but they were up for it. The first half was striking for the quality of Sidmouth's tackling, especially from backs James Emmett, Will Ashby & Ollie Truman. Jack Miller was masterful in goal.
Neither team could quite gain control of midfield, but the trio of Dylan Nicholas, Louis Spalding & Lucas Richardson were playing the more fluent football. Ben Plowden held the ball up well in front. The boys could sense that West Exe were getting more frustrated than we were. Although it was stalemate half-way through, Sidmouth had the momentum.
We started the second half brightly. Jacob Rice made an excellent run down the right, then lobbed the keeper from a tight angle, 1 nil!
Magic touches from Toby Garrick helped us play through West Exe's midfield, and with 5 minutes left we broke quickly from the left, Jay Harris running on to the ball to make it 2 nil from close range.
Still Sidmouth couldn't relax. West Exe pulled one back with a superb cross and fine header but fortunately it was too little too late. A even game finished 2-1 with a huge cheer from the boys, parents & coaches - against very tough opposition the boys were deservedly delighted with the win. Great performance lads!
Stoke Hill 3 Sidmouth U11s 4, March 24th
This was as thrilling a victory as they come, and surely the most exciting game of football played anywhere last Saturday.
The stakes were high for both teams, a real 6 pointer in the battle for survival in U11s Div 1.
Although Sidmouth lacked urgency in the first 10 minutes, intelligent defence from Will Ashby and Ollie Truman kept things safe. Dylan Nicholas looked dangerous on the left, then Jay Harris's excellent finish on the break put us one up.
Stoke Hill pulled it back with a lucky cross which dipped under the bar, then went ahead with a fierce 20 yard strike. We needed an equaliser and it came from a belting Louis Spalding shot 15 yards out into the top corner.
Stoke Hill then replied with a 3rd for the half-time lead but there was still everything to play for. We came out determined, and coach Mike Garrick had a cunning plan for rotating tiring players. Ben Plowden dinked & swerved on the right, Jacob Rice & Toby Garrick battled for possession in the centre. It took a good 20 minutes but eventually the pressure allowed Rice to shoot, the keeper parried & Spalding slotted the rebound. 3-3!
By now Stoke Hill were reduced to long-range pops, but couldn't get through great blocking by Ben Shorthouse and brave keeper Sam Appleby.
With just seconds to go James Emmett cleared massively upfield, the ball bounced over the last defender while Spalding ran on, then - with the last kick of the game - he chipped the keeper and scored!!! Cue crazy celebrations. Hat-trick hero Spalding was man-of-the-match for his role in what was in a unforgettable never-say-die performance from every member of the team.
Sidmouth Warriors 7 Exmouth 2, 17-3-12, Sidford
The U11 Warriors stunned Div 1 seaside rivals Exmouth with an outstanding display of attacking football last Saturday.
First half Lucas Richardson excelled on the right wing, threatening going forward and tracking back to win possession when needed. Assisted by Jacob Rice we had control of midfield, and soon a goal came, a superb 15 yard strike from Richardson. Then followed a net-breaker from busy Jay Harris, and another from Spalding at close range.
Three didn't feel comfortable enough, especially when Exmouth got one back! But robust defending from Emmett & Shorthouse kept it tight at the back and the score to 3-1 at half time.
The second half we were ruthless. Several attacking moves came from sublime creative touches & passes from left back Garrick. Brave first-half keeper Miller put away a fourth, a early left-footed strike from Spalding and a second from Harris too made it six. Man-of-the-match Nicholas's excellent work-rate on the left wing was rewarded with a seventh. Exmouth scored a late consolation but 7-2 was a huge result, our first home win of the season and a fantastic team performance.
Same again next week boys!!!
West Exe vs Sidmouth Warriors, 18/2/12 (away)
Our lads were in sparking form last Saturday - focused and confident on the ball.
A very unlucky own-goal left us one down early on, but the boys kept their cool. The midfield trio of Dylan Nicholas, Jacob Rice and Toby Garrick put their opponents under constant pressure, winning the ball and distributing it intelligently. Rice's lovely through-balls in particular looked as if they would produce something, then Lucas Richardson ran onto one with his first touch of the game and finished brilliantly - 1-1 and game on!
Sidmouth's defence was immaculate. Will Ashby especially timed tackles superbly & knew instinctively when to play out of defence, or when just to clear.
Meanwhile the pressure upfront was starting to tell, and in a scramble James Emmett's brave, determined header put us 2-1 up. Our opponents were getting rattled.
We needed and third goal and in the second half we went nail-bitingly close when a lightning break by Jay Harris forcing a great save. Louis Spalding too was very threatening. On the right Jack Miller and Ollie Truman controlled their territory fiercely, while at left-back Ben Shorthouse was mature and composed, his best game yet.
But West Exe began to push back, and eventually equalised from close range. A hair-raising last 5 minutes meant the match could have gone either way, but it finished 2-2, a wonderful game played in great spirit, which Sidmouth would have won on points if football was judged like boxing! Really well played lads, every single one of you.
Sidmouth Warriors U11s vs Twyford Madrid, Feb 18th (away)
Forgive me everyone - pushed for time & memory failing this week so have only mentioned a few of the boys, sorry to the rest of you because you all deserve a mention for the 2nd half performance! Anyone wants to edit or add to this please feel free, just email me...
Some days things just don't go your way - unfortunately for the U11 Warriors it's most Saturdays at the moment!
Away at Twyford last weekend, we started brightly, controlling possession, confident on the ball. Then an unlucky deflection and a couple of speculative looping long range shots which dipped under the bar and we were 3-0 down. So unfair! The good football had been Sidmouth's, quick on the break, committed in defence. We hit the crossbar, the post, and Toby Garrick forced an excellent save from the Twyford keeper.
It was defensive rock Archie Marchant's last game, and the rest of the team promised him a good performance. Better than that, the second half was excellent. Superb tackling especially from Archie himself kept Twyford out of the final third. We controlled the game now. Eventually upfront Louis Spalding ran on to a lovely through ball from Jacob Rice to slot the ball home with his left foot. We forced several more great saves from the Twyford keeper, who was the difference between the two teams.
It finished 3-1 but the boys can be very proud of the standard of their football, and a fitting farewell to their loyal team-mate Archie - we'll miss you!
Sidmouth U11 Warriors vs Cullompton, Sat Jan 21st (away)
V. pushed for time this week so it's a more, er, impressionistic report.
For the whole, courageous squad: Will Ashby, James Emmett, Toby Garrick, Olly Truman, Archie Marchant, Jay Harris, Lucas Richardson, Ben Plowden, Louis Spalding, Jacob Rice, Dylan Nicholas.
Whipping wind, lashing rain, sloping pitch, ball hard as a rock.
Beefy opponents.
First half Sidmouth's, by a yard. Chances flash. Why won't they go in?
Supporters nervy.
Second half physical. Two boys off injured. Another limps on.
Oppo gaining upper hand. Perhaps they like the weather, the pitch, the ball?
Last 5 mins - extra time beckons, we can regroup.
No! Concede two scrappy goals. But we don't give up.
Final whistle, handshakes, weary trip home.
Just wasn't our day.
But boy we tried.
Tiverton Town vs. Sidmouth U11 Warriors, Jan 14th (away at Tiverton)
The Warriors put up an excellent fight against top-of-the-table Tiverton on Saturday.
For much of the game we played the better football, Miller, Richardson & Harris using the wings well, ably supported by Garrick, Marchant & Truman in defence. Tivvy scored an early breakaway goal, then a penalty, but Miller replied with a superb looping shot from 15 yards out. Rice, Plowden & Ashby constantly threatened the Tivvy area but an extra touch was intercepted by Tivvy's alert defenders almost every time.
In spite of conceding a third at half-time we felt more than capable of a come-back. The 2nd half was very tight. Spalding & Emmett worked especially hard in the centre of the pitch. Three Tivvy chances went close; we won corners & pushed forward but couldn't convert the advances to goals.
Understandably flagging at the end we conceded two more in a rather extended added time, the final 5-1 scoreline flattering Tivvy though we can learn from the quality of their finishing. Their manager was very complimentary about our boys football - praise indeed boys!
Sidmouth U11 Warriors vs Stoke Hill, Sidford Dec 17th
Oh it was so nearly so different! If ever there was a game of two halves it was this one...
For the first 10 minutes Sidmouth played all the football. Jack Miller went tantalisingly close twice, first with a spectacular long-ranger just wide, and again with an acrobatic volley a fraction over the bar. Will Ashby was also busy upfront, while Archie Marchant timed his tackles well at the back. Then, things went against us - dangerous-looking Dylan Nicholas limped off injured, followed by two unlucky breaks - a long range punt upfield by Stoke Hill simply died in our swampy penalty area and dribbled over the goal line, then a shot straight out of the low sun totally blinded keeper Ben Plowden, and we were an undeserved 2-0 down.
Our heads dropped while Stoke Hill grew in determination - now they were quicker to the ball, braver in the tackle, and more selfish in front of goal. A third goal came, then the half-time whistle - not a moment too soon and a chance to regroup. In the second half we were a different side. We'd found our usual intensity & belief, Jay Harris leading the way on the left. Eventually Miller's nice little pass under the advancing keeper brought one back, and James Emmett managed to put away a penalty in the thick mud without falling over. Sadly Stoke Hill replied to both our goals but at 2-5 down there was still no sign of us giving up. Then a champagne moment - Toby Garrick pushed quickly upfield, beat 3 defenders and from the edge of the area fired low inside the left-hand post for our third!
For the last 10 minutes we camped in Stoke Hill's half, trying to find a way back to level terms. Time & again Jacob Rice won the ball, turned and threatened to score, Lucas Richardson whipped in crosses and corners, Ben Plowden kept the pressure on Stoke Hill's defence while Louis Spalding mopped up any scraps in midfield and Ollie Truman kept our composure at the back. Unfortunately we were attacking the soggiest end of the pitch which by now was a quagmire, slippery and hard to pass or shoot. Neither a crazy goalmouth scramble nor a very good penalty shout went our way. So although we took the second period honours it ended 3-5, but what an exciting finish! Dynamic centre forward Jacob Rice was Man of the Match. Great comeback boys!!
Sidmouth U11 Warriors vs Exmouth Amateurs, Dec 3rd 2011
Every one of Sidmouth's U11 Warriors showed tremendous stamina & belief to seal a thrilling and deserved victory away at Exmouth Amateurs last Saturday.
We started tentatively, giving Exmouth too much space & time to attack us. Eventually Ben Plowden was forced to make an excellent save, but the ball somehow squeezed over the line. Yet as so often before going one down galvanised the Warriors. Upfront Dyls Nicholas was full of committment, while Toby Garrick's quick creative play down the left opened Exmouth's defence. Then in a frantic tit-for-tat period of play, we equalised through Jacob Rice, Exmouth scored a 2nd, Rice another, then Exmouth a third! But by now the 3-2 scoreline flattered Exmouth as most of the quality and possession was Sidmouth's.
In the 2nd half we took control. Louis Spalding, Jacob Rice and Jack Miller worked the ball around Exmouth's players with skill, while Nicholas and left back Truman did the same on the left. Plowden was a handful at centre-forward, the pressure eventually leading to Spalding's equaliser. Meanwhile excellent defending from Archie Marchant, William Ashby & especially James Emmett, plus Lucas Richardson's safe hands in goal, frustrated Exmouth. We maintained our shape and passing, and sensed a fourth coming. Louis Spalding shot, did it cross the line? The boys thought so, the ref agreed - 4-3 to Sidmouth! Now supporters were begging for the final whistle, then Rice calmed nerves with a fifth for his hattrick. A fantastic match finished 5-3 to Sidmouth, Louis Spalding taking man of the match honours in what was a top-notch all-round team performance. Well done boys!
Sidmouth U11 Warriors vs Twyford Bayern, 26/11/11
Our lads racked up their biggest ever goal tally when they travelled to Tiverton to face Twyford Bayern last Saturday.

We started brightly, Jack Miller scoring after just 5 minutes. Twyford barely touched the ball as we built one attack after another from midfield. But in spite of several chances we struggled to find a way through the crowded penalty area. A one goal lead is never enough so things were getting nervy. Eventually a lovely side-footed finish from Will Ashby, then a great turn and strike by James Emmett plus a tap-in by well-placed Ben Plowden made it four-up.

In spite of the lead so far Sidmouth hadn't found their usual slick passing game - not surprising as it was their first game for five weeks. But things got going in the second half, Lucas Richardson especially working up a head of steam on the right wing, and we began to ping the ball around, too quick for the Twyford players. With the quality came the goals: another from Miller, one apiece for feisty Dyls Nicholas and Jacob Rice, a rapid hat-trick from Louis Spalding, and a third for Miller too!

It wasn't all one-way traffic. Archie Marchant and Olly Truman did an excellent job keeping a tight defence and pushing up whenever they could. Twyford showed great team spirit and nearly had a consolation when they hit the post. Their keeper deserved a medal, showing courage time & again to keep the score below the teens. It finished a pretty convincing 11 nil.

Round Two now beckons - enjoy a great win lads, then let's go for it again!
Sidmouth Town Warriors U11s vs Whipton 15/10/11
Sidmouth narrowly came off second best in a stirring match vs top-class opponents Whipton last Saturday.
The first half was Sidmouth's by a yard: from the whistle we all played with passion and commitment. Up front Jacob Rice was always involved, working hard with Miller, Spalding & Harris in midfield to allow Whipton no time on the ball, winning it back quickly and moving it around at pace. At the back Emmett and Garrick were composed & skilful, while Ashby & Marchant kept things tidy & safe on the right.
Sidmouth's pressure was telling, and after 15-20 minutes had forced Whipton's keeper to make 4 saves to our 2, Ben Plowden at our end showing great anticipation & alertness to position himself right behind Whipton's strikes.
Eventually we took our chances: Dylan Nicholas scored with a superb strike from 10 yards out, then battled two defenders to control Spalding's subtle lob forward, and netted again, 2-0 up! Two close chances for a third capped Sidmouth's control of the half.
After the break Whipton restarted more confidently, keeping possession in midfield and making us chase the ball. Gaps started to appear and they took advantage: in a 10 minute spell they scrambled one home, then fired two unstoppable shots from the edge of the area, & now we were 2-3 down.
Encouraging each other our boys regrouped and in spite of tiring legs battled for an equaliser, twice going very close. A thrilling, high quality & sportingly-played match finished one half apiece, even though 2-3 in Whipton's favour. All in all it was a junior football match to savour - well played lads!
Central vs Sidmouth Warriors U11s, Oct 8th 2011
Every single member of Sidmouth's 11-man squad played their part in an excellent 2-0 win away at Central last Saturday.

The first half uphill into a strong wind was hard going. Our passes struggled to connect while Central slipped the ball neatly round midfield. However, strong & aert defending from Garrick, Truman & especially Emmett rarely allowed thir opponents to get a shot away. Whenever the ball came close to goal keeper Plowden gathered swiftly & decisively.

Most of our attacks were on the break, Richardson making several swift runs down the right, on the left Garrick would find Rice who, aware of Nicholas' sharp runs, would play through beautifully. Upfront Ashby's work-rate and simple lay-offs were creating spaces. It all meant that, even with less possession, we looked more likely to score first, and towards the end of the half Harris put away a parried shot from close range.

The second half we had the wind behind, downhill and above all much greater confidence on the ball. Garrick at left back played sharp balls inside to Spalding, who spread play wide, often to Miller who was a handful for Central on the right. We were looking good for second goal, eventually it came from a superb strike from Richardson. Sidmouth controlled the rest of the match, using strength & skill to keep the ball, while substitute-less Central tired and it finished 0-2.

The home side were generous in defeat & very complimentary about how our boys played. Man of the Match was James Emmett for his exceptional defensive covering tackles. But this was also a team performance: everyone worked hard for one another against a very decent side - well done lads!
Sidmouth U11 Warriors vs Tiverton Town, Sidford Sat September 24th
Unusually we've got 2 reports of last Saturday's match, our own plus a balanced & encouraging one posted by Tiverton on the league website. I've copied theirs below ours too - both are worth a read!
Sidmouth Herald report in full
The Warriors played their first match of the season on Saturday, against what will probably be the toughest opposition in the age group. Despite the result not going their way they showed they have the character & game to match the best.
It was an evenly-matched first half, edged by Sidmouth in terms of territory & possession if not in goals. The midfield trio of Richardson, Spalding & debutant Nicholas linked well with Harris, Miller & then Rice upfront, breaking through into the final third of the pitch on several occasions, but Tiverton's defence was solid.
At the other end Plowden in goal and backs Emmett, Garrick, Truman & later Ashby defended maturely, all showing excellent instincts for playing the subtle ball forward. Unfortunately two corners and Sidmouth conceded twice. Deservedly Harris pulled one back in a goalmouth scramble at the other end, and Sidmouth finished the half strongly, unlucky not to go into half time all square when the ball just wouldn't go to feet in front of Tiverton's goal.
Half-time changes seemed to unsettle the Warriors, & Tiverton dominated the early second half, scoring quickly three times and forcing two more amazing saves from Richardson. But then in an excellent spell of the game the Warriors responded superbly, showed tremendous character to regroup in the face of physical opponents. A huge cheer greeted Rice's tidy finish after lovely play between Spalding & Nicholas.
The game finished 5-2 in Tivvy's favour but the way we played showed a lot of promise for the season to come. Lucas Richardson was man of the match, for a superb first half on the wing, then an even better one in goal. Great start lads!
News, reports, pics & other information coming soon!
Sidmouth Warriors 2 v 5 Tivvy Town
25/09/2011
To be totally honest this was a much harder game then previously anticipated. Sidmouth were a well organised, hard working team who got bodies behind the ball well and when in possession moved the ball well with pace and accuracy. You could see from the first 5 minutes this was going to be a tougher test for Tiverton, both teams were passing well and were all comfortable in possesion of the ball which was a pleasure to watch.
An attack from Tivvy on about the 7 minute mark resulted in a corner, having spent a whole training session on corners in the week building up to the game we were eager to see if the lads could make them effective. Tyler Hawkins swung in a lovely corner and the attacking players made good run's with Lucas White nearly getting on the end of it before it was cleared out for another corner, Tyler provided a nice delivery once again which dipped in the area and rebounded off Toby Hide's hip, who made a positive run into the box, and ended up in the net for 0-1. Simouth responded well to this and within a couple minutes made a great move on the edge of the Tivvy box but Bailey Cole came flying off his line quickly to smother the ball and keep Tivvy's lead. On the 15 minute mark Tivvy worked another corner, Tyler Hawkins swung this one in again and Luke Scampton made an instinctive run to poke home with his head at the near post, 0-2 Tivvy. The next 10 minutes were very even with both teams creating chances, Tivvy had more of the ball, but were struggling to pick the pass in the last third with Sidmouth defending well, and Sidmouth were smooth and flowing playing a more of a counter attack game which was proving effective causing Tivvy problems at the back, but the defence worked well to keep the lead with some last ditch tackles. A few minutes before half time though Sidmouth won a corner and drilled a low cross into the box, Tivvy failed to deal with it correctly and found themselves conceeding a sloppy goal to go in at the break 1-2 up.
Tivvy came out better in the second half and its fair to say the first 20 minutes of the half was spent in Sidmouth's half of the pitch, although Tivvy still had to be reponsive in defence when Sidmouth tried to break well again. Tivvy went 1-3 up, again, from a corner, This time Lucas White became provider, swinging in a fast right footer which Harry Butler timed his run perfect to, meeting with a bullet header low into the bottom corner. Tivvy could of went on from here and scored several more goals but they weren't as clinical as their last league game and Sidmouth's defending was excellent at times. Midway through the half though Harry Butler scored two more goals on the trot to make it 1-5 and complete his hatrick which settled the travelling Tivvy support. The first was a low left foot drive into the bottom corner after some good build up play from Joe Greenslade pushing on from right back and the second was started with an awesome run from Ethan Osbon from left back, who was proving effective and having a super game in that position, he found a pass to Bradley Messenger just outside the box, who flicked the ball up in the air superbly between two defenders with one touch right into the path of Butler making a supporting run and he volleyed nicley with his left across the keeper.
The last 5 minutes was definately Sidmouth's, they scored another to make it 2-5, prodding a rebound over the line after Bailey Cole made a fine save. And Cole again had to be on hand twice, with top class saves to keep that as the final score.
Credit to Sidmouth, their a good side and will prove a tough test for all devision 1 teams. Tivvy again though came out on top, also playing some lovely stuff at times. Well done lads. Another good win, a pleasure to watch.