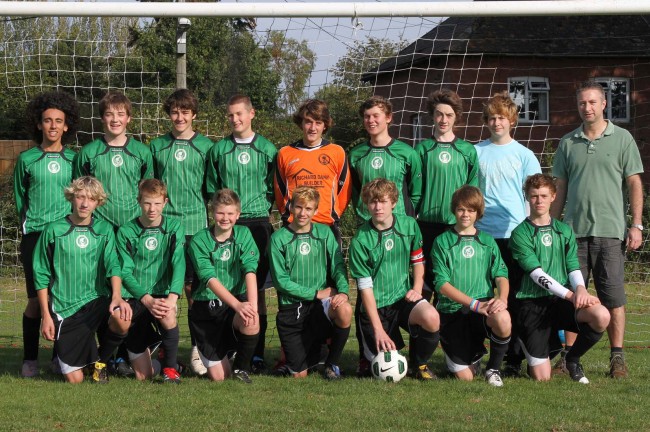 Welcome to the STJVs U16s
Sidmouth 1 Crediton 0 (League) 31/03/12
Another brilliant win in the last league match
The boys proved themselves once again with a superb victory over another top side at Manstone Lane. This win was a mirror-image of the last 1-goal margin over Pinhoe, and means the lads have done the double over both the 2nd and 3rd placed sides.
The victory was built on the foundation of another solid defensive display, with centre-halves Dan Corrick and Riordan Deehan-Jackson having exceptional games;- Corrick winning every ball he went for and Deehan-Jackson cooly intercepting, covering and organising. Behind them, Dec Lines made one outstanding double-save just before half-time and again looked confident with the all-round game of a Vikings senior keeper in the making!
In midfield, the triumvirate of Doug Still, Barney Cooper and Arya Ashtari combined well and gradually got on top as the game wore on, with Still sensing the openings with a few long range efforts and Ashtari doing the hard work in winning possession time and again. Joe Blackmore also looked good in a more advanced role on the right.
This was always likely to be a game of few chances, with the Crediton defence equally frugal;- however the main difference was that Vikings striker Conor Ellis was in a particularly fired-up mood, having been instructed to use his strength and fitness to never give the Crediton defence a moment of peace. This he did to the letter, just as he did in the away win earlier in the season, to the extent that, on the hour, the Crediton centre-half was so flustered that he literally ran into the back of Ellis just as the striker was about to shoot, poleaxing Ellis for about as clear-cut a penalty as you're likely to see!!
With regular penalty expert Will Jenkins absent, it was left to Still to display nerves of steel to emphatically place his kick past the keeper. From that moment on, the boys never looked like losing, comfortably soaking up pressure, with Billy Eveleigh giving renewed strength at right back, sending some excellent balls into the channels. Sidmouth almost added a second, from a succession of late corners, but as the final whistle was bown by excellent ref Mr Hawkins, the lads had again shown the vast improvements made this season in terms of defensive shape and a little bit of a much-needed ruthless streak. Well played to all of you!
Sidmouth 1 Pinhoe Spartans 0 (League) 03/03/12
The boys 'did the double' over the league leaders in a tight encounter at Manstone Lane.
In a game of few clear-cut chances, Sidmouth defended well and took one of the few chances that came their way, courtesy of a stunning strike from on-form top scorer Will Sanders.
The first half was a scrappy affair, as both teams struggled to get a pattern of play going. Pinhoe had two excellent wide midfielders who offered pace down the flanks, but Sidmouth's defence of Thomas, Corrick, Griffiths and Deehan-Jackson coped well. Thomas, in particular, set the tone with a couple of crucial interventions when danger threatened. When crosses did come in, they stuck in the safe hands of effervescent 'keeper Dec Lines, whose all-round game drew praise after the match.
As the Pins grew more frustrated, Sidmouth came more into the game, with Sanders and Will Jenkins firing in decent long-range efforts.
The message at half-time was that the game was there for the taking;- it was a matter of who could up their game the most. As the 2nd half progressed, it was clear that the Sidmouth lads wanted the result more. The introduction of the quicksilver Henry Ho after 50 minutes, and a change to a more attacking formation was the spark needed. Ho immediately stretched the Pins back-line with his pace, and Sanders on the left was getting the better of his full-back when he took him on. On the hour, Sanders conjured up the moment of inspiration needed to win a tight match as he outmuscled his marker on the edge of the box and curled an absolute beauty into the top corner.
Sanders almost added a 2nd shortly after, as he bundled in Ho's excellent early cross, but the goal was rightly ruled out for handball. The belief in the team was there now, and the boys never looked likely to let the game slip, with excellent performances from the back-four, and with Lines an impenetrable last line of defence behind them!
The team sits in joint 3rd place in the league and have shown a massive improvement this season in strength and determination. They are now proving a much stronger proposition defensively and are learning how to 'grind out' results such as this. Only dropped points against teams near the foot of the table means they aren't challenging for the title.
Cully 2 Sidmouth1 (League) 18/2/12
Cullompton 2 Sidmouth 1 (League)
The boys lost out to a late goal in a tight, scrappy match. Sidmouth struggled to get any flow or pattern to their game and did well to stay in contention for so long.
The squad was boosted by the return of Lee Clayden and Will Eveleigh, injecting strength and spirit into proceedings. Clayden fitted into the left-back slot like he'd never been away, and shared the 'man of the match' honours with Will Sanders, who once again was a real threat to the Cully defence, utilising his pace and determination and adding another goal to take him clear in the 'Top Scorer' charts.
Cully dominated the first half, with willing midfield runners supporting a strong centre-forward, stretching the Sidmouth defence. Dan Hulin and Dan Corrick coped well with the threat, but Cully did edge ahead on 30 minutes as a pass behind the defence saw the striker make up his mind earlier than Sidmouth's keeper and defence to nip in and finish well from 6 yards out.
A change in formation in the 2nd half saw Sidmouth come more into the game. Sanders and Conor Ellis were creating inroads and a series of well-taken corners were begging for a decisive call and header to bury the chance. Another learn for the boys in attacking set-pieces, that can make all the difference in tight games.
Sanders did conjure up an equaliser on the hour, as his determination took him clear on the left. His speculative shot caught the Cully keeper off-guard and he could only parry the ball into the net.
It looked like Sidmouth were going to earn the draw that would keep them in the top-3 of the league, but they were caught late on when a succession of half-clearances led to a free-kick 25 yards out. The Cully midfielder slammed in a superb strike, which hit the bar and bounced down onto the line;- once again, Cully reacted quickest to follow up and convert the chance and deservedly claim the win.
Sidmouth 2 Hemyock 2 (League) 28/1/12
After the highs of a few excellent recent performances in matches against top sides, the boys came back down to earth in producing a tired, lethargic display against Hemyock.
Hemyock seem to save their best performances for games against Sidmouth and this was no exception, as they took advantage of a sloppy start by the boys to go 1-up after 15 minutes. Sidmouth were struggling to get their passing game going on the heavy surface but this was no excuse for the lack of talking and responsibility on the pitch as Hemyock kept breaking through the middle with Sidmouth's midfield getting caught out of position ahead of the ball, exposing the defence to the power of the Hemyock runners.
In attack, Will Sanders stood out, taking on and beating his full-back and getting in great service from the left, but the Sidmouth forwards seemed to all be making the same run so were not on hand to snaffle the rebounds. However, Sanders did level the scores on the half-hour, as he controlled a Joe Blackmore flick-on to swivel and score with a neat finish.
After a constructive chat, and a few changes in personnel and formation at half-time, Sidmouth looked a lot brighter and dominated the 2nd half, creating a host of chances. Toby Seldon lobbed just over from 35 yards, Henry Ho burst through to shoot just wide, and Sanders rose in the box to plant a firm header just past the post. In defence, Dan Corrick slotted well into a back-3 as Sidmouth took the initiative, only to be caught out by a speculative shot which caught keeper Dec Lines off his line (scuse the pun!) and sailed into the net for Hemyock's 2nd.
Sidmouth kept creating and spurning great chances;- Conor Ellis powered through, only to smash against the keeper, Riordan Deehan-Jackson headed against the bar from Seldon's corner, with Sam Gosling's acrobatics from the rebound seeing the ball go just over. Sanders again put the ball wide when well-placed. Finally, Blackmore controlled and rammed home Ho's knock-down to equalise with 10 minutes to go. Hemyock tired, yet still managed to nearly nick it late on when Blackmore headed off the line.
A poor performance, but still resolute enough to salvage something. This Saturday the boys are again at home, in the league, against Crediton (10.30 kick-off) at Newton Pop.
Sidmouth 2 Pinhoe L 5 (League) 21/01/12
The boys came so close to a massive upset with this excellent display, having been trounced 9-0 early in the season by the unbeaten league leaders.
At 2-1 up, with an hour gone, Sidmouth looked on for the win, but some unstoppable classy goals from Pinhoe near the end gave the scoreline an unbalanced look come the final whistle.
The gameplan was one of soaking up the inevitable pressure by playing 5 in midfield when the Pins were in possession, putting pressure on the ball and giving no time for the Pins to get their attacking game going. Then to make the most of the set-pieces which came Sidmouth's way;- something that the lads had scored a lot of goals from this season. The boys carried this out, to the letter, for most of the game, with skipper Doug Still leading by example from the first emphatic challenge that he won, to the last tackle of the game. Still's exceptional display was backed up by the whole squad, with midfield cohorts Arya Ashtari and Joe Blackmore tackling anything that moved to frustrate Pinhoe. In defence, General Riordan Deehan-Jackson covered and cajoled his troops, to such an extent that the Pins were running out of ideas until a lucky rebound put them ahead.
Sidmouth soon levelled the scores after a Blackmore corner was cleared to the edge of the box to Still, who controlled then smashed the ball home from 25 yards. Half-time came and Sidmouth knew that they had the Pins frustrated and under pressure. With Joe Griffiths using his long throws once more, Sidmouth began to press the Pinhoe defence, with Sam Gosling showing aerial prowess and good use of the ball, and with lone-striker Conor Ellis using his skill and strength to earn a series of free kicks;- one of which saw the boys take a sensational lead on the hour. Blackmore's delivery caused chaos in the box, and centre-half Dan Hulin was first to react, bravely heading home for his 5th goal of the season. One of the successes this season has been the volume of goals from the defenders, mainly due to the realisation that set-pieces are such an important part of a close game.
Sidmouth were denied their win in the last 20 minutes, as a shocked Pinhoe sprang back into life to equalise with a sensational strike from 35 yards, soon followed by more classy strikes that keeper Lines had no chance with. Ashtari broke through to blast over the bar, before coming off with a calf injury, as the game slipped away. But this was a performance to be proud of, and one which was borne of sheer hard work and effort.
This Saturday the boys are at home again;- with a league game vs Hemyock. Kick off at The Pop is 10.15.
Jenkins 9
Sanders 8
Still 8
Ellis 7
Hulin 4
Corrick 4
RDJ 3
Thomas 3
Gosling 3
Clayden 3
Seldon 2
Ho 2
Blackmore 1
Ashtari 1
Sidmouth 2 Crediton 3 (Cup 14/01/12)
Sidmouth 2 Crediton 3 (League Cup)
This cup tie could have gone either way, as Sidmouth showed determination and resilience to twice come from behind to level the scores. This was a solid performance against a good team, on a difficult pitch made harder by the icy wind.
Chances were few and far between but Sidmouth were on top for the first half-hour, with centre-forward Conor Ellis outstanding in setting the example with some strong, physical play. Sidmouth were struggling to get enough bodies forward to support Ellis, so he was battling against 2 or 3 defenders and earning a succession of free-kicks and set-pieces. Joe Griffiths was using his missile-like long throw, until the referee decided the throw was illegal due to Griffiths putting 'spin' on the ball with one hand. Despite Griffiths having to put this weapon back in storage, Joe Blackmore was delivering some great corners that saw Dan Hulin twice go close, before Crediton, against the run of play, opened the scoring when a clearance flew out to their striker, who volleyed home first time past keeper Dec Lines.
But Sidmouth soon equalised, as Will Jenkins hit a great first-time pass from Ellis's lay-off into the path of Will Sanders, who capitalised on Crediton's hesitancy to slot home.
The half closed with keeper Lines making an amazing tip-over from a Crediton free-kick that looked a certain goal. The only other talking points of the half were the quality of cakes and teas being served up, along with an alarming 6 match-balls lost over the Newton Pop hedge into residents' gardens! Club chairman Andy Griffiths, ailing now with pneumonia after failing to beat off severe man-flu, was not a happy man!!
The second half was also a tight affair, though Crediton started showing their class by breaking from midfield and running at the Sidmouth defence, which was being well-marshalled once again by Riordan Deehan-Jackson. It did take an unfortunate lapse from Lines, who misjudged a cross from the left, to put Crediton ahead. Lines has excelled all season and is worth at least a goal start to the boys every match;- you can make mistakes in any other position on the field and get away with it....
But the boys rallied once again, and levelled at 2-2 within minutes, as Lines stepped up to float in a perfect free-kick that saw Deehan-Jackson head home superbly to the delight of the crowd!
Crediton were not done though, and after another swift break, the ball flew across the box to the far post where it was smashed home. Sidmouth rallied once more and earned a succession of free-kicks but just ran out of time to level again.
An absorbing match, with Ellis outstanding, and with Griffiths and Deehan-Jackson not far behind.
3rd place Sidmouth take on the League leaders Pinhoe on Saturday 10.30ko at Newton Pop;- come and sample the great refreshments and cheer the boys on, as this will be a really tough challenge.
Ottery 2 Sidmouth 2 (07/01/12)
The boys returned to League action with a shock as they found themselves 2 goals down in the first 5 minutes of this exciting local derby. To their credit they fought themselves back into the game and dominated much of the 2nd half, even though 'keeper Dec Lines had to keep his team on level terms near the end with a magnificent penalty save.
Manager Seldon had warned against lethargy and complacency after a poor run in the New Year last season, but, when Ottery scored in the 1st minute without a Sidmouth player even getting a touch on the ball, it looked like the team had decided to ignore the advice! Ottery kept the early pressure up, sensing that Sidmouth were still dozing, and went two ahead after more lethargic defending saw Dan Hulin cleave down Ottery's striker for a definite penalty.
A change was required to shake the team up, and the introduction of the jet-heeled Henry Ho gave the team an outlet as his pace down the right gave the Otters something to worry about. Down the left, Will Sanders came more into the game;- his balance and trickery taking him past defenders with ease. On the half hour, Ho put in a lovely cross for Sanders to control and smash high into the net for an excellent goal. Sidmouth still looked tentative in front of goal though, and missed a few chances to level the scores with a lack of movement or belief as the ball span loose after good delivery into the box.
The second half saw the Vikings looking much stronger, with full-backs Joe Griffiths and Isaac Thomas defending with commitment and using the ball intelligently to set up more raids down the flanks. Arya Ashtari and Doug Still started winning the 50/50 tackles in midfield;- releasing the ball into space where Sanders and Ho were giving their full-backs nightmares. Still had a penalty claim turned down, but the Vikings were soon given another chance from the spot after the referee spotted a shove in the box after a corner. Will Jenkins, such a reliable penalty taker, remained cool under pressure to drive the ball home to level the scores.
The final half-hour was end-to-end football, with the Vikings playing down the Ottery slope as legs tired on the heavy surface. Man of the match Sanders came close; jinking down the left then cutting into the box after another exchange with Ho, then saw a speculative volley fall just wide. Toby Seldon sent in a couple trademark long-range free-kicks and also put a left-foot shot wide, but, with a few minutes remaining Sidmouth were shocked as a counter-attack saw the Otters' forward go down under a challenge from Riordan Deehan-Jackson, who certainly appeared to have played the ball. The referee pointed to the spot, but keeper Lines was equal to the task, diving on the driven pen to the relief of the Sidmouth support. The previous week's penalty shootout practice was clearly beneficial for Declan!! 2-2 was a fair result after such a poor start.
This Saturday sees the boys in Cup action against Crediton, kick-off 10.30 at Newton Pop.
Friendly U16s vs U15s 10/12/11
Sidmouth U16s 6 U15s 0 (friendly)
The boys warmed up for this Saturday's massive game vs Pinhoe Spartans with another assured performance against the Sidmouth U15s, who had some very talented, strong players and were very unfortunate not to score.
With only 11 players to call upon, and with Sam Gosling plagued by cramp from the 30th minute, it was a test of the boys' resolve and fitness levels to see this game through. More commitment in availability is needed if the squad want to retain their current challenge for a top-2 position.
Players like Toby Seldon and Henry Ho really benefitted from lasting the whole 80 minutes of game-time, with Ho gleefully scoring his first goals for the club and Seldon again claiming 4 'assists' from excellent dead-ball deliveries from corners and free-kicks.
Ho got the show on the road by ramming home Seldon's cross after 20 minutes, followed by a moment of quick thinking as the 5-foot 5' U15 'keeper picked up a back-pass and committed the cardinal sin of 'politely' handing the ball over to the 6-foot 3 Seldon, who simply tapped the ball to Will Jenkins who passed the ball home for his 8th of the season.
The 2nd half saw the defence hold firm, with Dans Hulin and Corrick, Joe Griffiths and Riordan Deehan-Jackson winning the ball well, then, as has happened so well this season, using it intelligently, rather than panicky sliced clearances. Sidmouth's organisation and decision-making in defence has been a real bonus this season. Dec Lines was kept busy in goal in the 2nd half, making one superb save when a goal looked certain, to keep another clean sheet for the boys.
With Doug Still and Connor Ellis showing their strength and determination in midfield, and Jenks using his intelligent game to full effect, Sidmouth scored further goals in the final half-hour from Hulin, Ho, the prolific Corrick, then Still with a 25-yard 'special' that flew into the net.
More of the same, with the backing of a few more of the squad, will give the boys a great chance of ending the year on top of the League, if they can repeat their early-season win against Pinhoe when they meet at Newton Pop on Saturday, ko 10.30.
Sidmouth vs Bradninch 03/12/11
Bradninch 0 Sidmouth 9 (League)
The boys continued their recent run of good form with a resounding victory at Bradninch, which keeps them handily-placed at 3rd in the League.
Sidmouth shot off the blocks with 3 goals in the first 5 minutes to set up a platform for a cultured display of good football. Toby Seldon, who has shown patience and a great attitude in being a sub for much of the season, took full advantage of both a starting place and also a cash incentive for hitting the back of the net, scoring with his first touch, nonchalantly lobbing the 'keeper from 25 yards. Sam Gosling soon followed up a strong run down the left by scoring his side's 2nd goal, before Seldon again saw ££ pound signs by slamming home emphatically.
Will Jenkins epitomised the fine display, setting up attacks with slick one-twos and intelligent simple passing. Other players followed this example, with Isaac Thomas and Riordan Deehan-Jackson using the space in front of them to take a touch, look up, and keep possession, building considered attacks. 'RDJ' got his name on the scoresheet after following up from a corner, then skipper Doug Still waltzed through the Bradninch defence to score the 5th.
The 2nd half saw a number of changes made, but the Sidmouth train kept rolling, as Lee Clayden, marking his return to the squad, tore down the left flank to score a great goal with his first attack, followed by Will Sanders driving home before having a fine header off Seldon's cross chalked off by the linesman's flag! Clayden then planted home his 2nd, followed in style by Still for the 9th. Seldon only slightly marred his performance by missing a penalty for his hat-trick;- shooting limply wide after Conor Ellis had been chopped down in the box.
The travelling support went home happy;- knowing that Sidmouth will face tougher challenges but are playing some great football this season.
Sidmouth vs Central Spitfires 26/11/11
Sidmouth 3 Central Spitfires 1 (League)
Sidmouth ground out another victory to maintain 3rd position in the league, but without really playing at their best. The boys deserve credit for soaking up a lot of 2nd half pressure from Central after turning around at half time 3 goals ahead.
Will Sanders had an impressive first half and took full advantage of a great pass over the defence from Will Jenkins after 10 minutes, to prod the ball home after his initial shot had been blocked. Sidmouth soon realised that they had the Central defence and keeper on the rack and repeatedly put the ball into the danger zone. This more direct approach paid further dividends as all-action Arya Ashtari latched on to a Conor Ellis flick-on to out-muscle the defender and keeper to tap home for his first for the Vikings. The goal celebration that followed mirrored the stylish impact Ashtari has had on the squad!!
Soon after, the effervescent Joe Blackmore finally got his first goal of the season as he again latched onto a mistake in the Central defence to ram the ball home. Sidmouth had numerous other chances to bury the game, most of them off corners. Each time, the delivery and the timing of the run was perfect for the conversion of the chance, but time and again the final belief was lacking to get a firm header on the ball;- something that could be vital in future matches.
The 2nd half saw Central come out of the blocks fired up and pushing men forward, and Sidmouth struggled to cope, especially when Central's striker lashed home to put his team back in the game. Sidmouth endured a tough final 30minutes, as they conceded numerous corners themselves and were indebted to Dec Lines' confidence in attacking every high-ball into his box, aided by committed, though sometimes fortunate, defending by the whole team. Isaac Thomas continues to impress at left-back, and Riordan Deehan-Jackson read the play well to be the 'insurance' at the back.
One 'learn' from the second half is on how to see a game out, through keeping to the same approach that brought the 3 goals, and no doubt the boys will have taken that on board. A few excellent crosses were put into the box by subs Corrick and Seldon, but Sidmouth failed to add to their tally.
Sidmouth will be looking to continue their good run of form on Saturday when they travel to Bradninch, hoping to get their attacking game flowing again.
Sidmouth vs Cully Rangers 19/11/11
Sidmouth Town 3 Cully Rangers 3 (League)
A capacity crowd at The Pop was treated to a stunning comeback from Sidmouth, who recovered from being 0-3 down to equalise in the last few minutes and actually finish the match unlucky to take all 3 points.
The first half-hour was best forgotten as Sidmouth struggled to get any flow to their game and conceded 2 soft goals;- the first as keeper Dec Lines smashed his clearance into the closing striker from out near the touchline and watched aghast as the ball deflected cruelly back into the net. Five minutes later it was 0-2 as the lack of a clear call and clearance in the centre of the defence saw bodies in each other's way to allow the grateful striker time to place the ball past Lines.
This was most unlike the Sidmouth defending of late, but they were soon 0-3 down as a moment of class from the Cully striker saw him place the ball over Lines into the top corner for a sublime finish.
Sidmouth finally got a lifeline just before half-time as Will Sanders finally found himself in some space to coolly lob the ball over the advancing keeper for a lovely finish.
Sidmouth came out of their half-time 'chat' with Manager Seldon a completely different outfit. A couple tactical changes saw skipper Doug Still play deeper, allowing wide men Will Jenkins and Sanders to push on. Sanders was later replaced by the lightning-quick Henry Ho, who had the Cully defence worried with his pace, allowing space and momentum for Sidmouth to camp in the Cully half. With full-backs Isaac Thomas and Joe Griffiths once again showing real determination and grit, Sidmouth now had the foundation to build attack after attack. Still, Arya Ashtari and Joe Blackmore were now winning the midfield battle and the fight was on! With 20 minutes to go, the skilful Jenkins was awarded a penalty after actually being felled twice in the box! With his customary cool head, Jenks placed the ball home firmly to reduce the deficit further.
Sidmouth were now knocking on the door, and a succession of Blackmore corners first saw centre-back Dan Hulin head narrowly over, then saw Hulin sustain an impressive-looking head injury which forced him off with 10 minutes to go, replaced by Dan Corrick. Sidmouth felt they had scored the equaliser when Blackmore saw his shot hit the underside of the bar and seemingly bounce over the line, only to be denied by the Cully linesman. Hard-working centre-forward Conor Ellis then burst through but was denied by a superb tackle, Henry Ho was a toenail away from stabbing home, shortly followed by Ashtari being denied by a fine save. Just as it looked like time was running out, Corrick ghosted in unmarked at the near post to glance home another Blackmore corner to spark amazing scenes as the whole squad 'bundled' in a heap and the spectators celebrated wildly!! The comeback was complete!
Sidmouth just need to play like the 2nd half and think about what was missing in the 1st, but all in all this was what football is all about ;- drama and excitement!
This Saturday Sidmouth are at home again, looking for vengeance for an early season defeat to Central;- be at The Pop for a 10.30 start.
Sidmouth vs Central Scorpions 12/11/11
Sidmouth Town 1 Central Scorpions 2 (Friendly)
This was a really worthwhile friendly against a team who play in a higher league and have matched the top sides in the area this season. One of the real plusses so far this season has been the improvement in Sidmouth's defending, and this was highlighted in a match of few clear-cut chances that allowed both defences to shine.
Another plus has been that this season Sidmouth have started games brightly, often taking early leads, and this happened again as the alert Will Jenkins chased Doug Still's through-ball and nipped between Central's keeper and centre-half to slide the ball home superbly. The rest of the half saw Sidmouth soak up attack after attack as centre-backs Dan Hulin and Riordan Deehan-Jackson showed what a fine partnership they have developed, ably assisted by full-backs Joe Griffiths and Isaac Thomas. Behind them, keeper Dec Lines showed how well his decision-making and concentration have improved, making excellent claims of any crosses or through balls that came his way.
Just before half time, Central equalised fortuitously, as a hopeful shot was deflected past the helpless Lines off the unfortunate Hulin, who was simply trying to get in yet another defensive block.
The 2nd half saw more of the same, with very few clear chances. Dan Corrick came on and reinforced the defensive operation with his customary energy and commitment, but the real man-of-the-match was Deehan-Jackson who just seemed to be in the right place on dozens of occasions to intercept and clear. Hulin wasn't far behind in the tackle-count, but once again experienced the tough side of life as a defender as a fierce cross-shot was parried magnificently by Lines, but hit Hulin's outstretched leg and flew in for Central's 2nd. Hulin, who was understandably gutted later, should think about all the great things he did in the game and how well he is playing this season.
Sidmouth did threaten an equaliser through the endeavour of Jenkins and captain Still, who glanced a header just wide and then saw an absolute howitzer of a volley, destined for the top corner, unfortunately deflected over the bar.
A good exercise in defending, and one that will hopefully benefit the boys in a vital league match against Cullompton on Saturday, home at Newton Pop, kick-off 10.30.
training is at Ottery from now on each Thursday 6.30-7.30pm
Ellis 7
Still 5
Jenkins 5
Hulin 3
Sanders 3
Thomas 3
Corrick 2
Gosling 2
RDJ 1
Clayden 1
This was a superb victory for the boys;- a real smash and grab Viking raid, against a strong Crediton side. With 5 players unavailable, the squad welcomed back Will Sanders and Arya Ashtari, who both last played 4 weeks ago in the tremendous win against Ottery, along with Joe Griffiths, back from an ankle injury. All played their part in a great team effort.
Sidmouth started brightly, with striker Conor Ellis looking up for the challenge, relishing his role up front and giving the Crediton defence no time on the ball with his strength and determination. It was no surprise that Sidmouth took the lead after 10 minutes, as Ellis held off 3 defenders to get his shot away for a clinical finish after neat work from Joe Blackmore. Wide men Jenkins and Sanders both put in excellent shifts;- linking up well with Ellis and testing the Crediton full-backs while also sticking to their defensive duties. In midfield, Ashtari tackled anything that moved, while Blackmore and Doug Still combined closing-down duties with energy and their usual industry.
Ellis and Jenkins came close to extending the lead, but Crediton got their game flowing and pegged Sidmouth back. Griffiths led his back four well from the sweeper position, taking responsibility and reading the game. Alongside him, Dan Hulin has become a defensive rock, winning headers and tackles, whilst full backs Dan Corrick and Isaac Thomas stuck to their jobs superbly, getting blocks in and clearing well. Thomas, normally a forward, showed his versatility in the full back role, getting in one superb defensive header when a goal looked likely, then bettering that by blocking another shot on the line. This was the one time that Crediton got the ball past the commanding influence that is keeper Dec Lines, who again excelled. One point-blank save when the Crediton striker broke through was a real match-saver.
The 2nd half saw a similar pattern, with Sidmouth generally on the defensive, but looking dangerous when they did get into the Crediton final third, particularly through Sanders and Ellis. A Jenkins volley from Sanders' superb cross went just wide. After soaking up more pressure, Sanders played a lovely through-ball to skipper Still, who took the ball to the edge of the box and just got his fierce shot away as a tackle flew in;- the resultant shot beating the keeper and nestling nicely just inside the far post;- 2-nil and the travelling support let out a roar of relief!! For the final 20 minutes, it was backs-to-the-wall football, as a combination of Lines' agility, good defending, and poor Crediton finishing saw Sidmouth survive, until, with a few minutes to go, Crediton got the goal they deserved with a penalty.
As the final whistle was blown, manager Seldon was a proud man with 3 more points in the bag and the boys realised just what they can achieve through sheer hard work and determination.
Sidmouth should have won this match by 5 or 6 goals, based on the fact they were camped in the Hemyock half for the vast majority of the 2nd period of this match. Somehow Hemyock survived;- credit should go to their dogged defence that refused to concede, but Sidmouth should have converted at least one of the dozen or so chances that came their way.
The first half was more even as Sidmouth took time to get to grips with the very long grass. Barney Cooper, who had a very composed debut, hit a 25-yard screamer just wide and Henry Ho used his pace to get past his full-back, only to smash the ball into the side-netting. Against the run of play, Hemyock scored off their only corner. Sidmouth then started to work the ball into the Hemyock box, with Billy Eveleigh using the space on the right to support Ho by putting in some good crosses. Chances started to come and go, and the travelling Sidmouth support collectively sighed with relief as the hard-working Conor Ellis drilled home a loose ball after Doug Still's free kick caused chaos in the box.
The second half saw Sidmouth in total charge, though Dan Hulin and Riordan Deehan-Jackson had to 'keep the back-door shut' as Hemyock had the occasional break away attack and Eveleigh put in one great saving tackle.
Joe Blackmore had a super match in midfield, working tirelessly and creating chances by passing the ball into space, ably supported by the energy of Doug Still, Lee Clayden and Will Jenkins.
But the clocked ticked down as Sidmouth made wrong decisions at the crucial moment;- either choosing to shoot when a team-mate was better-positioned, getting caught offside when patience would have seen them in on goal, or snatching at the ball when they had the time to take a touch and make sure of the chance. Even when the ball did hit the back of the net, the fleet-footed Henry Ho was flagged offside. Ho then beat the keeper but saw his lob cleared off the line, Blackmore shot marginally over, and Ellis saw a number of efforts fly straight at the keeper.
A frustrating result, but the boys should be pleased that they are creating so many good chances and, on another day, would have won this game with comfort.
Great photos from Ottery 0 Sidmouth 4, courtesy of the Sidmouth Herald (copies can be ordered from their website)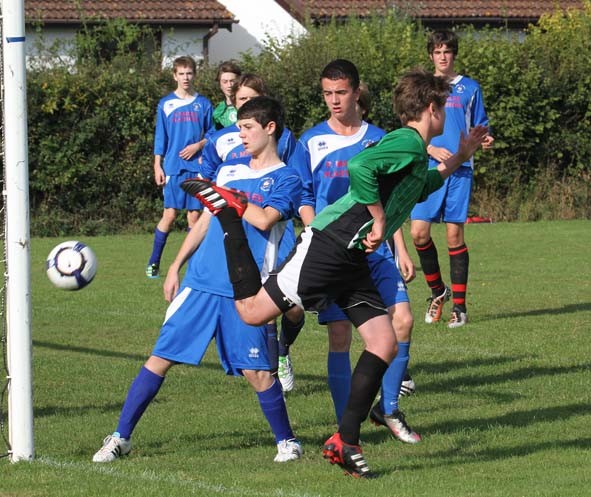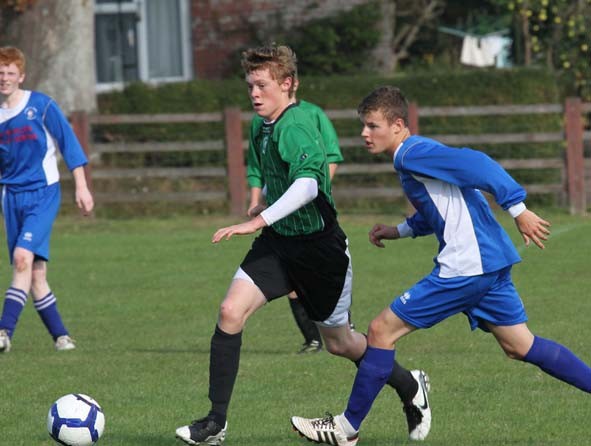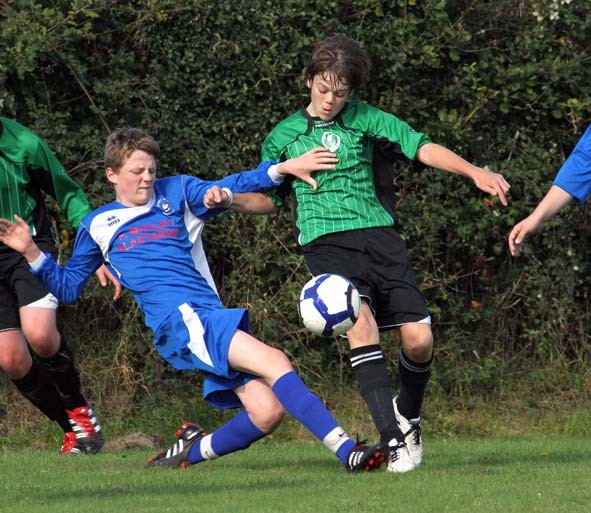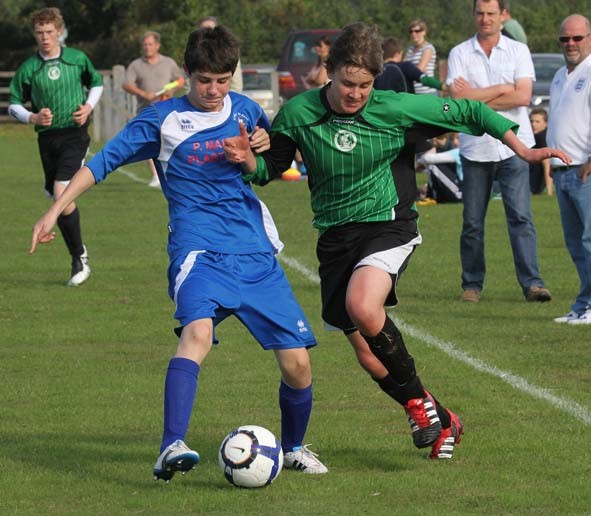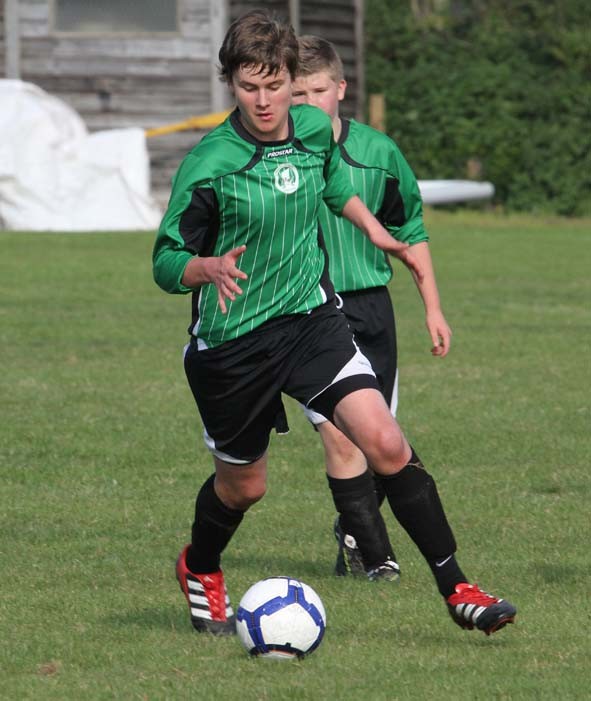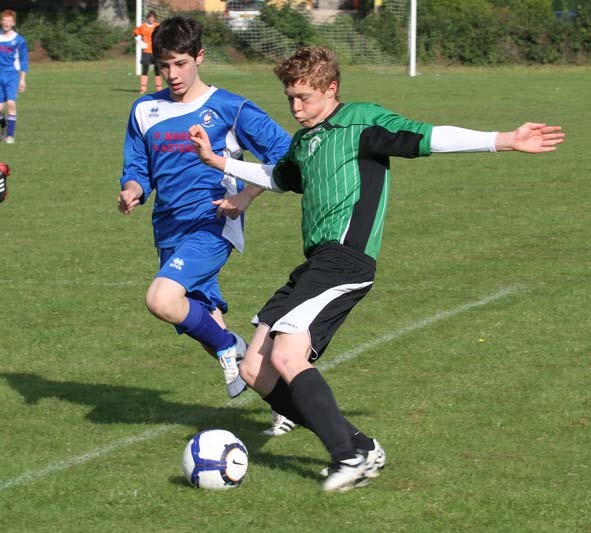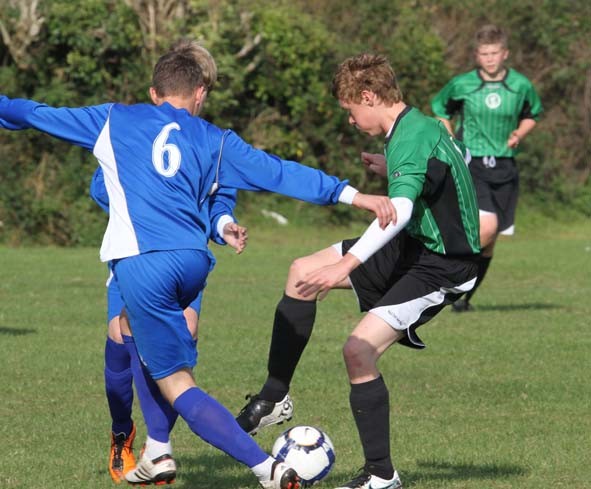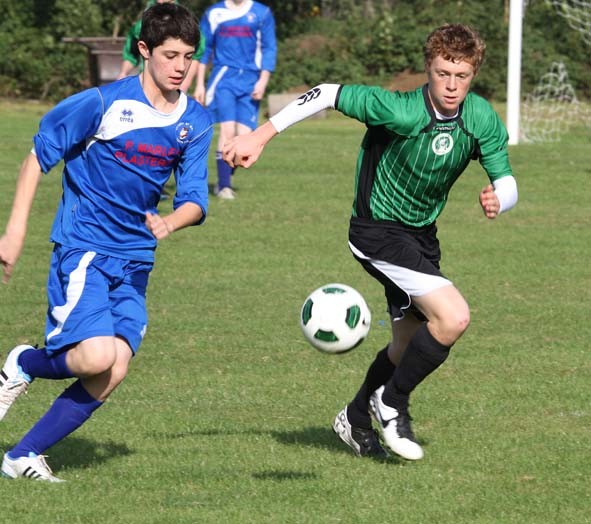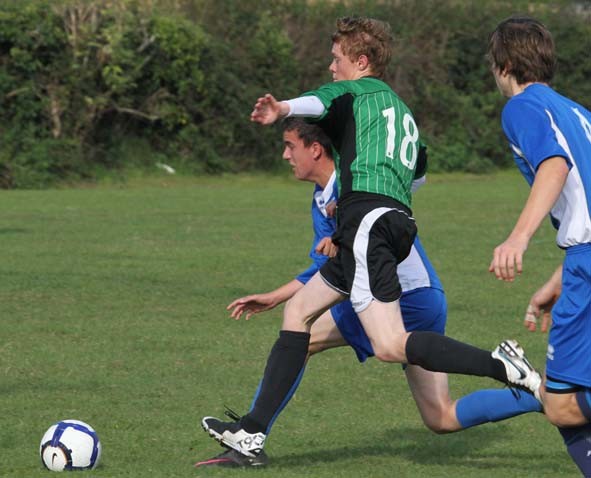 Sidmouth 4 Ottery 0 (01/10/11)
Sidmouth 4 Ottery 0 (League)
This was a complete performance and the best all-round display in Manager Seldon's long tenure running the Team.
On a glorious morning at The Pop, the boys looked a very accomplished squad, from 1 to 14, totally outplaying their local rivals, who have always provided strong opposition as the boys have progressed through the age groups.
With Dec Lines in goal at his ebullient best, and the defence well-marshalled by Riordan Deehan-Jackson, the foundation was in place for the boys to play some excellent attacking football. Ottery had 2 very strong, physical forwards, but Dan Hulin stood strong and full-backs Dan Corrick and Lee Clayden were well up for the challenge and coped extremely well.
In midfield, captain Doug Still once again led by example, ably assisted by the industrious Joe Blackmore and debutant Arya Ashtari, both Ottery old-boys. All 3 of these lads inspired the team with sheer hard work, commitment in tackles, and intelligent use of the ball. Will Jenkins revelled in a more attacking role, and put in so much graft that he was 'out on his feet' with a few minutes to go! Sam Gosling looked a real threat down the flank with strength and pace, whilst centre-forward Conor Ellis had his usual committed physical game up front, laying the ball off well for his team-mates.
Sidmouth took the lead on 20 minutes, as Jenkins got a glancing header to a dangerous Still free-kick. The confidence soared through the team and, with Ellis off receiving treatment, the introduction of Will Sanders paid off immediately, as he half-volleyed gloriously home from another set-piece. Sanders epitomised the improvement in performance, running at players, working back, and competing for everything through the rest of the match.
The 2nd half saw Sidmouth soak up Ottery's sporadic attacks, with Lines' goalkeeping athleticism and superb distribution again drawing praise. Subs Isaac Thomas and Billy Eveleigh came on and both provided the commitment required to continue Sidmouth's dominance, Eveleigh relishing a couple meaty tackles and Thomas making intelligent runs and closing the Otters defence down. A 3rd goal soon came, as Still thundered in a long-range free-kick that got a slight deflection to beat the Otters keeper. Referee Mike Kingdom, who had a fine match himself, then gave a penalty for a foul on Sanders which was perfectly stuck away by Jenkins.
So, a great performance, but one that will need to be repeated as Sidmouth travel to Pinhoe this weekend for a very tough challenge.
Central 4 Sidmouth 1 (24/9/11)
Central Spitfires 4 Sidmouth 1 (League)
After the excellent start to the season, this was a reality-check for the boys, who produced a lacklustre performance against a Central team who snapped up the chances given to them.
Sidmouth were struggling from the off, with several players suffering with illness and this was compounded further during the game as a couple nasty injuries took its toll on the squad.
Sidmouth took charge for a long spell in the 1st half, playing the neat, passing game that the boys can do so well when they are at their best. They took the lead on 20 minutes, as Dan Hulin, who has suddenly started scoring goals from centre-back, slotted past the 'keeper after a neat move around the edge of the box. With Will Jenkins, Joe Blackmore and Conor Ellis linking up well, several chances were created for the forwards;- one excellent cross from Jenkins was begging for a finish, but Central hung on, and equalised just before half-time as their dangerous striker was allowed time to tee up an excellent volley that gave Sidmouth keeper Dec Lines no chance.
The start of the 2nd half saw Central's confidence soar, as they realised Sidmouth were struggling and took full advantage of slack marking and half-clearances to notch 3 goals in quick succession. Sidmouth rallied, and further chances came and went for the hard-working Ellis and Will Sanders. Captain Doug Still, who led by example once again, saw a free-kick turned around the post by the keeper, and then midfield partner Blackmore saw a fine goal-bound shot deflected wide. But it was not to be Sidmouth's day, and the game ended with Lee Clayden playing through the pain of a groin strain and Riordan Deehan-Jackson falling awkwardly and suffering a nasty shoulder injury.
So, industrious performances from Clayden, Blackmore, Jenkins and Ellis, to back up captain Still, but more decisiveness is needed from every position, be it defending, finishing, tackling, passing or calling.
This Saturday the boys entertain Ottery, so a perfect chance to put things back on track;- kick off is 10.30 at Newton Pop.
Scorers @ 22/9 (includes 'friendlies')
Ellis 5
Jenkins 3
Still 3
Thomas 3
Gosling 2
Corrick 2
Hulin 2
Sanders 2
RDJ 1
Clayden 1
Saturday 24/9 vs Central Spitfires
Squad for Saturday's match away vs Central Spitfires (King George VI
Fields, Countess Weir).
Lines, Corrick, Clayden, RDJ, Hulin, Blackmore, Still, Price, Seldon,
Jenkins, Ellis, Thomas, Sanders.
Meet at Sidmouth FC Manstone at 9.15 or at the ground at 9.45.
I will be limping along in a supporting capacity at kick-off, so Andy
and Mark will be managing on the day.
I assume from Sidmouth will be Dec, Dan C, Dan H, Blackers, Doug, Tobe,
Lee (7)
... from Newton Pop will be Jenks, Isaac and Will S
... direct will be Conor, RDJ and Will P
Drivers from Sidmouth ;- I have Andy, Len and Trevor... cheers.
Let me know if there's any issues. Let's keep the run going guys.
Pinhoe Spartans 1 Sidmouth U16s 4 (League)
This was a stunning away performance against a strong Pinhoe team. Sidmouth played inventive football going forward and defended convincingly. In the absence of their experienced manager, Dickie Seldon, who was recovering from a knee operation, they were directed admirably on the pitch by captain Doug Still, who led by example, motivating the team from midfield and demanding 100% effort from start to finish.
With the wind and a slight slope behind them in the first half, Sidmouth played simple and elegant football. They were 2-0 up within the first twenty minutes with neat headed goals from Conor Ellis and Lee Clayden. Excellent delivery into the box from Joe Blackmore, Will Jenkins and Still, and strong, intelligent running from Ellis and Isaac Thomas, continued to unsettle an unsteady Pinhoe defence. Towards the end of the first half, Pinhoe rallied, creating opportunities from both flanks, but the Sidmouth back line, marshalled sternly by Dec Lines in goal, was resolute. A minute before the half-time whistle, Sidmouth extended their lead: a corner from Blackmore was flicked on by Clayden, headed forward by Dan Hulin, and looped effortlessly over the goalkeeper by Thomas.
In the second half, momentum shifted as Pinhoe drove forward trying to exploit the elements. But Riordan Deehan-Jackson and Hulin were imperious in the middle of the back four, intercepting through balls, showing tremendous strength in the air, and linking well with Dan Corrick and Joe Griffiths, who dealt bravely and effectively with the pace of Pinhoe's wingers. Perhaps against the run of play at the time, an excellent long-range free kick from Still put Sidmouth four goals clear. Rejuvenated by the goal, by the fresh legs and energy of substitutes Will Price and Toby Seldon, and by a superb fingertip save from Lines, Sidmouth never looked in danger after that. Encouraged from the sideline by Sam Gosling, who unfortunately sustained an injury during the warm-up, Sidmouth's impressive midfield quartet restricted Pinhoe to shots from outside the area. It was only a visceral injury to Deehan-Jackson, which left Sidmouth momentarily a man down, which allowed Pinhoe to sneak a goal back at the death.
It was a performance and a result to make the convalescing Sidmouth manager proud. The team sits at the top of the early league table and will be keen to stay there this weekend, as they take on Central Spitfires, k.o 10.30.
U16s off to a flying start
Sidmouth Town Under-16s Report
Sidmouth 12 Bradninch 0 (League)
What a fantastic start to the new season for the boys! This was no walk-over; - all the goals were earned through good teamwork and some excellent set-pieces.
The Sidmouth midfield engine room soon imposed themselves, with the intelligent play of Will Jenkins and Joe Blackmore combined with the drive and energy of Doug Still, setting up waves of fine attacking moves. Jenks soon got the boys off the mark, followed by a good finish by Sam Gosling, who looked dangerous down the right flank. Will Sanders then leapt high to nod home from another well-taken corner from Blackmore.
The highlights of the half were first-ever goals from defensive stalwarts Dan Hulin, and Dan Corrick, the latter with a back-heeled flick that was a combination of Zola and Ronaldo!!
The second half saw the boys really move up a gear, with the Bradninch 'keeper busier than ever!
The introduction of subs Price, Seldon and Thomas kept the quality play going, and further goals flowed, with singles for Conor Ellis, and Gosling with his 2nd, whilst Hulin doubled his career record with his 2nd of the game after causing havoc from another quality corner from Seldon, who then shook the frame of the goal with a trademark pile-driver from 25 yards.
Thomas showed real determination up-front, rewarded with 2 goals, and captain Still smashed home 2 of his own from outside the box to complete the scoring. The clean-sheet was a bonus for the team, though they will need to maintain this level of determination and teamwork on Saturday when they visit Pinhoe.