Welcome to the STJVs U8s Warriors
Meet the Squad
Alex Bennett, Ben Chapman, Joe Ashby, Reuben Bennett, Stanley Richardson, Jamie Salter, Benedict Teague, Samuel Rice, Louis Silk, Yan Mercan, Bradley Hill, Toby Hill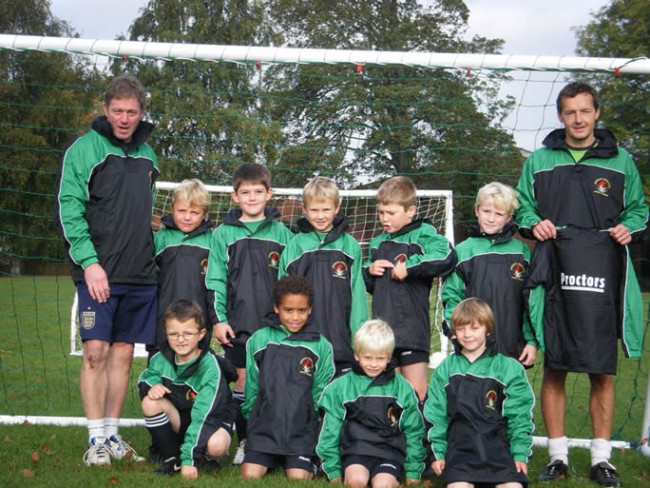 Where We Play & Train
Long Park, Arcot Road, Sidmouth - Google Map
Park at the Clubhouse or Lidl
Warriors Triumph at Feniton !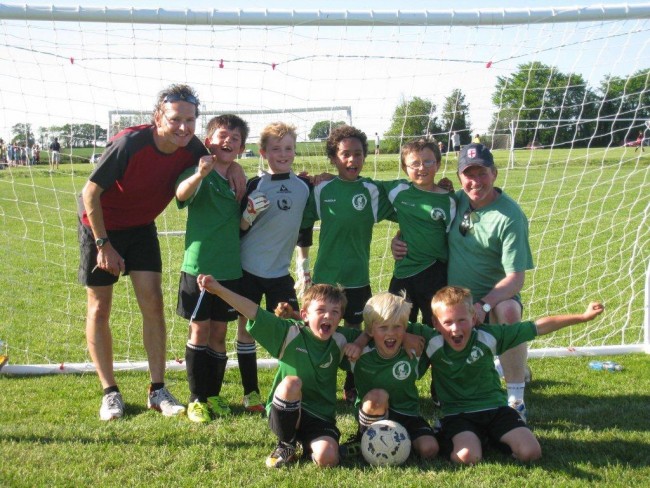 Saturday May 26th
Sidmouth Warriors U8s ventured into the East Devon Outback (Feniton) to take part in the prestigious Exeter City Tournament, one of the best in the region. 29 teams entered at U8s level including teams from Plymouth, Barnstaple and Bristol, as well as some of our rivals from the Saturday league. An incredible day of football saw the boys return back to the Valley crowned as champions.
The boys played seven group matches, 10 minutes per game. It doesn't sound much but on a very hot day it demanded a lot of effort. The boys did not hold back, though, and maintained a high intensity in all matches, always playing quality football, of course. The top two teams from each of the four groups would progress to the knockout stages and by the middle of the afternoon, the Warriors were finishing the group stage in fine form, qualifying for the QFs.
The tension was rising - a defeat would send you straight home. However, the boys showed fantastic composure and quality to dominate Okehampton A. Two cool finishes by Joe Ashby saw the Warriors through to the semis. The excitement was building.
A brief rest in the shade, plenty of energy drinks and then we found out who we'd be facing in the semis - Heavitree A. A side we knew to be tough opposition. What happened in the next 10 minutes was nothing short of astonishing. Driven by a very powerful display by Ben, the Warriors stormed into a 3-0 half-time lead. At the half-time break we talked about what to expect in the second half - that Heavitree would come out 'guns blazing' and we had to be ready for it. Merv and Justin kept asking the boys to keep pushing, to maintain the intensity but not, crucially, to think too far ahead. Get the job done. Ben added another four and Louis scored an absolute peach in the top corner. The boys were just getting better and better. Sidmouth won the game 8-0. We were in the final. And we were now in top gear.
More shade. More drinks. More tension. Just stay calm boys, only one game left.
We were to face Central Redstar in the final. We would play the last game of the day against the team we faced in the first group match. A strong, well organised side. The match was a tense affair, both teams trying to play their best football but also trying not to make a mistake. Half-time 0-0. We knelt down and took deep breaths. The boys had a look about them; one of great determination and desire, but a great calmness and maturity too. Merv and Justin did not need to do much motivating. We were ready.
And then the tension broke! An exchange in midfield, a shooting chance at the edge of the area for Ben, he strikes and it's in. The Green touchline jumps for joy. Central break forward from the re-start and miss a good chance but Stanley is calm and confident in goal and it's settling the team. Half-chances came and went and then, at last, the final whistle blew. And I will never forget that moment. Seeing the joy on the boys' faces, the sheer relief and joy on the touchline. Have I ever celebrated a football moment as much as this one? David Platt's goal vs Belgium or Lineker's equaliser vs Germany (Italia 90)? Peter Withe's goal vs Bayern Munich in 1982 (ask your dad about that one, boys)? OK, so I'm getting carried away now...
Boys, you deserved this so much. You've had a brilliant season and to win a tournament of this stature is a just reward for your talent and hard work. Those two things will always generate success. Every one of you was outstanding. You played with a quality and desire that no other team could match. No-one should be singled out but I just want to thank Stanley and Joe for being great team players, sacrificing time outfield to do most of the goal-keeping. We missed you on the pitch but your presence in goal helped us reach the knockout stages and ultimately win.
Well done to Ben, Benedict, Jamie, Joe, Louis, Samuel and Stanley. You made the coaches and parents very proud and this is a very highly regarded trophy to bring back to the club.
Well done also to Central Redstar for their sportmanship having just lost the final. They, Heavitree and Okehampton A were all clearly upset about losing their matches but they were all generous in defeat.
For the record, here's the tournament stats:
GROUP MATCHES
0-0 vs Central Redstar
1-0 vs Bovey Tracey ~ Ben
3-2 vs Heavitree B ~ Joe, Samuel, OG
1-0 vs Plympton ~ OG
1-0 vs Tone Youth ~ Joe
3-0 vs Eastside ~ Ben, Louis
3-0 vs Okehampton B ~ Joe (2,) Louis
KNOCKOUT MATCHES
QF 2-0 vs Okehampton A ~ Joe (2)
SF 8-0 vs Heavitree A ~ Ben (7), Louis
F 1-0 vs Central Redstar ~ Ben
Yes, that's 9 wins and 1 draw. 23 goals scored, 2 conceded. A clean sheet in 9 out of 10 matches. Awesome.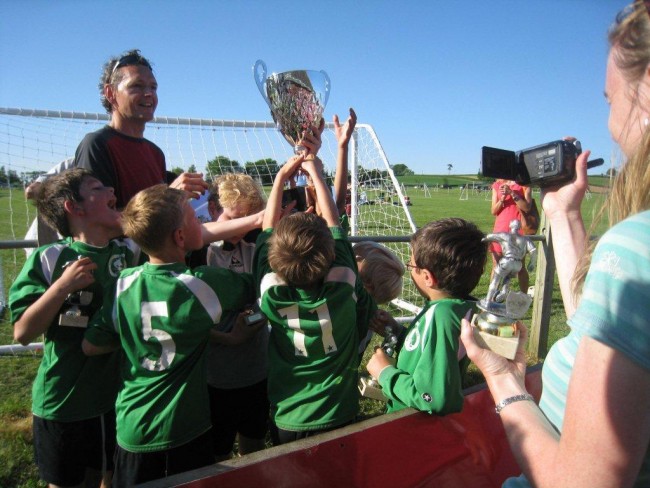 Warriors' Half-time Shoot-Out at Exeter City!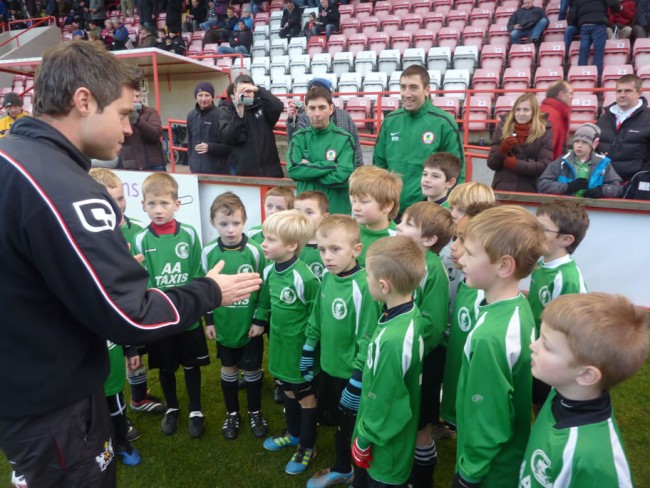 "Thank you for taking part in the half time shoot-out. Your players were a credit to Sidmouth throughout the afternoon & were a pleasure to host at St James Park".
David Evans, Youth Commercial Manager, Exeter City AFC
Fixtures, Training & Other Dates for the Diary
Exeter Youth League website click here for fixtures and venues
Sat 26 May - Exeter City Tournament at Feniton. Justin & Merv will be taking a smaller team for this 6-aside tournament: Jamie, Joe, Benedict, Samuel, Stanley, Louis, Ben. If anyone drops out I will let you know.
A quick word about the tournaments...I have entered the team for two tournaments this close season: one to give every player the chance to take part; one to test a smaller group in a high quality event. I hope that sounds fair. Tournaments are great fun and an opportunity to hone our skills. I'm looking forward to them already!
Adam Stansfield Tournament April 28th (Exeter)
Sidmouth Warriors took part in the Adam Stansfield tournament in St Thomas, Exeter on 28th April 2012 and gave a decent account of themselves against 3 strong Exeter teams.
Sidmouth Warriors 4 Pinhoe Tigers 0
Sidmouth soon came to terms with a large pitch and gradually gained more and more possession, Louis Silk and Stanley Richardson made the most of the wide open spaces and provided Ben Chapman with a chance to score and he made no mistake with the finish . Ben Chapman soon doubled the score with a Cruyffesque turn which completely dumbfounded the Pinhoe defence but which created enough space for the striker to slot the ball home. Ben Chapman again was tormenting the Pinhoe defence which was now in disarray and a ricocheted shot resulted in the third goal for the talented young forward. Stanley Richardson finished the scoring in some style after brilliant wing play from Louis Silk which took out the whole Pinhoe defence.
Sidmouth Warriors 1 Alphington 2
Warriors soon took the lead early in this game through a Bradley Hill run & finish which cut through the heart of the Alphington defence. Warriors had plenty of goalscoring opportunities and could have easily won this game but were foiled by a combination of bad luck and solid goalkeeping. Alphington scored twice to turn this game around and had one player in particular who gave the Sidmouth defence plenty to think about! However, Stanley Richardson for the Warriors was in inspired form with some outstanding saves.
Sidmouth Warriors 4 Pinhoe Pirates 1
Warriors again comprehensively beat the second of the Pinhoe teams Stanley Richardson demonstrated that he could be equally an effective in an outfield position, scoring twice. Ben Chapman also scored again with a unstoppable shot and Joe Asby completed the scoring showing great vision with a well placed shot.
Sidmouth Warriors 1 Westexe 2
Warriors lost against a rejuvenated Westexe team who allowed the Warriors to have much of the possession before launching lightning quick counter attacks. It was the home team that scored first before the Warriors replied with one of the goals of the day, a great passing move lead to Ben Chapman firing in a deadly cross which was finished off emphatically by a Joe Ashby headed goal.
With the game on a the knife-edge at 1-1 and with so much at stake (the winner of this game would win the whole tournament) Alphington then scored to make it 2-1. The final minutes
were all Sidmouth with shots flashing across the Westexe goal but heartbreakingly the goal would not come.
Sidmouth Warriors 2 Exeter Pink Panthers 1 (April 21st)
Overall a great battling performance by the Warriors which resulted in the best team winning.
Yan Mercan was strong in midfield and both Toby & Bradley Hill caused plenty of problems
for the Pink Panthers. Warriors scored from a great passing move which was finished off nicely by Toby Hill at the far post. Yan Mercan doubled the score with a brilliant header from a superb corner from the lively Samuel Rice. The Pink Panthers scored soon after the re-start but Warriors held on for a deserved victory.
Sidmouth Warriors 2 – Exeter Panthers 4 (April 21st)
Warriors were unlucky in front of goal and could have easily scored 4 or 5 on another day, Sidmouth even had a goal disallowed which some Warriors players & spectators were convinced crossed the line. The Warriors at 4-0 down game themselves a mountain to climb but with their never-say-die spirit came back through another quality Louis Silk strike and Joe Ashby was able to apply the finishing touch to a Reuben Bennett shot, which hit the post. Warriors competed brilliantly but eventually lost this titanic struggle against arguably the best team in the league and the whole team should be proud of this performance and for an outstanding season.
Coach Justin says: "I thought our performance in the second match was excellent. We didn't get a lot of luck and on a different day victory could have been ours. The result is not important though; for me it's the way you played and the determination you showed. Merv and I asked you for a big effort for our last game and you certainly gave us that. If the Exeter Panthers are the best team in the league, you know now that you can compete with the best - well done all of you".
Sidmouth Warriors 3 Pinhoe Tigers 0 (April 14th)
In their penultimate league game of the season the Warriors served up an intriguing contest against the Tigers from Pinhoe. Pinhoe immediately looked like a well organised & well disciplined team who liked to play good football. In the early exchanges both teams tested each other with Sidmouth having possession and Pinhoe looking dangerous on the break. It was the Warriors who opened the scoring through Joe Ashby who showing a striker's instinct pounced from close range.
Joe Ashby doubled the score again following great work from skilful provider Louis Silk, Joe powered an unstoppable shot into the top corner of the net . In the second half it remained a close contest with Sidmouth battling against a formidable Tigers who defended in numbers.
However Ben Chapman ,who was unlucky not to score at least twice in the first half, found the net
with a tremendous long range chip to make the final score 3-0 Warriors. At the other end of the pitch Yan Mercan slotted in effortlessly into defence which allowed Alex Bennett to go into goal , Alex duly produced some great saves and looks to have made a decent claim to make the Warriors No1 jersey his own. Warriors stuck to their game-plan and put up another satisfying performance against a very strong team who Well done to all those involved. The Warriors have mauled the Tigers , now bring on the Panthers!!!
Sidmouth Warriors 16 Hemyock 1 (March 31)
Sidmouth welcomed Hemyock with their large and vocal support to Long Park. However this is where the hospitality ended. Despite fielding an extra player Hemyock were overwhelmed and outplayed.
Despite Warriors players often being surrounded by a sea of blue shirts the Warriors managed to adhere to their trademark pass and move game and create numerous shooting opportunities which often ended up in the back of the Hemyock net. Warriors goalscorers were Bradley Hill 2 goals, Stanley Richardson 3 goals Samuel Rice 3 goals, Joe Ashby 6 goals, Reuben Bennett 1 goal & Toby Hill 1 goal. Well done to all concerned.
Sidmouth Warriors 6 West Hill Wasps 0 (March 31)
Stanley Richardson stole the show with five out of the six Wariors goals. Stanley's five star performance
helped the Warriors to a comfortable win. Joe Ashby was the other scorer with a sweet strike just before half-time. Benedict Teague was again a rock at the back of the Warriors defence,
Away to Exmouth Ammies 24/3/12. Coach Justin says "boys, I just wanted to say that your comeback on Saturday was superb. I think that after going 3-0 up, Exmouth would normally go on to win the match comfortably. However, the Warriors demonstrated their determination and quality to pull things back to 3-3 at half-time. You kept playing quality football and you got your rewards. Having gone 5-3 up in the 2nd half I know we all felt disappointed not to win the match. But, I was really proud of your performance - don't forget Exmouth have only lost twice this season and you gave them a brilliant game. Well done."
Exmouth Amateurs 5 Sidmouth Warriors 5 (March 24)
This was an extraordinary game of football involving plenty of drama, passion and skill from both sides. Warriors somehow found themselves 3-0 down when Louis Silk started the Warrior comeback with a strike from close range. Joe Ashby them scored twice for Sidmouth to level the scores at 3-3. Incredibly ,Warriors moved to a 5-3 lead following goals from Ben Chapman & Samuel Rice. The second half was a nervy yet entertaining affair especially after Exmouth scored again. However ,just as it looked like Sidmouth would hold on for a deserved victory Ammies then equalised with a freak strike that flew agonisingly into the top corner of the Sidmouth net. Warriors deserved to win and can console themselves that they demonstrated such determination and spirit to come back so strongly against a Exmouth strong side.
Lympstone 3 Sidmouth Warriors 6 (March 24)
Warriors found themselves 1-0 down in a closely fought opening period, playing against the wind and an awkward slope. However Ben Chapman opened the scoring in style for the Warriors. Shortly afterwards Toby Hill struck a powerful shot which fell invitingly to brother Bradley who made no mistake, to make it 2-1. Bradley was on the scoresheet again following a superb ball from Louis Silk. 3-1. Samuel Rice finished a great tradework Warriors passing goal to creat a 3 goal cushion,4-1 . Lypmstone again came back to make the score 4-2 before Joe Ashby long range shot nestled into the back of the Lympstone net, 5-2. Lymstone scored again make the score 5-3. However Warriors had the last laugh when Bradley Hill was again first to react to a goalmouth melee to complete his hattrick and a 6-3 victory to Sidmouth
Sidmouth Warriors 16 Walter Daw Raiders 0 (March 10)
Sidmouth Warriors showed no mercy against Walter Daw scoring 16, Joe Ashby should rightly grab the headlines for a spectacular 8 goal haul. Samuel Rice, Ben Chapman, Yann Mercan. all weighed in with braces and a Toby Hill strike alongside a Walter Daw own goal completed the rout. Benedict Teague, Reuben & Alex Bennett were all strong and resolute in defence and completely nullified any attacking threat that Walter Daw posed.
Sidmouth Warriors 8 Whipton Youth FC 1
The Warriors completed a fine mornings work winning 8-1 against Whipton. Warrior goalscorers goalscorers this time were Yann Mercan, Louis Silk with a hat-trick and Ben Chapman with 4 goals. The attitude, desire and football played by the Warriors was of the highest standard & all the players can be proud of themselves.
Sidmouth Warriors 10 AC Heavitree 1 ( February 24)
Warriors won in comfortable fashion against the first of their 2 games in Devon's Capital . Samuel Rice scored a well-deserved hat-trick and led the way with some scintillating wing play and great goalscoring. Louis Silk and Stanley Richardson both excelling scoring 2 goals each, and Joe Ashby and Ben Chapman scored a goal a piece, with the other Warriors goal being an own goal. This completed another fine team performance with the Warriors whose precision passing play proved no match for the team from Exeter.
Sidmouth Warriors 0 Inter Heavitree 1 (February 24)
Sidmouth slipped to a rare defeat but this wasn't due to lack of effort. In a closely fought encounter the Warriors came up against a determined Heavitree, who defended excellently. When the Warriors did break through the Inter defence Heavitree's goalie pulled off some show stopping saves to deny Sidmouth at least the draw that their display deserved.
A message to the boys from Justin: "There won't be many teams this season who will say 'we beat Sidmouth Warriors'. There's a handful of excellent teams in the league and we are certainly one of them. None of us like to lose a match but it's nothing to worry about and I know, like me, you can't wait for the next match. Keep up the hard work and keep enjoying yourselves. See you on the training ground."
Sidmouth Warriors 7 St Martins 0 (January 28)
Sidmouth Warriors continued their winning ways. Their success has been based on a potent free-scoring attack and a very mean defence. And this game was no different. Bradley Hill was first on the score sheet for the Warriors. Stanley Richardson scored directly from a corner kick which doubled the Warriors lead. Bradley Hill scored again following a fierce shot from Ben Chapman that the St Martin's goalie could only parry away this fell to Bradley Hill who made no mistake from short range. Louis Silk, who was unlucky not to get a goal earlier in the game, pounced to make it 4-0. Buoyed by his goal Louis Silk went on a tricky mazy run skipping past defenders to score a great individual goal to make it 5-0. In the second half Toby Hill scored twice with two very taken goals to make the final score 7 -0 to the Warriors.
Sidmouth Warriors 11 West Exe 1 (January 21)
5 Star Warriors complete great victory against a physically strong West Exe team. The Exeter based team could not cope with the Warriors crisp and accurate passing. Wave after wave of Warriors attacks completely overwhelmed the opposition. Louis Silk demonstrated great persistence to score the first goal of the morning. Ben Chapman made in 2- 0 with sweet strike , West Exe then scored through a deflected own goal. Stanley Richardson restored the 2 goal lead after some devastating passing. Jamie Salter got in on the act with a delightful delicate chip that completed deceived the keeper.4-1 Sidmouth. Jo Ashby was on the end of more great Warrior passing moves and scored scored twice in succession to make it 5 & 6-1 . Ben Chapman scored twice more including a spectacular long-range effort. Joe Ashby also scored two more goal to bring his total for the match to 4 and Jamie Salter also scored again to complete a fine brace.
Sidmouth Warriors 11 Dawlish 1 (January 21)
Another great performance continues the Warriors superb high scoring winning run. And demonstrates that the way they are playing the Warriors need fear no-one. The team was rotated slightly but the result and performance was equally impressive. The goal scorers were Louis Silk 2 goals Ben Chapman 4 goals, Stanley Richardson 2 goals, Benedict Teague 1 goal , Samuel Rice 2 goals.
Warriors 7 Honiton Demons 3 (January 7)
The Warriors first away trip since September saw the Sidmouth based team convincingly beat their Honiton rivals. Although it was Honiton who found themselves 2-0 up completely against the run of play. Samuel Rice scored the first Warriors goal of 2012 with a crisp close range effort. Louis Silk then scored a extremely well taken goal after good work from team-mate Ben Chapman. This seemed to spur on the Warriors with some great attacking football being played and great defensive work by Benedict Teague. Louis Silk then doubled his tally with a shot that deceived the Honiton goalie. Louis then turned provider and set up Ben Chapman to score. Joe Ashby scored a well deserved individual goal and Louis Silk completed the scoring with a further 2 goals to bring his total to four.
Warriors 8 Honiton Devils 0 (January 7)
A superb team performance gave the Warriors another outstanding win. In fact the Warriors were so dominant that goalkeepers Reuben & Alex Bennett were not called upon to make any saves of note whatsoever. The goalscorers for the Warriors were Samuel Rice two goals , Louis Silk with two goals , a Ben Chapman hat-trick and Stanley Richardson completing the scoring. The Warriors showed great energy, determination and bags of skill. The rest of the season will be very interesting, C'mon you Warriors!!
Warriors 8 Seaton Town 'A' 1 (Friendly) (November 26)
Sidmouth cruised to victory against their Jurassic coast rivals. Although a friendly match Sidmouth continued to show great desire , team spirit, precision passing and deadly finishing.
The Sidmouth Goalscorers were Toby Hill 1 , Louis Silk 1 and a hat-trick apiece for Bradley Hill and Ben Chapman respectively.
Warriors 19 Seaton Town 'B' 1 (Friendly) (November 26)
The Warriors gave Seaton a master-class in finishing and devastating attacking football scoring 19 times and averaging a goal every 94 seconds. Amongst the Goalscorers were - Bradley Hill 3, Joe Ashby 5 Louis Silk 4, Ben Chapman 3, Benedict Teague 2 - More to be added!
The Warriors had previously played Seaton in the summer in a closely fought contest and these two games demonstrate how far the Warriors have progressed in just a few months.
The Seaton Town coach was also suitably complementary and sent an e-mail to Warriors HQ stating "As a team we have come away with a lot of learning. That is a very impressive side you have".
Sidmouth Warriors 3 Bradninch Lions 0 (November 19)
The first competitive match in several weeks saw the Sidmouth Warriors coast to a comfortable 3-0 victory over the Bradninch Lions. Stanley Richardson opened the scoring with a speculative long-range shot that ended up deceiving the Bradninch keeper to make it 1-0. Louis Silk soon doubled the score for Sidmouth following a great passing move .In the second half, Jamie Salter scored a fine goal powering the ball into the net following good work from Ben Chapman to make the final score 3-0 to the Warriors. Overall it was a very accomplished team performance with some great football on display.
Sidmouth Warriors 0 Brixington Blues 6 (October 15th)
Another brave-heart performance saw Sidmouth Warriors lose against , Brixington Blues who have yet to concede a single goal this season. Joe Ashby performed heroics in the Sidmouth goal and one point saving three consecutive point blank shots. Ben Chapman was his usual strong , powerful self. Sidmouth's performance was praised by Brixington as the best team they have played this season, and can draw heart from a battling team performance.
Sidmouth Warriors 1 Heavitree SC Utd 1 (October 15th)
A Ben Chapman goal gave Sidmouth a share of the points in a closely fought encounter.
In particular Benedict Teague was outstanding in defence for the Warriors. Early in the game Joe Ashby signalled his intent by producing a beautiful curling shot which went agonisingly wide.
The Warriors had much possession & pressure but Heavitree always looked dangerous on the counter attack. The Warriors goal when it came was the result of a great through ball to Ben Chapman who kept his compose to score past the Heavitree goalie.
Sidmouth Warriors 1 Central Redstar 5 (October 8th)
Sidmouth Warriors put up a brave performance against probably the best team that they have played against this season . Louis Silk scored the solitary goal for the Warriors . Sidmouth came out after their half-time team-talk much brighter with a much improved second half performance and the scoreline did not reflect the amount of possession that the Warriors had.
Sidmouth Warriors 5 Central AC 2 (October 8th)
Sidmouth fought back from conceding an early penalty to a convincing victory against Central AC Jamie Salter scored first for Warriors with a cool finish. A mix up in the Central defence gifted the warriors the lead through an own goal. Some great interplay between Samuel Rice and
Joe Ashby lead to Joe Ashby calmly slotting the ball past the Central keeper. Further good play from the Warrior's Stanley Richardson lead to his effort beating the keeper only for Samuel Rice to apply the finishing touch to make it 4-1. Samuel Rice again was on the score-sheet for the final goal of the day for the Warriors. Further Warriors attacks were thwarted by decent saves from Central's female custodian Olivia and it was AC who scored the final goal against the run of play to make the final score 5-2 to the Warriors.
CS Pumas 2 Sidmouth Warriors 3 (Sept 24th)
In a tightly fought contest, Sidmouth Warriors demonstrated that they could compete with a strong CS Pumas team in what was a fine team performance. Samuel Rice opened the scoring for the Warriors with his third goal of the day. Brothers, Bradley & Toby Hill both scored , Bradley to double his and the Warriors goal tally and Toby scored with the last kick of the game to give the Warriors a very satisfying victory.
Cullompton Rangers 0 Sidmouth Warriors 6 (Sept 24th)
Sidmouth started very strongly and maintained their superiority ,coasting to an impressive victory, away at Cullompton. Goalscorers were Stanley Richardson who scored three times to complete his hat-trick , Samuel Rice grabbed a brace and debutant Bradley Hill also got on the score-sheet for the Warriors.
Sidmouth Warriors 0 Twyford Barca 4 (September 10th)
A new look Warriors kicked off at a rainy and blustery Long Park. Twyford scored first . Sidmouth battled valiantly with good saves from Stanley Richardson. But it was Barca who scored again.
Warriors attempted to re-group but another goal made it 3-0. Sidmouth did not give up , a fine strike from Joe Ashby deserved to score, but it was not to be and another goal made it 4-0 Twyford.
Sidmouth Warriors 4 Twyford Madrid 2 (September 10th)
Sidmouth produced their renowned passing game. However Madrid scored to made it 1-0
Warriors replied with Jamie Salter scoring a splendid goal. Ben Chapman also scored with a shot which powered into the roof of the Twyford net.
Twyford again equalised .
Sidmouth's attacking prowess, possession and strength resulted in two more goals, from Ben Chapman and the whole team achieved a much deserved victory.