Welcome to the STJVs U10s Warriors
YOUR MOVE EDWARDS SIDMOUTH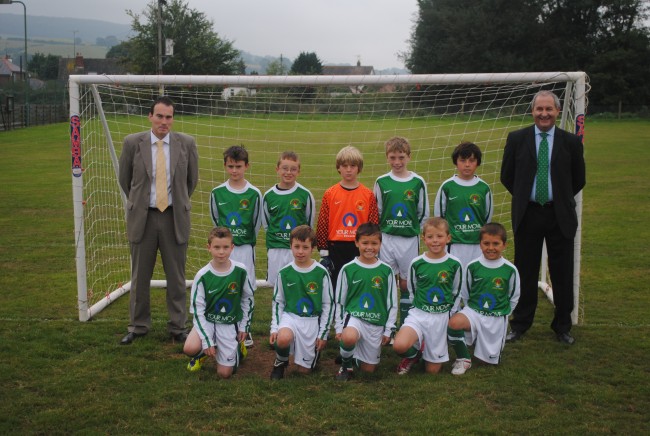 Sidmouth Warriors 0
C.S.Tigers 1
Sidmouth Warriors 1
West Hill Wasps 2
Sidmouth Warriors played C S Tigers in a well fought game,both sides were pretty evenly balanced.The first half saw some great passing football from both teams.Sidmouth had their chances but to be denied by tigers goal keeper.Against the run of play Sidmouth found themselves 1-0 down at half time.Second half Sidmouth continued to battle and dominate play but just couldnt finish.Lost 1-0.good game.
Sidmouth Warriors played West Hill Wasps in the second game.Sidmouth soon settled into their normal passing game but found it tough against a strong West Hill side.Sidmouth were 1-0 down after about ten mintues,Sidmouth got back up and kept playing football and got their reward on the stroke of half time when Thomas Rush made it 1-1.Second half Sidmouth dominated the game but again couldnt seem to find the back of the net,West Hill broke through on goal ,Harry making a good save only to see a West Hill player to tap it in at the far post.Well done boys,two great games to watch.
SIDMOUTH REACH NEXT ROUND
Sidmouth Warriors 1
Colyton Cobras 1
Sidmouth won 3 - 2 on pens
Sidmouth warriors travelled to play Colyton Cobras in a cup preliminary round match.Sids played well in patches but found them selves 1 nil down early in the first half goalie H.Ensell kept sids in the game sids game got better as the game went on getting more into the game Tyler Wood & Jordan Fowler on the wings were causeing Colyton all sorts of problems Pyne and Griiffiths were solid at the back T.Rush was working hard in the middle of midfield A.Mitchell was every where up front working hard as was W.Hollis when he came on L.Stamp came on at the back and gave Sids the cover they needed Sids got what they deserved when Jordan Fowler fired home to make it 1 - 1 at the end of normal time both Sides tried to win it in extra time but it ended up at pens Sids three takers were first Sam Pyne who scored the first one Colyton then missed theres up stepped Ryan Griffiths to score sids second Colyton scored their second Sids third was Jordan Fowler knowing if he scored sids would progress he fired high into the top corner to put sids through well done all the boys a close but good game
Sidmouth warriors 1
Twyford Spartans 0
Sidmouth Warriors 4
Moors youth 1
Sidmouth played a well organised Twyford team who tryed to stop Sids playing fast flowing football. But eventually Sids got there reward when Thomas Rush crossed a ball for Tyler Wood to tap home and make it 1-0 at half time.The second half was all one way traffic Sids batterd Moors but could not score but Ensall in goal and Griffiths and Lascelles in defence were in total control.Midfield of Fowler, Rush and wood kept make good attacks and Mitchell up front was a constant threat.sub Roberts came on to give Sidmouth that extra bit of steel in the team and saw Sids win 1-0 in a tense win
In the second game Sidmouth settled quickly and got the ball down and passed it about well. Moors could only chase shadows as Sids were to good in every department.Will Hollis was at the center of everything as was Mitchell,Fowler and wood the defence was solid and help when needed Sids won 4-1 goal scorers were Will Hollis 2,Jordan Fowler 1,Alex Mitchell 1.Coach Ben Wolley so proud of his team.
SIDMOUTH WARRIORS 2
EXMOUTH AMATUERS 1
SIDMOUTH WARRIORS 1
SEATON TOWN 1
SIDMOUTH HAD A TOUGH GAME AGAINST A WELL DRILLED AND ORGANISED SIDE. SIDS DOMINATED PLAY FOR A LONG TIME IN THE FIRST HALF BUT ONLY LEAD 1 - 0 AT HALF TIME THROUGH A ALEXANDER MITCHELL STRIKE. SIDS MADE CHANGES AT HALF TIME AND CONTINUED TO ATTACK. BUT AMMIES WERE A DANGER ON THE BREAK AND SIDS FELL FOR THE SUCKER PUNCH AFTER SIDS PRESSURE THEY FOUND THEMSELVES AT 1 - 1 WITH MINUTES TO GO.SIDS CONTINUED TO PRESSURE EXMOUTHS GOAL BUT IT LOOKED AS IF LADY LUCK WAS NOT WITH SIDMOUTH TODAY. BUT WITH SECONDS LEFT SIDS FOUND A HERO IN THE FORM OF DYLAN LASCELLES WITH HIS FIRST EVER SATURDAY LEAGUE GOAL TO WIN THE MATCH FOR SIDS 2 - 1
SIDMOUTH AND SEATON WERE TWO GOOD SIDES BOTH PLAYING GOOD FOOTBALL AND A 0-0 AT HALF TIME WAS A SHOCK. BUT SEATON TOOK AN EARLY SECOND HALF LEAD SIDS RUNNING OUT OF TIME HAD TO GAMBLE BY PUTTING ON MORE FIRE POWER TO TRY AND GET THAT EQUALISER BUT SHORT OF DEFENDERS IT WAS A GAMBLE BUT WHEN THOMAS RUSH SMASHED IN A LATE GOAL TO MAKE IT 1-1 SIDS GAMBLE HAD PAID OFF AND IT FINISHED 1 - 1 PROBABLY A FAIR RESULT TO BOTH SIDES.
SIDMOUTH THROUGH TO NEXT ROUND OF CUP
SIDMOUTH YOWN U10S 3
BEACON KNIGHTS U10S 0
SIDMOUTH TOWN BOOKED A PLACE IN THE NEXT ROUND OF THE CUP WITH A 3 - 0 WIN AGAINST BEACON KNIGHTS. GOALS FROM JORDAN FOWLER, ALEX MITCHELL, AND SAM PYNE WERE ENOUGH TO SEE THEM THROUGH
FENITON U10S 0
SIDMOUTH TOWN U10S 2
OTTERY ST MARY U10S 0
SIDMOUTH TOWN U10S 2
SIDMOUTH TOWN MADE THE SHORT TRIP TO FENITON AND WON 2-0 WITH GOALS FROM JORDAN FOWLER AND WILL HOLLIS.SIDS MADE IT DIFFICULT FOR FENITON WITH SOLID DEFENCE THROUGH SAM PYNE AND DYLAN LASCELLES. THE HARD WORK OF THOMAS RUSH AND TYLER WOOD,JORDAN FOWLER IN MIDFIELD ALEX MITCHELL CLOSED PLAYERS DOWN UP FRONT AND STOPPED FENITON PLAYING WILL HOLLIS WORKED HARD WITH HELP FROM RYAN GRIFFITHS.
SIDMOUTH HAD TO PLAY WELL AGAINST A GOOD OTTERY SIDE BUT SIDS WERE UP FOR THIS CHALLENGE WITH GRIFFITHS AND PYNE PAIRED IN DEFENCE. SIDS LOOKED SOLID, FOWLER AND WOOD ON THE WINGS GAVE OTTERY ALLSORTS OF PROBLEMS .THOMAS RUSH A DYNAMO IN MIDFIELD KEPT SIDS DRIVING FORWARD ALEX MITCHELL MADE CLEVER RUNS AND MOVEMENT WAS GOOD 0 - 0 AT HALF TIME. SIDS TURNED AROUND AND KEPT UP THE PRESSURE AND FINALLY GETTING THEIR REWARD WITH 2 GOALS FROM MITCHELL PUT SIDS IN THE BOX SEAT IN THIS GAME. HOLLIS ON FOR RUSH, HOLLIS DOMINATED AND KEPT SIDS GOING FORWARD SIDS WERE UNLUCKY NOT TO SCORE MORE. 2 - 0 WIN FOR SIDMOUTH.
SIDMOUTH TOWN I10S 8
PINHOE PIRATES U10S 0
SIDMOUTH TOWN U10S 3
BROADCLYST U10S 0
TWO GOALS IN THE FIRST HALF FROM SIDS WAS JUST REWARD FOR THE HARD WORK THEY PUT IN. WILL HOLLIS AND RYAN GRIFFITHS WERE THE SCORERS AND SIDS CONTINUED TO RUN WILD IN THE SECOND HALF WITH A FURTHER 6 GOALS. A SECOND HALF HAT TRICK FROM ALEX MITCHELL,2 FROM THOMAS RUSH,AND 1 FROM DYLAN LASCELLES.BUT THE MAIN REASON FOR THE GOAL FEAST WAS THE WING PLAY FROM TYLER WOOD ON THE LEFT AND MAN OF THE MATCH JORDAN FOWLER ON THE RINGHT.
IN A TIGHTER SECOND GAME SIDS WERE MADE TO WORK HARD FOR THE WIN. RUSH, HOLLIS AND FOWLER WORKED HARD IN MIDFIELD GRIFFITHS AND LASCELLES IN DEFENCE WERE IN TOTAL CONTROL.ENSALL IN GOAL WAS SAFE AND SECURE WITH HIS HANDLING IN DIFFICULT CONDITIONS MITCHELL UPFRONT WAS A THREAT. SIDS SCORED FIRST THROUGH MAN OF THE MATCH WILL HOLLIS. SIDS QUICKLY ADDING A SECOND FROM A JORDAN FOWLER LONG RANGE ROCKET.AND GRIFFITHS ADDED A THIRD TO WIN THE GAMESECOND HALF SUBS TYLER WOOD AND JOSH ROBERTS HAD A GOOD SECOND HALF.
SIDMOUTH TOWN U10S 4
HEMYOCK U10S 0
SIDMOUTH TOWN U10S 1
COLYTON COBRAS U10S 0
SIDMOUTH WERE A BIT JADED IT TOOK THEM THE FIRST HALF TO SHAKE OF THE XMAS BLUES. BUT THEY GOT GOING AND THOMAS RUSH SCORED A PERFECT HAT TRICK ONE WITH HIS LEFT FOOT ,ONE WITH HIS RIGHT FOOT AND A HEADER ALEXANDER MITCHELL ADDED THE 4TH
SIDMOUTH ALWAYS SEEM TO HAVE GOOD GAMES WITH COLYTON THE TEAMS BOTH ENTERTAINED THE CROWD WITH GOOD FOOTBALL AND TACKLEING AND PASSING FOOTBALL. SIDS SETTLED WELL AND GOT A WELL WORKED GOAL FROM WILL HOLLIS AFTER A GOOD TEAM MOVE AT 1-0 SIDS DEFENDED WELL THROUGH DYLAN LASCELLES AND LOUIS STAMP ENSALL IN GOAL WAS ALWAYS ON HIS TOES TO CUT OUT ANY ATTACKS WITH SOME GOOD SAVES MIDFIELD WAS CONSTANTLY CREATING GOOD CHANCES FOR THE FORWARD BUT COLYTON KEEPER KEPT SIDS AT BAY.
SIDMOUTH TOWN U10S 5
CREDITON YOUTH U10S 1
SIDMOUTH TOWN U10S 17
CREDITON SAINTS U10S 0
SIDMOUTH WON THIS GAME WELL ONLY DOWN SIDE WAS LETTING IN A GOALSCORERS WERE TYLER WOOD 2,ALEX MITCHELL 1,THOMAS RUSH 1 AND JORDAN FOWLER 1
SIDMOUTH EASED THROUGH THIS ONE SIDED GAME WITH GOALS FROM TYLER WOOD 5,ALEX MITCHELL 3, JORDAN FOWLER 2,RYAN GRIFFITHS 2, SAM PYNE 2,HARRY ENSALL 2,JOSH ROBERTS 1.
SIDMOUTH TOWN U10s 1
BRIXINGTON BLUES U10s 1
This was the biggest test of the season for sids as brixington were top of the league . Sids had not lost since first match weekend of the season.Sids with Ensall,Pyne,Griffiths,Wood,Rush,Hollis and Mitchell started well and the teams traded blows but sids stood firm and never looked in danger at all sids thought they had taken the lead as did the crowd when Griffiths free kick hit the bar and seemed to cross the line and come back out but the only person in the ground who did not see it was the ref 0-0 at half time Sids fell behind just after the break but they kept going sids made changes lascelles on with stamp at the back pyne pushed in to midfield and tyler wood up front and saw it become 1-1 when Tyler Wood scored sids grew in belief but just could not get the winner posts saved brixington well played boys it would be hard to pick a man of the match as so many contenders it was team performance of the season the boys have become young men as the seasons gone on with there attitude and commitment and belief has all grown up as well.