Welcome to the STJVs U12s Raiders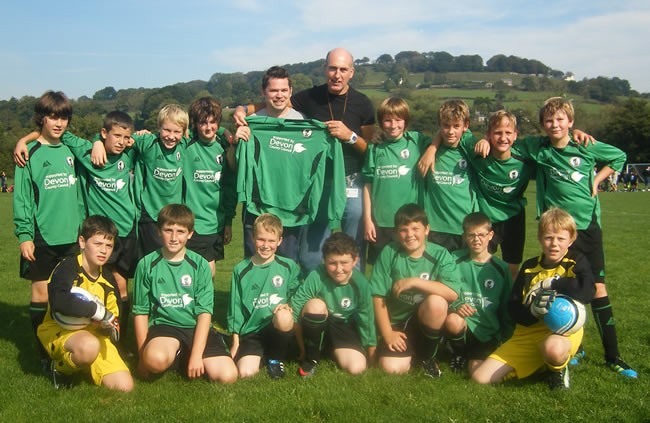 Pictured above is the Sidmouth Town Junior Viking Raiders Under 12s with their kit sponsor Stuart Hughes, a County Councillor for Sidmouth and Sidford on behalf of Devon County Council.
Saturday 26th November 2011 - Twyford Spartans vs Sidmouth Raiders, 10:30AM
Please could everyone meet at the footy club for 9am.
The address is as follows: Amory Park, Tiverton, EX16 6DQ
A volunteer to takes notes for a match report (or even better actually write a match report) would be appreciated. Also can I remind parents that if you take photos during the match could you email them to me at pvellender@hotmail.com so I can use them on this page and/or send them to the Sidmouth Herald.
GK: Kieran Hopley, Matthew Hill
DF: Gabe Stamp, Tobi Pugsley, Jaylen Burne, Logan Leworthy, Ben Main, Oliver Newton
MF: Adam Harris, Drew Birkhead, Rueben Raffell, Jack Gibson, Joe Tweedy, Matthew Skelding
FW: Scott Hughes, Jordan Parsons, Oliver Turbitt, Leon McManus
Manager: Philip Vellender - email
Head Coach: Shane Burke

Saturday 24th September - STJV Raiders 3 - 1 Honiton Town
Saturday 1st October - Hemyock 4 - 1 STJV Raiders
Saturday 8th October - STJV Raiders 7 - 2 Inter Heavitree
Saturday 15th October - Avishayes Falcons 6 - 3 Sidmouth Raiders
Saturday 5th November - STJV Raiders 8 - 1 Broadclyst SC
Saturday 19th November - Central FC 3 - 1 Sidmouth Raiders
Saturday 12th November - STJV Raiders 1 - 13 Crediton Saints
Saturday 26th November - Twyford Spartans vs Sidmouth Raiders, 10:30AM
Saturday 3rd December - Honiton Town vs Sidmouth Raiders, 10.30AM
Saturday 17th December - Sidmouth Raiders vs Hemyock, 10.30AM
Saturday 7th January - Inter Heavitree vs Sidmouth Raiders, 10.30AM
Saturday 14th January - Sidmouth Raiders vs Avishayes Falcons, 10.30AM
Saturday 28th January - Sidmouth Raiders vs Central FC, 10.30AM
Saturday 4th February - Sidmouth Raiders vs Twyford Spartans, 10.30AM
Saturday 18th February - Broadclyst SC vs Sidmouth Raiders, 10.00AM
Under 12's Plate Competition
STJV Raiders 3 - 1 Honiton Town, 24th September 2011
After a disappointing season last year the Raiders Under 12s were hoping to get off to a better start this time. And this proved to be the case. The defence held firm with Burne, Stamp, Main and new recruit Leworthy. In midfield there were some great passing and moving involving Raffell, Birkhead, Gibson and Skelding. And upfront the Raiders were causing Honiton lots of problems with Hughes and Parsons. Sidmouth got off the mark for the season when a through ball from Raffell put Hughes in who then beat the keeper to make it 1-0. Sidmouth had quite a few more chance in the first half to increase their lead, but Honiton also came close to scoring on a number of occassions, if it wasn't for some excellent keeping from new keeper, Hopley, they surely would have. The second half saw the introduction of a few more new faces including Hill, Turbitt and McManus, plus some Raiders regulars including Tweedy, Newton and Harris. Sidmouth went on to score two more in the second half, one for Parsons and a second for Hughes. Honiton managed to score from a free-kick near the end off the match, but it was too little too late meaning the Raiders won 3-1. As manager I would like to take this opportunity to say how proud I am of the boys, this is their first win in over a year and at no point during that time did they give up or let their heads go down. This victory was truly deserved and long overdue. Here's looking forward to a successful 2011/2012 season. Pictures by Colin Raffell.
Hemyock 4 - 1 STJV Raiders, 1st October 2011
Exhausted from their great win last week, U12 Raiders were taken by surprise by an early goal from Hemyock. Hill worked bravely against stiff opposition to save many more goals. Gibson and Raffell were tireless in Midfield. McManus and Parsons were a good team up front. Main, Stamp and Newton defended strongly against a strong attack, but Raiders were down 3-0 at half time. Raiders changed their line-up and seemed to get their determination back from last week. Hughes received the ball from the half-way line, took on the opposition and scored. Leworthy's right foot made some powerful clearances and Skelding returning from injury was solid in defence. Birkhead moved from midfield to strengthen the defence. Harris' lovely crosses, Hopley's excellent goalkeeping and Turbitt's run up the line (chased by a big scary boy) kept the second half to 1-1. The Raider's teamwork created many chances and, although they lost 4-1, their performance in the second half far outweighed the final score. Report Di Puzey, pictures Colin Raffell.
STJV Raiders 7 - 2 Inter Heavitree, 8th October 2011
U12 Sidmouth Raiders v Inter Heavitree 7 – 2, Raiders put on a mesmerising display, gaining their second win of the season, against a very well organised Heavitree side. Hughes scored a stunning hat trick and assisted an own goal by Heavitree with Raffell, Gibson and Birkhead all scoring 1 each. They had some great near misses with Parsons hitting the post and McManus just shooting slightly wide, making them both very unlucky not to contribute to an ever increasing score line. Hopley made some brilliant saves throughout the game with excellent back up from defenders Newton, Main, Stamp, Leworthy and Burne. Skelding, Tweedy, Harris and Turbitt kept the pace going with some great assists and effective passing, making for a fantastic game and a delight to watch. Report by Mark Skelding.
Manager's note: I would like to congratulate all the boys on an outstanding performance in this game. Every single player put in 100% throughout the match and they got the result that they fully deserved. Aside from the seven we did manage to score, there were many other near misses and the score could easily have been in double figures. Particular mention should go to Drew for his Man of the Match performance in the heart of the midfield. He never stopped running and won every tackle he went in for, not only that but he was instrumental in many of the goals and even scored one himself. This was a vast improvement from last week and a result that will hopefully give the Raiders a lot of confidence going forward. If we can maintain this level of perfomance and intensity through the rest of the season we should not fear any teams as there is no-one we can't beat.
Avishayes Falcons 6 - 3 STJV Raiders, 15th October 2011
Raiders had a tough encounter against top of the table Avishayes Falcons. The game on the whole was quite a close affair with Raiders and Falcon's sharing the possession. Avishayes started well, rushing to a 2 goal lead early in the first half, which was clawed back to 2-1 with an excellent solo effort from Hughes who ran through to slot home, but unfortunately Sidmouth conceded again just before half time.
Sidmouth proved resilient in the second half with a skilfully executed goal by Parsons straight into the bottom corner to get them back into the game. Avishayes kept the pressure on to increase the score line and with the help of a few lapses in concentration by Sidmouth and some curious referee decisions. Raffell scored a late consolation goal with a looping shot from distance over the goal keeper, definitely a consideration for goal of the season.
In conclusion Sidmouth should be very happy with their performance, they maintained a solid defence with some great saves from both goal keepers, with outstanding passes from the midfield section and strong attacking. Certainly on any other day they would have got something from this game.
Report by Mark Skelding. Photos by Colin Raffell.
STJV Raiders 8 - 1 Broadclyst SC, 5th November 2011
Sidmouth were looking forward to a very comfortable victory over bottom of the table Broadclyst, however the first half of the game was anything but easy. Although the first goal came from Sidmouth with Hughes' close range goal through a congested penalty area, this was quickly followed with a stunning run from Broadclyst's number 7 who out paced the Sidmouth defence to equalize the game. Sidmouth managed to get themselves ahead again just before half time with a cross from Harris, which was knocked in by Hughes to score his second.
Sidmouth were not playing the football they were capable of and after a stern and motivating talk from their manager at half time and with some tactical team changes they came out and dominated the second half.
Goals came thick and fast with McManus scoring two great goals and he was extremely unlucky not to get a hat trick. Hughes again produced a stunning hat trick with other goals coming from Parsons and Raffell with his now trademark long range scorcher, straight into the top left corner.
All the players should congratulate themselves after what was a shaky start they composed themselves and cruised to a very satisfactory 8-1 victory.
Match report by Mark Skelding.
STJV Raiders 1 - 13 Crediton Saints, 12th November 2011
Sidmouth were anticipating a very tough cup game against this higher division side who have no less than six academy of excellence players and a tough game it certainly was.
The game looked to start on a fairly even basis but then the opposition quickly knocked down Sidmouth's defence and the goals just kept on coming. To their credit everyone of Sidmouth's players put on a very brave fight and did not give up until the final whistle blew.
A consolation goal came from Hughes late on in the game, along with a number of near misses but particular praise should go to the goal keepers, Hill and Hopley, who produced some of the most amazing saves I have ever seen in a junior football game. They should be proud of themselves as if not for them the score line could have been even greater.
All in all this was a very hard game but Sidmouth stood their ground and kept their heads held high even in defeat and will hopefully take something from this experience into the next game.
Match report by Mark Skelding
Central FC 3 - 1 STJV Raiders 19th November 2011
Sidmouth's game against Central FC looked on paper like it was going to be a very even game and this proved to be the case, with both teams sharing the possession of the ball throughout the game.
Central scored first with a long range shot from outside the area, which just cleared the goalkeeper and went straight into the roof of the net. Sidmouth came straight back with an equalizer from a shot by Raffell which was saved and then rebounded back off the goalkeeper only for one of Centrals defenders to knock it back into their net.
With the first half ending in deadlock, Sidmouth were confident that they still had a chance of winning, but the next goal came from Central with another long range rocket of a shot which the goal keeper had no chance of saving and then a further Central goal came late on in the game sealing their victory.
Previous results for both teams had been very similar, so Sidmouth were hoping that they could have just had the edge to bring home a win and they played well throughout the game so at the end of the day perhaps it was only Central's home advantage which gave them the edge.
Match report by Mark Skelding