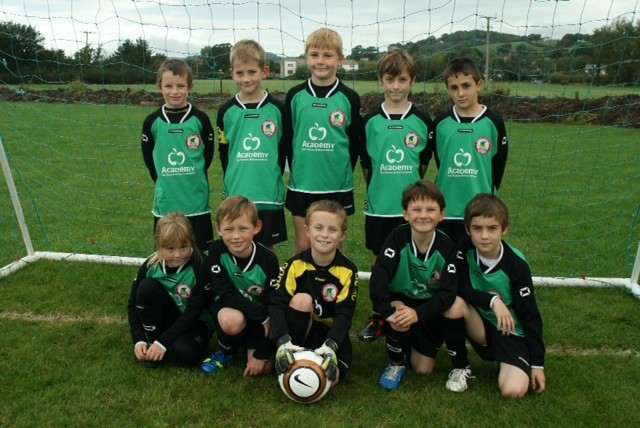 Games 1 and 2 Match reports
West hill 0-8 Warriors, Hemyock 0-4 Warriors
Meeting at Sidmouth town football club the warriors set of early in a convoy for the 40 min journey to Hemyock. 1 hour later following several wrong turns u turns and dead ends the convoy arrived.
The 1st game against west hill saw the Warriors start fast with strong tackling and good passing resulting in 2 early goals for Ben Fisher. Warriors continued to pass the ball and create lots of goal scoring opportunities resulting in Ben Fishers third and 2 from Charlie Roberts.
The second half started with West hill fired up by half time team talk creating chances of there own forcing warriors Keeper Freddie Roberts in to action with 2 good saves.Warriors soon regained there composer and started stroking the ball around, resulting in goals from Freddie Eul-Baker and Gabriel Roberts with a thumping strike. Charlie Roberts got his third with a great solo goal to cap a great team performance.
2nd game against Hemyock warriors carried on passing the ball against a solid tackling determined Hemyock team. Warriors managed to force 2 goals in 1st half from Oliver Loosemore and Gabriel Roberts. Hemyock Continued to battle hard and restrict warriors chances. The 2nd half continued in the same way as the 1st but despite Hemyocks determination the warriors scored twice more from Ben Fisher and Freddie Eul-Barker scoring from the penalty spot. Despite Hemyocks efforts Warriors Keeper remains unbeaten for the season so far.
Overall a simply brilliant performance by all 10 players.
Games 3 and 4 Match reports
Warriors 6 - 1 Lympstone Warriors 4 - 0 Brixington
1st up Lympstone saw warriors start well passing the ball as previous week soon paying of with goals from Eul-barker and Oliver Beech. Lympstone pressed hard and created chances forcing a good save from Warriors Keeper even if it did deflect off his twin brothers head.2nd half saw warriors midfield maestro Oliver Beech stroke the ball around resulting in 2 goals by Charlie Roberts and a goal a piece for Ewan Badcock and Gabriel Roberts.
It was obvious at the start of the 2nd game against Brixington that they where bigger and stronger but with the center midfield duo of Eul-Barker and Beech warriors soon had a 2 goal lead via Charlie Roberts and Ben Fisher .Brixington started the 2nd half well forcing several fine saves from Freddie Roberts which inspired 2 more goals by Eul -Barker and Oliver Loosemore giving the final score. At the final whistle the Brixington Manager commented on the warriors keeper saves stopping them getting back into the game.
The same fixture last season saw Warriors draw 1 and loose 1 just reflection to all the hard work by Manager Mark Badcock during the summer months.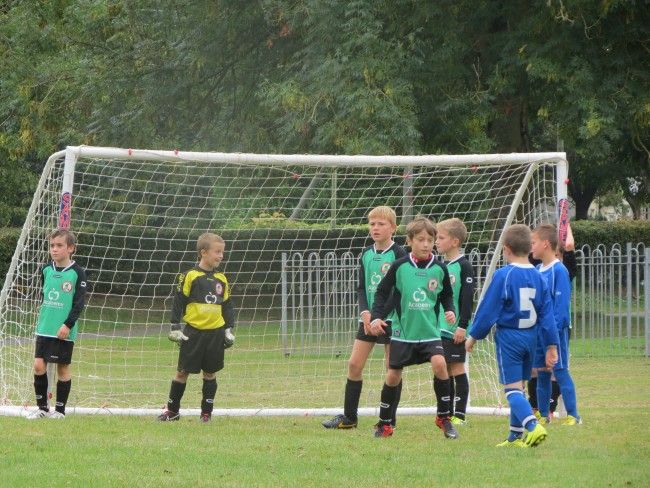 Games 5 and 6 Match reports
Away to Coyton the warriors started well testing the Colyton keeper with several goal scoring opportunities which the Colyton keeper was equal too. The pressure finally paid off with a goal from Freddie Eul-Barker. The 2ndhalf continued in the same vain with the Colyton keeper even saving a spot kick, which seem to inspired Colyton on only to be stopped by the warriors keeper Freddie Roberts. Finally the Colton's resilience was breeched with goals by Ben Fisher, Adam Jabri 2, Gabriel Roberts and Oliver Loosemoore
The 2nd game saw Sidmouth warriors play Sidmouth Raiders, this was a classic game of 2 great footballing sides with the raiders showing a master class in defending and counter attacking. The Raiders held firm trough the 1st half and well into the 2nd half and justly deserved break away goal from Levi Marc's putting the Raiders ahead. Warriors continued to press and where caught twice more on the break only to be foiled by the impressive warriors keeper. Raiders held out for a well deserved victory.
The future looks bright for Sidmouth Football !!
Games 7 and 8 Match reports
1st game against Pink Panthers the Warriors started slowly and quickly conceded a own goal. This Sparked the Warriors into life creating chance after chance but all went begging. Half time team talk inspired the Warriors to lay siege to the Pink Panthers goal but still failed to convert there chances. Pink Panthers grew in confidence and soon forced Warriors keeper Freddie Roberts in to action with a couple of good saves. Warriors where finally rewarded with an equaliser from Oliver Loosemore to the relief of the watching crowd.
Against the Panthers the Warriors started even slower than the 1st game and soon fell 2 goals behind 1 via the penalty spot. The Warriors where shocked into life and started to pass the ball and work they way back into the game creating good goal scoring chances again to no avail. Panthers scored another goal giving them a 3-0 half time lead. The 2nd half The Warriors started very quickly and soon created chances and where with an early goal by the ever willing Oliver Loosemore lifting the partisan crowd. The 2nd half quickly developed into a good game of end to end football with chances at both ends forcing saves from both keepers right to the end of the game.
Warriors learned a valuable lesson that you must convert your chances or at least some of them !!
Lisa and Lesley provided refreshments for the crowd raising £40.00 towards Warriors end of season bash.
Games 9 and 10 Match Reports
Central City 0-6 Warriors , Central United 0-7 Warriors
Normal service resumed writes Chris Roberts
Away to Central City and United on Saturday the Warriors returned to there early season free scoring and free flowing football.
1st game against City warriors soon found there grove passing the ball crisply and creating chances and awarded with an early goal from Ben Fisher followed by a sweetly struck free kick by Freddie Eul-Barker to lead 2-0 at the break. 2nd half was much the same and the warriors where soon rewarded for there good play with further goals from Adam Jabri ,Freddie Eul-Barker and a brace from Gabriel Roberts with the 2nd being a stunning 20 yard volley from the keepers kick. City did force a couple of chances and where foiled by Lucy Spiller and Freddie Roberts in goal.
In the 2nd game with confidence soaring the warriors dominated again with a great display of attacking midfield work by Adam Jabri, Goals from Charlie Roberts, Ben fisher and Oliver Loosemore gave Warriors a 3-0 half time lead. In the 2nd half warriors pushed hard for more goals with the reassurance of Lucy Spiller giving no quarter at the back, the net was soon bulging from Ewan Badcock, Adam Jabri , Freddie Eul-Barker and Oliver Loosemore sealing the 2nd impressive victory of the day.