Sidmouth Warriors Under 8's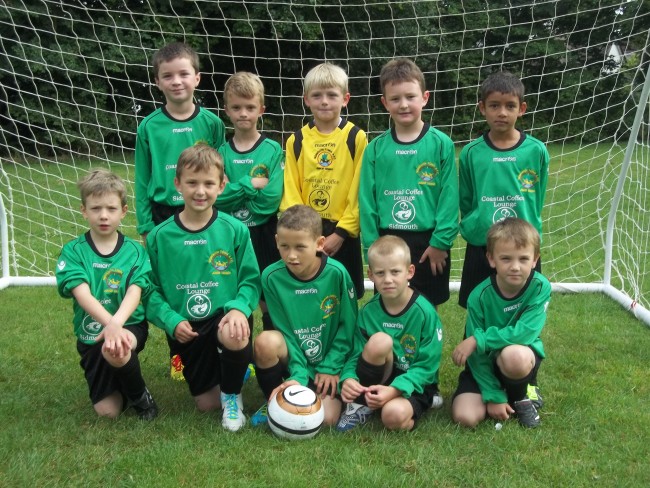 From Top L-R- Ben Elsom. Joseph Anning. Charley Turley. Matthew Dunford. Dev Nair.
Bottom - Thomas Fletcher. Toby Edmunds. Jamie Pitter. Callum French. Finlay Snape.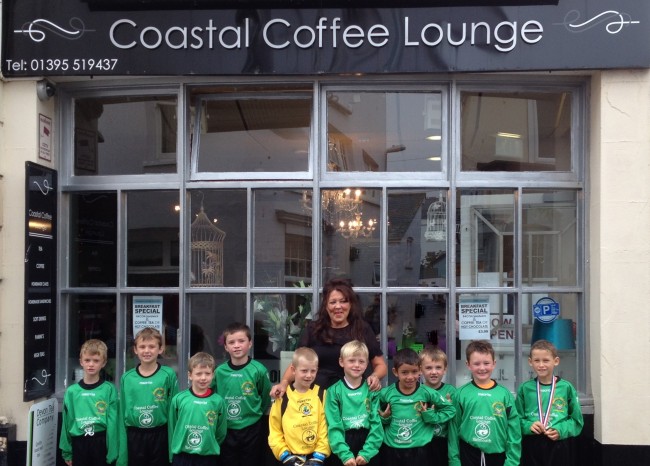 Last Saturday (21/9/13) the boys all visited their shirt sponsor Gill Harris at Coastal Coffee Lounge. Several hot chocolates and milkshakes later they are pictured outside with Gill.
The boys and their families would like to thank Gill not just for the sponsorship and kit but also for her generous hospitality on Saturday. We were all made to feel very welcome and after two hard fought games (not permitted to say wins) the drinks were very appreciated by everybody.
The boys discuss tactics over a hot chocolate at Coastal Coffee Lounge.
Match of the Day 15-21 October 2013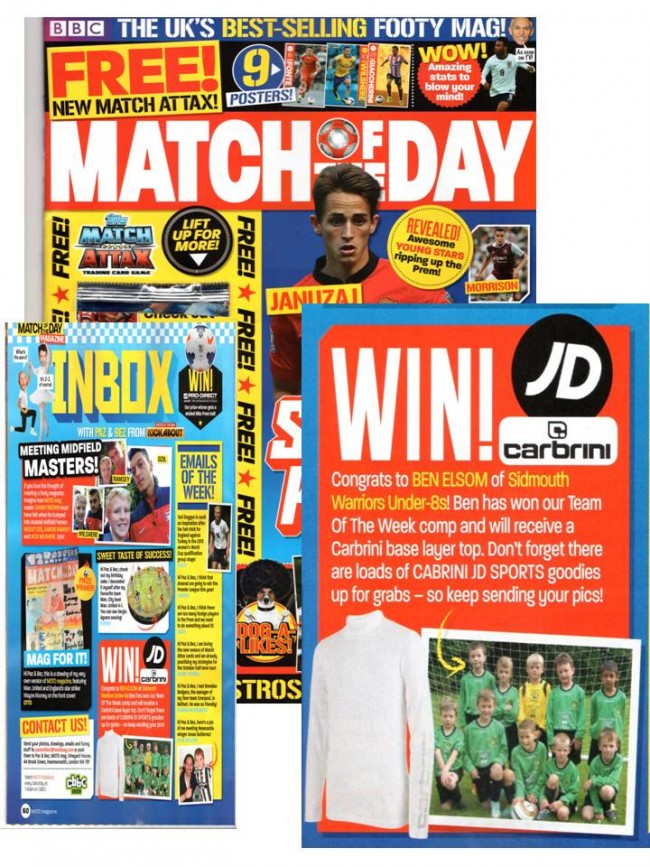 This week we were fortunate enough to have our team photo published in Match of the Day magazine (circulation ~ 60,000). Not bad for our small town to end up in such a big magazine!
The season has started well for the boys and despite a hard start we are now starting to move up the non-existent league. Neil and I thank them for their dedication so far and hope we can continue to make it fun and rewarding.
We have also been fortunate enough to receive a donation of 24 sports bottles and carriers from Sidmouth Sport Shop- our thanks go to Michael who didn't flinch when I asked him and was happy to support both the Warriors and the Raiders.
Exeter Santa Dash - 30th November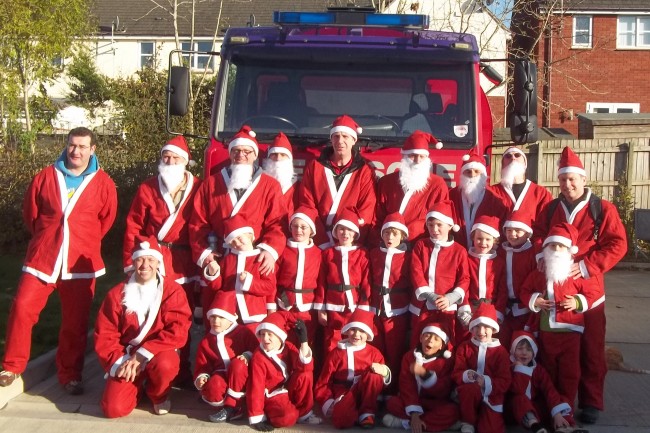 On Saturday 30th twenty-eight of us took part in the Exeter City FC Santa Dash to raise money for charity. It was a fantastic event and included a one mile run through the streets of Exeter before watching the Grecians play Bury. The boys were all very well behaved and have picked up some useful tips from what was for most of them their first experience of a League game.
Christmas Party December 14th- Warriors & Raiders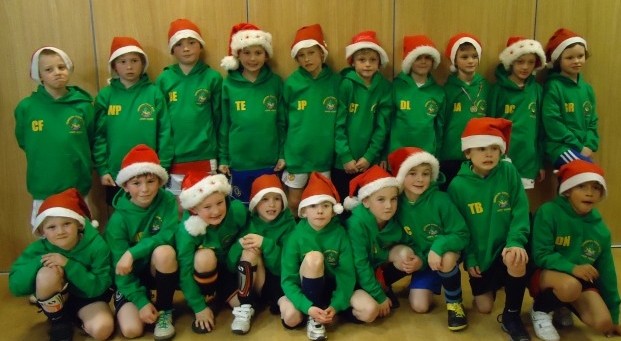 Mini-tournament and Hoodie Presentation
This years Christmas party took place at the Sidmouth sports centre. The two Under 8 teams enjoyed a mini-tournament with the coaches taking part- eventually won by a team featuring Raiders and Warriors (TB,MD,MB,JA,FS). Afterwards the boys enjoyed some party food followed by a small thanks from parents and coaches of a hoodie each. No more excuses for mixing up tops!
Next game - 8th March v Westhill Wasps/Honiton Hornets
Fixtures & Training Schedule
8th March Home Westhill Wasps/Honiton Hornets Long Park
15th March Away City Raiders/ Whipton Youth Whipton Barton school
22nd March Home Westexe Youth/ Alphington Eagles Long Park
29th March & 5th April TRAINING Long Park
12th, 19th, 26th April NO TRAINING
30th April - 11th June Home (Each Wednesday) TOURNAMENT TRAINING Long Park 18:00 - 19:00
-We are hoping to enter 2 or 3 tournaments - including Colyton on 31st May.
18th June-16th July NO TRAINING SUMMER BREAK
23rd July –3rd September Home (Each Wednesday) PRE-SEASON TRAINING Long Park 18:00 - 19:00
6th September Home 2014/15 SEASON Newton Poppleford