The team plays in division 1 of the Exeter Youth League.
A full fixture list is available on the website at www.exeteryouthleague.co.uk.
Home matches are played at Sidford.
Training takes place on a Thursday evening on the AstroTurf at Colyton.
Further details are available from Ian Peacock on 07530 727383.
Or by e-mailing ian.d.peacock@btinternet.com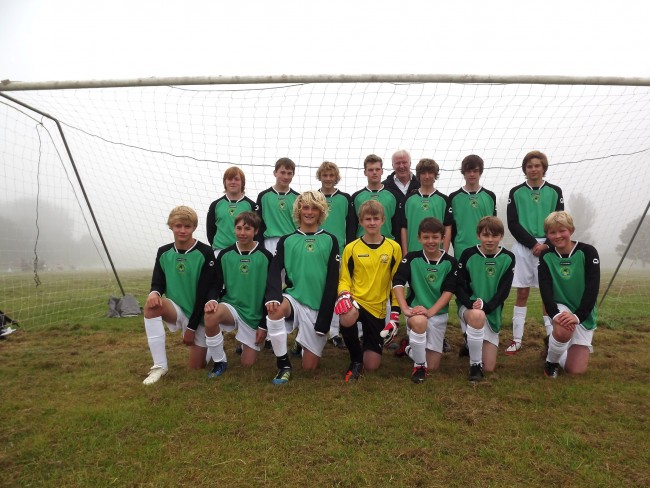 Saturday 22nd February 2014 - Sidmouth 0-6 Alphington
After an incredibly long break due to the horrendous weather conditions over recent weeks, Sidmouth faced a strong Alphington side in the cup. Losing this game would result in their last ever cup match as youth footballers.
The side were really motivated and keen to put in a decent performance to test Alphington from the first whistle. With Coach Ian Peacock absent, Stuart Cavin stepped in to manage the side which the players were most grateful for.
Sidmouth started well and put the opposition under a mountain of pressure giving them no time on the ball. Because of this, Sidmouth created chances and came close through a number of corners. Josh Worthington and Jack Scrivens made countless crunching tackles to keep the Alphington attack at bay. Alex Seward along with the rest of the midfield kept a solid line in midfield, but an unfortunate and unlucky error in defence caused Sidmouth to concede 10 minutes before the break. At half time Sidmouth were 1-0 down but by no means, out of the tie.
The message at the break was to maintain the high intensity and keep Alphington under pressure. They couldn't lose focus if they were to still take something from the game.
Sidmouth started the second half much as they did the first, but legs soon began to tire on the heavy ground. Three goals were conceded in quick succession crushing any chance of a comeback. The team lost its shape in the last quarter with a final score 0-6. Although a heavy defeat, a lot of positives could be taken from the game as the first half display was superb. Sidmouth face Crediton at home next weekend.