Welcome to our web page where you will find the latest news, results, match reports and photos for Sidmouth Town Junior Vikings U9 Warriors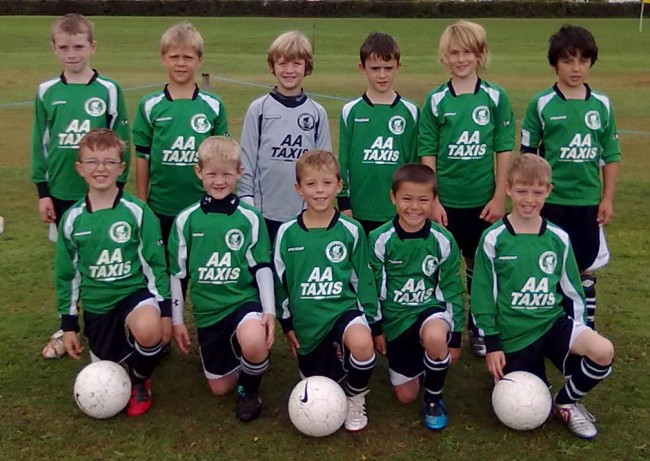 Many Thanks to Mike & Kate Stamp, who completed in this year's Grizzly run and raised £200 towards the boys football trip to Butlins, Minehead. Very much appreciated.
Thank you very much to all the local businesses who gave prizes for our Grand Draw. The Grand Draw took place at our Halloween Party where we raised £755. Thank you all for helping and supporting us.
Current League Table (up to 05/04/11)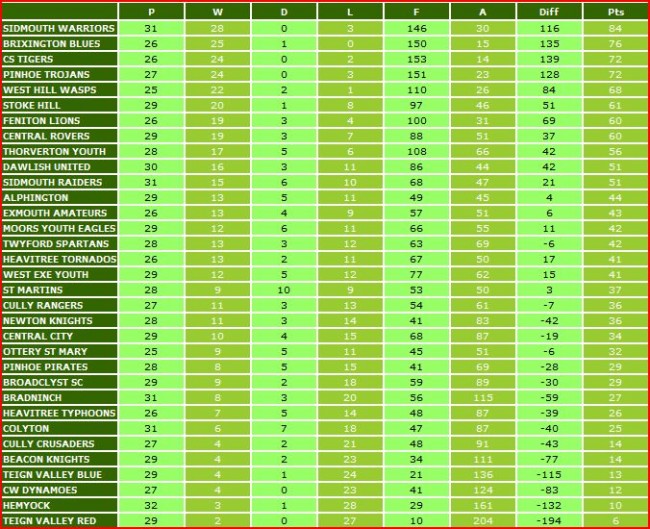 Click on a picture to enlarge it.
Connor Mcnamara-Campbell 33
Sidmouth Warriors 9 Newton Knights 0
Morison 3
Pugsley 2
McNamara-Campbell 2
Fowler
Wood
Sidmouth Warriors 6 Thorverton Youth 1
Morison 3
Wood
McNamara-Campbell
Roberts
CS Tigers 2 Sidmouth Warriors 3
Morison
Fowler
McNamara-Campbell
West Hill Wasps 7 Sidmouth Warriors 3
Sidmouth Warriors 1 Brixington Blues 2
Sidmouth Warriors 8 Exmouth Amateurs 0
Pyne 2
Wood 2
Fowler
Morison
Pugsley
McNamara-Campbell
Alphington 0 Sidmouth Warriors 1
West Exe Youth 2 Sidmouth Warriors 6
Wood 4
Pugsley
McNamara-Campbell
Sidmouth Warriors 12 Teign Valley Red 0
McNamara-Campbell 5
Morison 3
Fowler 2
Pugsley
Pyne
Sidmouth Warriors 10 Teign Valley Blue 0
McNamara-Campbell 3
Morison 3
Pyne 2
Wood
Pugsley
Sidmouth Warriors 6 CW Dynamoes 1
Wood 2
Fowler 2
Griffiths
Pugsley
Sidmouth Warriors 10 Beacon Knights 0
McNamara-Campbell 4
Pyne 3
Pugsley 2
Fowler
Heavitree Tornadoes 2 Sidmouth Warriors 4
Morison 2
Pugsley
McNamara-Campbell
Heavitree Typhoons 1 Sidmouth Warriors 5
Morison 3
Roberts
McNamara-Campbell
Saturday 13th November - Cup Competition - Round 1
Sidmouth Warriors 4 St. Martins 0
Fowler 2
Pugsley
McNamara-Campbell
Stoke Hill 3 Sidmouth Warriors 1
Broadclyst SC 1 Sidmouth Warriors 4
Saturday 22nd January - Cup Competition - Round 2
Alphington 0 Sidmouth Warriors 1
Sidmouth Warriors 1 Dawlish United 0
Sidmouth Warriors 3 St Martins 0
Morison
McNamara-Campbell 2
Sidmouth Warriors 2 Central City 1
Sidmouth Warriors 3 Central Rovers 1
Pinhoe Pirates 1 Sidmouth Warriors 5
Pegg 3
McNamara-Campbell 2
Pinhoe Trojans 1 Sidmouth Warriors 4
Cup QF - Brixington Blues 3 Sidmouth Warriors 1
Sidmouth Warriors 3 Twyford Spartans 1
Colyton 0 Sidmouth Raiders 4
McNamara-Campbell 2
Wood
Fowler
Hemyock 0 Sidmouth Warriors 5
Pugsley 3
McNamara-Campbell 2
Moors Youth 0 Sidmouth Warriors 4
Feniton Lions 1 Sidmouth Warriors 5
Pegg 2
Pugsley
McNamara-Campbell
Morison
Ottery St Mary 1 Sidmouth Warriors 3
Sidmouth Warriors 1 Cully Rangers 0
Sidmouth Warriors 6 Cully Crusaders 1
Pugsley 2
Morison 2
Wood
Roberts
Bradninch 0 Sidmouth Warriors 8
McNamara-Campbell 2
Morison 2
Pegg 2
Wood
Pugsley
Bradninch 0 Warriors U9's 8
The Warriors U9's finished their season on a high with a convincing win over Bradninch. Playing passing football, they were 4-0 up at half time after two goals each from Conor McNamara-Campbell and Louis Morison, who both ended the season as joint top goalscorers with 38 goals each. In the second half, Lenny Pegg added a further two, with Tyler Wood and Ollie Pugsley, who also reached the 30 goal mark, wrapping up an 8-0 victory. A great season for the whole squad, with a proud record of: played 31, won 28, drawn 0, lost 3.
Warriors U9's 6 Cully Crusaders 1
On a perfect morning for football the Warriors were quickly in to their passing game with Jordan, Conor, Tyler and Ollie all linking up well and the pressure finally paid off when a cross form Jordan set up Tyler to score. The second goal quickly followed with great individual work from Conor which set up Ollie to score. Good work from Ollie on the left resulted in him curling the ball into the far corner, for 3-0. The defence of Dylan, Sam and Harry in goal were very comfortable at the back for the majority of the match but were unable to stop Cullompton Crusaders getting their only goal to make it 3-1. The introduction of Louis Morison and Lenny kept Cully on the back foot and a good ball from Lenny found Louis to run through the middle and crack the ball into the net, 4-1. Louis Stamp and Ryan were introduced at the back and put in some great tackles which led to a corner that was headed in by Josh, finally Louis Morison finished the scoring from the corner to make the final score line 6-1.
Warriors U9's 1 Cully Rangers 0
In a closely fought battle the Warriors knew they were in for a game, with Cully Rangers tussling hard for every ball. The first half was end to end, with Sidmouth having the best efforts on goal. Cully's goalkeeper was fantastic and saved numerous times, especially from a free kick by Louis Morison which was heading for the top corner. At half time the score remained 0-0 and both sides were believing they could win it! Sidmouth started the second half with the same formation, but after 5 minutes, Griffiths came on at the back, Pegg was moved to left midfield and Morison was pushed further forward. This paid dividends almost immediately when the deadlock was finally broken as a quickly taken corner from McNamara-Campbell was controlled and drilled low into the far corner by Morison. The last 10 minutes after this were tense as both teams attacked and cancelled each other out. A great battle! Well Done Boys!
Ottery St Mary 1 Warriors U9's 3
Sidmouth were struggling to get motivated in the first 5 minutes, due to the Ottery's battling and eventually they scored the first goal. Sidmouth kept on attacking with a few shots going wide and it seemed like it was going to be one of those days!. With both teams still looking dangerous, Sidmouth's Tyler Wood calmed the nerves by scoring a low, hard shot in the bottom corner to make it 1-1 at half time. Sidmouth turned up the attacking pressure in the second half, playing some great passing football and a corner, which was powered in by Lenny Pegg, was met solidly by Tyler Wood, for the best header of the season to make it 2-1. Sidmouth continued to settle and great midfield play saw Louis Morison pass a fantastic ball to Lenny Pegg for him to side foot in the bottom corner to secure a 3-1 win.
Feniton Lions 1 Warriors U9's 5
Sidmouth were straight in to their stride in this match as great wide play from Tyler Wood, skipping past his man, saw him square the ball to Ollie Pugsley to place the ball in the bottom corner for a 1-0 lead after 40 seconds. Following great defensive cover from Dylan Lascelles, he brought the ball out of defence to pass to Louis Morison in the middle of midfield, who put an inch perfect ball for Lenny Pegg to run on to and strike into the net to make it 2-0 at half time. Sam Pyne came on for the second half, to cover with Dylan in defence in order to keep Feniton at bay. Lenny Pegg then went through the middle, after some great interplay from Tyler Wood and Louis Morison, to score his second goal, 3-0. Sidmouth were caught out for Feniton to score a great goal, as their forward, one on one with Jordan Fowler, dinked it over him cleverly to make it 3-1. Feniton continued to pressure, forcing stand in goalie Jordan Fowler, who looked assured in goal, to pull off a super finger tip save to keep them at bay. Connor Mcnamara-Campbell came on, with his fancy foot work, to beat three players and, one on one with the goalie, kept his nerve to slot the ball past the keeper for 4-1. Louis Morison capped a powerful individual performance by adding a fifth with a long range power drive. Two fantastic results for the team.
Moors Youth 0 Warriors U9's 4
Warriors U9's travelled to Tiverton to play one match against a battling Moors Youth side. In the first half the possession was definitely in Sidmouth's favour, but they couldn't convert their chances. Pegg looked dangerous in midfield and on numerous occasions linked up well with Fowler on the right and Pugsley up front, but in the final third, the radar was slightly off. Tyler Wood battled away down the left and cut in well to set up a couple of opportunities. For all their pressure, the score at half time remained 0-0. The second half saw Morison push into midfield and Lacselles in at the back, and early on, pressure told after Morison just beat the goalkeeper to the ball to poke it under him for a 1-0 lead. Soon after, he produced a great finish after picking up the ball in midfield and beating the defender, for 2-0. Good pressure then resulted in the ball spinning toward the Moors goal line and Fowler was alert to poke the ball in for a 3-0 lead. Morison completed his hat-trick with another long range effort. Final score 4-0.
Hemyock 0 Warriors U9's 5
The Sidmouth boys were in control of this away fixture from the off. It was a great display of teamwork and good old fashioned passing football. Tyler Wood ran his little socks off to set up Pugsley for the opening score. Conor McNamara-Campbell and Fowler criss-crossed the ball across the pitch to set up Pugsley's second, with his third quickly following from a great individual run to secure another hat trick. Pyne, Griffiths and Lascelles enjoyed the chance to move forward and be involved in the action. Harry Ensall showed great maturity and focus saving Hemyock's only chance. The second half allowed McNamara-Campbell to score twice more with well deserved goals.
Colyton 0 Warriors U9's 4
Colyton were stronger opposition, but Sidmouth were not going to let this spoil their weekend. Another display of passing football with great skill and control soon allowed Connor McNamara-Campbell to score quickly, followed by a well drilled corner piece which was converted by Tyler Wood, for Sidmouth's second goal. McNamara-Campbell completed his scoring with a fantastic run from midfield, easily dismissing Colyton's defence. Jordan Fowler, pushing forward and challenging all the time, was able to bring the win home with a low shot in the keepers net. Fantastic teamwork boys.
Warriors U9's 3 Twyford Spartans 1
Sidmouth began their successful weekend with a home win on a cold windy day. Ollie Pugsley's first goal in the bottom left corner of the net came courtesy of Louis Morison's delicate through ball. Lennie Pegg, already settled into his new team, worked tirelessly in midfield to set up Pugsley's second. Nearing half time Twyford put together some strong challenges and were able to place one in Sidmouth's net. Jordan Fowler's introduction in the second half allowed Sidmouth's great passing football to continue with Josh Roberts making a great run on the left to release Pugsley to cut in and curl the ball into the far corner for his hat trick. Sidmouth's defence of Stamp, Lascelles, Griffiths and Ensall were rarely troubled but solid when needed.
The Warriors followed this up with a 4-2 victory in a friendly match against their paired team, Sidmouth Raiders.
Brixington Blues 3 Warriors U9's 1
A good game of football, with both sides playing at a high level. For Brixington Blues, it was a job well done. All their players played well, on the day, and there was no weak link. Within five minutes, they were 1-0 up after a run across the box and a finish in the corner. Then both sides battled it out in midfield, with Brixington claiming the upper hand. Just before half time, with Sidmouth's defence backing off, a long range shot found the net for a 2-0 lead. At half time McNamara-Campbell was introduced and Sidmouth looked more threatening. The game was now being played in Brixington's half and the next goal was going to be all important. A Lenny Pegg cross found Pugsley in front of goal and he managed to scoop it over the bar (must have been a bobble!) Morison had a dangerous free kick clawed out by the keeper and Pegg pulled his shot wide shortly after. The next Brixington attack saw them awarded a penalty. After a scramble in the goalmouth, the ball squirted towards goal and Pegg, who couldn't do anything else, handled. We'll give Harry Ensall the credit as the penalty hit the post and was cleared away. When the third goal came, it was Brixington's and game over. A good cross was met on the volley and swept home. To Sidmouth's credit they kept playing the way they know how and were rewarded when Morison's through ball was swept into the roof of the net by Ollie Pugsley. Well done to both teams and good luck to Brixington Blues in the cup.
Pinhoe Pirates 1 Warriors U9's 5
The Warriors U9's started on the front foot and piled pressure onto Pinhoe Pirates straight from the kick off. Midway through the first half, after Tyler Wood had skillfully gone close, Conor McNamara-Campbell made it 1-0 with a trademark slotted finish. Soon after, Lenny Pegg, making his Sidmouth debut, powered through to drive a smart finish for 2-0. He made it 3-0 with another low, hard finish after Josh Roberts, who covered most of the midfield, had played him through. In the second half, Sidmouth defended stoutly, Dylan Lascelles playing football well, bringing the ball out from the back and Louis Stamp covering and putting in some great tackles. Therefore it was a surprise when the Pirates scored a breakaway goal for 3-1. In a tense second half five minutes, Harry Ensall saved well to keep Sidmouth ahead, before Conor McNamara-Campbell beat a player on the left and squared the ball for Lenny Pegg to smash home with his left foot, a great debut hat-trick! In the final seconds, Conor McNamara-Campbell prodded home after a scramble in the area, for a comfortable 5-1 win.
Pinhoe Trojans 1 Warriors U9's 4
Playing against a Pinhoe side who had only lost one match in eighteen, the Warriors bossed the game from the start and their attacking attitude didn't let the opposition play their passing football. In the first minute, after great closing down from Louis Morison, Ollie Pugsley backheeled just wide. A minute later a lofted corner from Jordan Fowler was volleyed in by Morison for a 1-0 lead. This beacme 2-0 after five minutes as Lenny Pegg passed back to Louis Morison who split the defence with a great pass to Ollie Pugley who turned and calmly slotted the ball under Pinhoe's imposing goalkeeper. Harry Ensall made a sharp save, from the lively Pinhoe attack to keep the score to 2-0 at half time. The second half was possibly the best the Warriors had played all season. Louis Morison controlled all the large goal kicks and distributed well, Ollie Pugsley held the ball up expertly and passed intelligently, Jordan Fowler took up great positions on the right wing and had three blasted shots saved well by the opposition keeper, Lenny Pegg was strong in midfield and skillfully passed and received the ball to make goal scoring opportunities, Sam Pyne made two outstanding tackles to keep Pinhoe at bay, Ryan Griffiths was always buzzing around and breaking up opposition attacks by being first to the ball and Harry Ensall saved well from two good shots. Pinhoe scambled a goal to make it 2-1, but the Warriors powered back with two more goals from Ollie Pugsley and Lenny Pegg. Final score 4-1. A great performance before next week's cup quarter final away to unbeaten Brixington Blues.
Warriors U9's 2 Central City 1
Sidmouth Vikings U9s Warriors took on a resolute Central City side in a close fought contest. The game started with City pressing Sidmouth back but after repeated pressure Sidmouth regrouped and were rewarded with a succession of corners where both Louis Morison and Ollie Pugsley had near misses on goal. Further attacks from Sidmouth resulted in a trademark Morison goal from range. The lead proved short-lived however with a battling City pulling back level with a deflected shot just before the break. Sidmouth came out fighting in the second half with Ryan Griffiths and Sam Pyne holding strong at the back. Jordan Fowler tested the strong City defence with a scorching shot but the match seemed to be reaching deadlock. Connor Macnamara-Campbell and Dylan Lascelles were then introduced with Macnamara-Campbell soon threading a peach of a pass through to Pyne to slot home. Result 2 - 1 to Sidmouth.
Warriors U9's 3 Central Rovers 1
The Warriors second fixture of the day saw another tight tussle with Central Rovers. Credit has to be given to the Central keeper who defended repeated shots from Sidmouth - with Griffiths coming close, then Morison eventually finding the net with a low drive. Soon after the Sidmouth keeper Harry Ensall showed his worth by pulling off a brave goal saving effort at the feet of the Central striker. After half time Central started well but Sidmouth reacted with Pugsley passing across the goal to be tapped in for a great poachers finish by Tyler Wood. Central continued to pile on the pressure and Josh Roberts came on to shore up the defence with some stout cover. A great pass from Morison was then converted by another smart finish from Wood. The match was rounded off by a breakaway goal from Central. The Warriors are not only playing good football but learning to grind out results when necessary - this is making them a side that is hard to beat. Well done!
Many thanks to Vinnecombes Bakery for the kind donation of the bread rolls.
Warriors U9's 1 Dawlish 0
Credit to both teams for playing this game, as it was bitterly cold and difficult to play football on a hard pitch. What the game lacked in finesse, it made up for in passion as both teams went full steam ahead for the win. Warrior's U9's made most of the chances in the first half, but the closest thing to a goal was a great long range long lob, from a Dawlish midfielder, which smacked against the crossbar. Sidmouth's best chance was from Ollie Pugsley, who lifted it just over the bar. In the second half, Sidmouth were again the more attacking team and Louis Morison, Jordan Fowler and Conor McNamara-Campbell started to play some good football. Sam Pyne became more of a threat as the game progressed and hit the crossbar. Dawlish were dangerous, on the counter attack, and Harry Ensall in goal snuffed out a few attacks. As the game looked to be heading for a 0-0, a shot, well saved by the Dawlish keeper, was followed up by Conor McNamara-Campbell, who half volleyed the ball into the corner. It finished 1-0 to the Warriors,
Warriors U9's 3 St Martins 0
In their second game, the Warriors piled pressure on the St Martins goal in the first half. Jordan Fowler hit the post and Louis Morison peppered the goal with long range shots, but the 1-0 scoreline at half time was testament to a fantastic goalkeeping display from the St Martins number 1. The goal came from a driven shot from Louis Morison. The second half followed a similar pattern, but St Martins had a few more chances to equalise. Dillon Lascelles and Louis Stamp marshalled the defense very well and kept things very simple by passing their way out of trouble. Tyler Wood worked tirelessly on the right wing. Two late goals from Conor McNamara-Campbell sealed the win, the first a chipped finish when through on goal and the second a cool finish in the corner after he had robbed a defender of the ball. Final score 3-0 to the Warriors.
Cup Competition - Round 2
Alphington 0 Warriors U9's 1
After the previous week's match, a bit of respect returned to U9's football, as the Warriors won 1-0 away to Alphington, in the cup, to progress to the quarter finals. The pitch was very hard, and after both sets of teams decided they wanted to play the referee lay down clear instructions to play fair, with no sliding tackles. Sidmouth put in a very solid performance and although Alphington were a constant threat, Harry Ensall in goal only had one shot to save. Ryan Griffiths and Sam Pyne grew stronger during the game and battled well to keep the ball up the other end. Louis Morison must have covered every blade of frosted grass, driving Sidmouth forward and Tyler Wood and Jordan Fowler pressured down the wings. Ollie Pugsley held the ball up intelligently and brought those around him into play. The winning goal was worked well, from defense and Ollie Pugsley squared to Jordan Fowler who hooked a left footed shot into the corner. Thank you to the hosts who gracefully accepted defeat and to the referee who fairly and consistently let the game flow on a very difficult pitch.
Broadclyst SC 1 Warriors U9's 4
The Warriors produced some great flowing football early in this game, in their first match for over a month and went ahead when Jordan Fowler drove the ball into the corner of the net. A great passing move led to Fowler sweeping a cross over for Ollie Pugsley to poach the second with a tap in finish. Sam Pyne scored a great lob to make it 3-0 at half time. Louis Morison drove home a fourth goal early in the second half, before Broadclyst pulled one back. Ensall in goal was commanding, especially when punching corners away and Josh Roberts was energetic in midfield during the second half. A good win for the Warriors and another three points.
Stoke Hill 3 Warriors U9's 1
The less said about this game the better! Stoke Hill probably deserved to win in the end, but a very clever one-sided refereeing performance most definitely contributed to it. Conor McNamara-Campbell scored the Warriors goal, but Stoke Hill replied three times.
Cup Competition - Round 1
Warriors U9's 4 St. Martins 0
Sidmouth have been playing some very good passing football in the last few weeks and were straight at St Martin's winning the early battles and getting the ball down and passing it around well. Louis Morison was driving through midfield with power. Supporting the wide men in the box, Jordan Fowler rifled a shot home to put Sids 1-0 up. They got their second goal from Oliver Pugsley, who ran on to Morison's pass to make it 2-0 at half time. Connor Mcnamara-Campbell came on at half time and was soon in on the act, scoring Sidmouth's third. In a double sub, Josh Roberts came on for Lascelles at the back and Sam Pyne came on for Ryan Griffiths. Sids were making the play by now and were denied a long-range fourth by the St Martin's goalie.
Team: H Ensall, D Lascelles, R Griffiths, T Wood, I Morison, J Fowler, O Pugsley,J Roberts, S Pyne, C Mcnamara-Campbell.
In a second friendly match between the sides, all the subs started and Sidmouth won 9-2. Scorers were: Sam Pyne 3, Oliver Pugsley 3, Tyler Wood 1, Connor M-C, Harry Ensall. The pick of the goals was from regular keeper Ensall.
Heavitree Tornadoes 2 Warriors U9's 4
Playing against a competitive Heavitree side, in the first five minutes both sides jostled to get the upper hand. Sidmouth were playing their usual passing football and Heavitree Tornadoes were breaking play up in defense and springing forward on the break. Midway through the half the Tornadoes took the lead with a smart finish from close range. Minutes before half time the Warriors responded after a curled through ball by Louis Morison was brilliantly finished, left footed on the run, by Ollie Pugsley. Louis Stamp covered the ground well at the back to snuff out any further danger. The second half began 1-1, as Sidmouth raised their game when a powerful free kick by Jordan Fowler was very well saved. Morison produced a strong run and smart finish to gain the Warriors the lead and then did exactly the same to extend to 3-1. Dylan Lascelles positioning and tackling, in defense, was superb and helped to set up a breakaway for Conor McNamara-Campbell to draw the keeper into a dive before dinking the ball over him for 4-1. Heavitree never gave up and scored a deserved goal, on the break, just before the final whistle, 4-2 to the Warriors.
Heavitree Typhoons 1 Warriors U9's 5
In the second game, the Warriors beat Heavitree Typhoons 5-1, although it could have been double that, but for a great goalkeeping display. Louis Morison smartly toe-punted a finish for 1-0 and after a short corner drove left footed for 2-0. Battling by Tyler Wood, led to Morison completing a smart hat trick with another left footer. At half time, the team was moved around and Josh Roberts, after having on effort saved, scored with a low drive. Harry Ensall battled well in the middle and Sam Pyne kept up the pressure on their team. An unfortunate fumble, by goalkeeper Morison, gifted Heavitree a goal for 4-1, then the win was sealed with the last kick of the match and goal of the season so far when Conor McNamara-Campbell swiveled and hooked a right footed shot into the top of the top corner.
Warriors U9's 6 Countess Wear Dynamoes 1
In a scrappy first half Sidmouth finally broke the dead lock when a throw in from Ryan Griffith's found Ollie Pugsley who put a lovely through ball to Jordan Fowler to slot home. Josh Roberts, Sid's keeper for the day was quickly called into action but was able to make a great save. In a five minute spell the Dynamos caused Sidmouth all sorts of problems but the ever reliable Louis Stamp halted their attempts with some fantastic tackling. Sidmouth were able to double their lead when a Fowler free kick came off Griffith's and rolled over the line. Countess Wear pulled one back but Sidmouth began to take control. Sam Pyne won a great header to release Pugsley to slot one home in the bottom corner. Two more goals followed in quick succession when Tyler Wood dribbled through the Dynamos defence and calmly scored his first. His good work continued and he found Pugsley who hit a great cross field pass to Fowler to score in the corner. Strong work from Dylan Lascelles enabled Wood to score again with a shot just inside the near post.
Warriors U9's 10 Beacon Knights 0
In their second match Sidmouth quickly found their stride with great work out wide from Fowler whose cross supplied Pugsley to open the scoring. Fantastic passing football from Griffith's, Fowler and Pugsley found Pyne who scrambled the ball over the line. Pyne's attack continued and his second and third goals quickly followed with crosses from Pugsley. Conor McNamara Campbell soon made it 5 nil with a great shot from the edge of the box. Pugsley was able to split the Knights defence enabling him and Fowler to both score. Sidmouth continued to dominate with great teamwork, McNamara Campbell and Wood finding Pyne who squared the ball across to Pugsley to score again. McNamara Campbell continued his shooting spell with three quick goals, one courtesy of Wood, the second a brilliant individual run and the third a rebounded shot off the Knights keeper who had just managed to save a Pugsley shot. Great teamwork boys.
Warriors U9's 10 Teign Valley Blue 0
Great passing and tackling saw Sidmouth dominate the game. Fowler crossed the ball to Ollie Pugsley for him to score in the bottom corner. Tyler Wood, on the left wing, in his best form this season having scored 4 goals last week, didn't want to miss out and scored with a fantastic solo goal. Louis Morison, playing well, scored the next 3 goals, gaining his hat-trick. In the second half Conor McNamara-Campbell came on and scored after receiving a great cross from Pugsley.The defense was challenged a few times, but solid work from Dylan Lascelles & Louis Stamp kept Teign Valley at bay. A powerful shot from Jordan Fowler was well saved by the Teign Valley keeper but fell for Connor Mcnamara-Campbell to score the rebound. A scramble in the muddy box saw Sam Pyne score, then soon after Connor McNamara-Campbell scored his second.The scorer then passed the ball across to Sam Pyne to get his second goal, then went on to score in the last few minutes of the game to complete his hat-trick. A great performance in bad weather conditions.
Warriors U9's 12 Teign Valley Red 0
It looked like it was one way traffic, and in reality Sidmouth played the best football of the season so far. A great strike from Louis Morison got us on the score sheet early. Then a scramble just outside the box led to Morison scoring his second. Sidmouth's continued pressure resulted in a corner, worked on in training, where Fowler's one-two with Morison set up Fowler to hammer the ball in the bottom corner with his left foot. Sidmouth's flowing football was at its best by now, as Tyler Wood passed a great ball across the pitch for Fowler to cross for Ollie Pugsley to slot home. Josh Roberts fed the ball out well to Ryan Griffiths & Louis Stamp in defense for them to play the ball out wide down the wing for Fowler to strike another great shot in the top corner. The second half saw the introduction of Dylan Lascelles, Conor McNamara-Campbell & Sam Pyne. Morison completed his hat-trick with a great top corner goal and another scramble in the box saw Conor steal a poachers goal. Great working through midfield saw Sam Pyne arrive in the box for a well timed eighth goal, with Connor on fire as he scored goal 9,10,11 & 12 to make it 5 goals in this match!
Alphington 0 Warriors U9's 1
Playing against another new team in the league, Alphington, the Warriors U9's bossed the game as Harry Ensall, in goal, only had one or two touches of the ball. After early pressure, good battling from Ollie Pugsley set up Louis Morison to drive the ball for a 1-0 lead. After many other chances and with Ryan Griffiths confidently marshaling the back and bringing the ball out confidently, half time arrived with only the one goal to show for much pressure. In a tighter second half, in which Sidmouth continued to attack, Alphington tackled bravely and kept their shape very well. The Warriors had more chances to finish the game, but failed to take them. Final score 1-0.
West Exe Youth 2 Warriors U9's 6
The Warriors second game of the day was a real battle, as West Exe produced a physical display in the first half where they took the lead after a smart, low finish from outside the box. Sidmouth's usual passing style was nullified and they were fortunate to come in 1-1 at half time, after Tyler Wood's shot was cleverly deflected in by Ollie Pugsley. In the second half, the Warriors were urged to stand up to the physical challenge and to keep playing passing football, which they did to great effect. Tyler Wood belted the ball home after a corner resulted in a goalmouth scramble and he timed his run perfectly to finish really smartly after another Jordan Fowler corner, to make it 3-1. Louis Stamp positioned himself well, in defence, to stop attacks, and Dylan Lascelles battled hard in the middle, but could do nothing to stop a West Exe breakaway registering their second goal. Louis Morison crossed for Tyler Wood to complete a fantastic hat trick and he added his fourth after smart work from Conor MacNamara Campbell, who himself deservedly added another after robbing a defender and slotting home coolly.
Warriors U9's 8 Exmouth Amateurs 0
Sidmouth U9s Warriors quickly got into their stride and beat Exmouth 8-0, writes Mark Pugsley. Excellent team work from Pugsley, Wood and Morison set up Fowler to open the scoring. The team work continued for Wood to score Sidmouth's second and third goal. A throw in quickly taken by Fowler released Morison to smash home Sidmouth's fourth. Not wanting to be left out, Pugsley and Fowler combined well for Pugsley to score goal number five before his substitution. McNamara came on, took on five opposition players and scored to bring the half time score to 6-0. The second half was equally one way traffic, with McNamara and Griffiths setting up Sam Pyne to score his first. Louis Stamp, having the chance to play out of his normal position came close with two great efforts. Pyne wrapped up Sidmouth's score tally with a great turn and strike. Solid defending from Roberts and Lascelles, and some great saves from Ensall, ensured Exmouth never had chance to challenge.
Warriors U9's 1 Brixington Blues 2
The U9 Warriors found life much tougher against Brixington Blues and lost 2-1, but they matched the Blues in every department. Despite constant pressure from Sidmouth, Brixington scored twice, an own goal just before half time and a break away goal five minutes into the second half. Sidmouth kept working hard and a great strike from Morison ten minutes before the end, pulled a goal back. Sidmouth kept piling on the pressure with great strikes from Morison and Fowler but unfortunately both hit the post. The Warriors battled to the end and were very unlucky not to equalise before the final whistle. A great game of football between two very competitive sides.
Culm Sampford Tigers 2 Warriors U9's 3
This was a great game of football to watch, as both sides tried to out pass each other. Culm Tigers, unbeaten in under 8 football and up until this game, were always on the back foot, as the Warriors took the game to them. Louis Morison opened the scoring for Sidmouth when he flashed a half chance into the top corner of the net, via a defender's legs. Ten minutes into the game, a lovely passage of passing saw the ball slid to Jordan Fowler, on the right wing, who picked his spot expertly and drove home a low shot for 2-0. Culm now knew that they were in a game and came out fighting to preserve their unbeaten record. A great passing move from one side of the pitch to the other saw them cut the arrears to one goal. Half time, 2-1 to the Warriors. Both teams knew the next goal was going to be all important, and Conor McNamara-Campbell, through one on one with the keeper, finished coolly to maintain the Warriors two goal advantage, 3-1. With ten minutes left, the game was end to end and both teams had chances to score. Notably, Harry Ensall made a fine save with his head! Two minutes from time, Culm were allowed back in the game, after a drive into the top of the net. In the end, Sidmouth held out for a deserved win in a match they were always ahead in. Although dejected, after losing their first game, great credit to Culm Tigers, who are a great footballing team.
West Hill Wasps 7 Warriors U9's 3
After the euphoria of beating Culm Tigers, in an energy sapping match, the low of a first defeat of the season to a very determined West Hill Wasps side. Playing downhill, the Warriors took the lead when Morison registered for 1-0. West Hill, flooding the midfield when coming forward and playing some good football around the penalty area, equalised, 1-1. Ollie Pugsley restored the Warriors advantage, finishing smartly for 2-1. Then West Hill scrambled a goal for 2-2. An even first half ended after Tyler Wood had prodded home to once again give Sidmouth the lead at 3-2. The second half was a disaster from Sidmouth's point of view, but they never gave up as West Hill took the game away from them with a strong performance and the benefit of the slope. Their equaliser could have been a fluke or could have been sublime skill as a shot was launched from inside their own half which always looked like it would dip in and indeed did! This gave West Hill renewed confidence and they scored a further four unanswered goals after some long ball breakaways and 'Rory Delap' type throw-ins, caused confusion in the Sidmouth area. Although disappointing for the Warriors, credit to West Hill who were very determined to win.
Warriors U9's 9 Newton Knights 0
Most of this game was spent in the Newton Knights half and it is credit to their goalkeeper that the score wasn't more. After early pressure, Ollie Pugsley opened the scoring. Sam Pyne started the move which lead to Ollie Pugsley's second goal. The scorer then crossed for Louis Morison to make it 3-0. The Warriors now produced some great passing football, with Tyler Wood providing the assist for Jordan Fowler to score, 4-0. A pinpoint corner enabled Louis Morison to score, for 5-0, and he completed his hat-trick before half time, 6-0. The second half followed the same pattern and after Josh Roberts' shot was cleared off the line, Conor MacNamara Campbell poached his first goal, with a dinky finish. Louis Stamp and Dylan Lascelles were keeping everything tidy at the back. Tyler Wood finished tidily to make the score 8-0 and Conor NacNamara Campbell scored his second for 9-0. A very pleasing start to the season.
Warriors U9's 6 Thorverton 1
The second match provided stiffer competition, as Thorverton played their first ever matches, at this age group, in the league. After a well worked short corner, Louis Morison scored, 1-0. Again some great passing football involving Ollie Pugsley and Jordan Fowler, led to the latter crossing for a lovely glancing header from Louis Morison, 2-0. Tyler Wood smashed one in the top corner for 3-0 and Thorverton scored a great volley to make it 3-1, just before half time. In the second half, Ryan Griffiths, making his debut, produced some storming runs, just as Thorverton were increasing their attacking pressure. One of these led to a corner from which Louis Morison completed his hat trick, 4-1. Conor MacNamara Campbell slotted home for 5-1 and Jordan Fowler crossed for Josh Roberts to score to make it 6-1. Harry Ensall, in goal, made two fine saves at the end to keep the score the same. Two comfortable wins and some lovely flowing football in a fine start to the season.