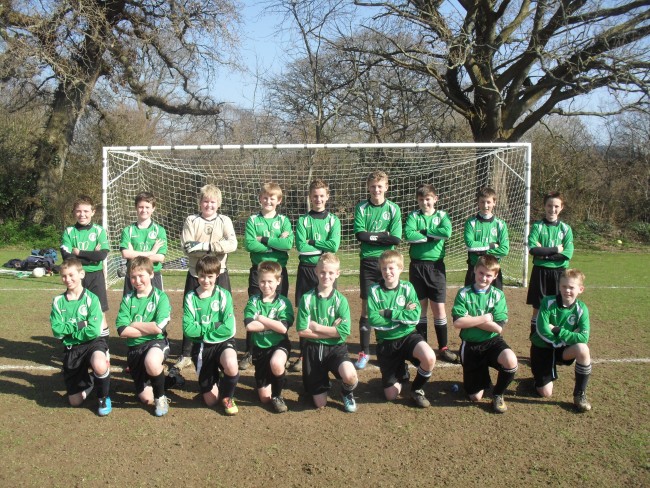 Back row (left to right);
Connor Murphy, Jonny Surtees, Harvey Sargent, Tyler Wellman, Jonny Dunn, Freddie King, Sam Hicks, Jamie Newbery, Joe Miller
Front row Roel Ruigrok, Alex Stone, Alister Forsyth, George Harris, Ben Miller, Billy Rudolph, Charlie Freeman, Dylan King
Sponsored by Exeter Medical
Welcome to our web page where you'll find photos, match reports and news about Sidmouth Town Junior Vikings - under 12s playing on Saturdays in the Exeter and District Youth Football League and Sundays in the East Devon Youth Football League.
To see a fixture list, for our Saturday matches and to find venues for our away matches, please check the Exeter & District Youth Football League website:-
To see a fixture list for our Sunday matches and to find venues for our away matches please check the East Devon Youth Football League website :-
http://www.leaguewebsite.co.uk/eastdevonyfl/Divisions
Goodbye and Good luck :-)
Our team consists of high quality players.... 5 of our players have been selected to play for the Exeter City Centre of Excellence, recently Jonny Dunn who is now joined by Freddie King WELL DONE FREDDIE and WELL DONE JONNY!!
SIDMOUTH TOWN JUNIORS FOOTBALL PRESENTATION
....held their annual football presentation on Friday 20th May at the football club Manstone Drive Sidmouth....... the boys received trophies for runners up in the West Country Cup ..... the icing on the cake was the cup awarded to Sidmouth Juniors for winning the Exeter and District League cup and fo which all the boys received individuals trophies. Individual cups were awarded to Jonny Dunn- top goal scorer...... Freddie King....players player...... Dylan King most influential player, James Clarke most improved and Alex Stone managers player. All the boys worked extremely hard all season and special mention was given to Jonny Dunn who was snapped up by the Exeter City Centre of Excellence......WELL DONE JONNY
Sidmouth Town Juniors enter two teams the Warriors and Raiders into the Exeter City FC Centre of Excellence 6-a-side tournament at Feniton Football Club, Feniton on the weekend of May 28/29th 2011. Both teams made the quarter finals well done boys.
Crediton Youth FC are holding their annual six a side tournament on 11th/12th JUNE 2011 at Crediton Youth FC pitches, Lords Meadow. Sidmouth Town Juniors will be entering a small team into this tournament.Come along & support the lads
RESULTS FOR WEST COUNTRY CUP u12s
Wed 09:30 Sidmouth Town 3 v Wadbridge Town 4
Wed 14:30 North Somerset 2 v Sidmouth Town 1
Thu 11:00 Sidmouth Town 12 v Newquay AFC Galaxy 0
Thu 16:00 Wadbridge Town 0 v Sidmouth Town 6
Fri 11:00 Sidmouth Town 0 v North Somerset 3
Fri 16:00 Newquay AFC Galaxy 1 v Sidmouth Town 13
Sidmouth boys were runners up in the West Country Cup- well done to them all
Sidmouth Town Junior Vikings - Under 12s
CHAMPIONS 2010/2011 IN THE EXETER & DISTRICT LEAGUE
Sidmouth Under 12s are champions of East Devon having won the Exeter & District First Division on Saturday. This is the second time they have won the title, having won the league in 2009 and narrowly missing out last year.
Saturdays match was played at the main Sidmouth pitch at Manstone, a fitting venue for a potentially title winning match. Despite evident nervousness from the players Sidmouth took a quiet control of the match and a two nil lead within 20 minutes through cool strikes from Jonny Dunn. Hopes of the lead relaxing the team were dashed and Sidmouth capitulated, ending the half weakly and lucky to only concede once, despite an excellent initial save from Harvey Sargent, to make the score 2.1.
Carefully selected words from the coaches in the break seemed to do the trick. With Joe Miller, Alex Stone, Tyler Wellman and Billy Rudolph bossing the midfield the quality raised resulting in Charlie Freeman smashing in a third and Dunn completing his hatrick soon after. The boys then dropped into their usual, quality football. With innovative play by wingers Roel Ruigrok and George Harris many chances were created, Ben Miller added two more, Dunn his fourth and Alister Forsyth rounded a fine second half performance with the eight. Credit goes to Sam Hicks, Jamie Newberry, Dylan King and Jonny Surtees who admirably dealt with some very quick counter attacking.
The final whistle was greeted with much relief and celebration. Next Saturday the side travel to arch rivals Newton Abbot as Champions.
A massive well done to the team for an amazing achievement in a strong league. The team have won 19 of their 21 matches, drawing the other two scoring 123 goals in the process and conceding just 19. Also, well done to Jonny Dunn for securing a place with Exeter City next season.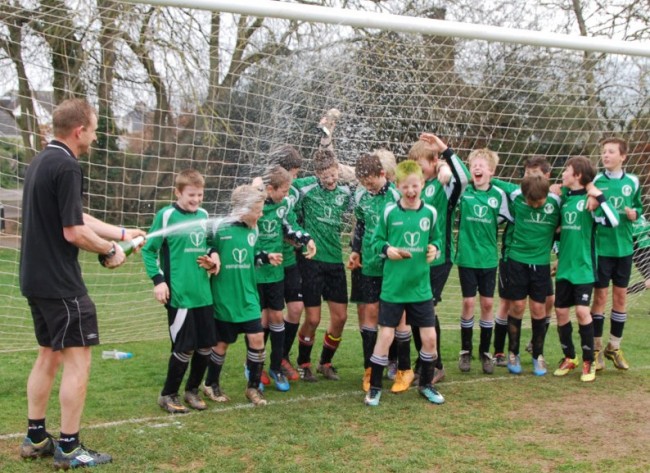 Match Reports for Sidmouth Town Junior Vikings - Under 12
EXETER & DISTRICT YOUTH FOOTBALL LEAGUE
CULLOMPTON 2 SIDMOUTH 5 - Sat 12th March 2011- Report by Paul Newbery
Sidmouth played away at Cullompton & started very sluggishly but did go into a early lead through Charlie Freeman. Cullompton hit back & scored a terrific goal from outside of the box. This spurred Cully on & they played the attacking football which kept Sid on the back foot. Freeman was set free again by Alex Stone & he coolly rounded the keeper to score. Back came Cully enjoying some good spells of football but Dylan King & his fellow defenders kept them at bay & just before halftime Jonny Dunn followed up Jamie Newberys saved shot to score. 3-1 up but probably the worst half's football for two years it was stressed that the quality was to be upped & it duly was in the second half with Billy Rudolph, & Joe Miller pulling the strings, but it was Cully who scored next when a poor clearance from the keeper found an unmarked player to roll back into the net. Undeterred Sid came back & Freeman completed his hat trick when he lobbed the advancing keeper. Newbery had a great shot rattle the post before Freddie King crossed for Miller to head home. A good second half performance & 3 more points nearer the league title with 3 games to play.
ALPHINGTON 2 SIDMOUTH 6 - Sat 5th March 2011 - Report by Paul Newbery
Playing away on a small pitch with a lot of grass gave Sidmouth a few early problems not being able to play their normal fluent passing game against a very determined Alpha side. Alphington were much the brighter team & made the Sidmouth defence work hard but when Sids start to play they created the best chances & one when Ben Miller tricked his way past the keeper his shot slowed in the grass & was cleared off the line. Alphington then caught Sids unusually on the break & opened the scoring. Halftime came with Sid 1-0 down & it was stressed that if they kept their heads & kept pressing their chances would come. Sid attacked from the start of the half & forced a corner & from it Jamie Newbery was pushed over & earned his side a penalty which Charlie Freeman smashed into the top corner. Back came Alphington & when Newbery slipped they scored again for 2-1. Sid then played some terrific football with Joe Miller driving his team forward & when the ball fell to Connor Murphy who drove the ball home for the equaliser. Sid then got their noses in front with a well taken goal from Jonny Dunn & Murphy got his second with another well placed shot into the corner Sid was now rampant with Further goals from Alex Stone & the hard working Miller to end with a convincing 6-2 victory. A hard fought win with everyone mentioned & not mentioned playing well in a good team performance. Congratulations to Billy Rudolph, Freddie King, Dylan King, Jamie Newbery, Joe Miller, Charlie Freeman, & Jonny Dunn for their selection in the East Devon pick of the league team on Tuesday evening at Newton Abbot against a Plymouth representative team which they won 2-1 with the goals from Miller, & Freeman.
SIDMOUTH 5 EXWICK 1 - Sat 19th February 2011 - Report by Paul Newbery
Saturday saw the eagerly awaited clash of the two unbeaten sides in the league & what a cracking match it was. Sidmouth started brightly with good neat attractive football but Exwick came into the game & put pressure on the Sids defence but Jamie Newbery, Dylan King, Jonny Surtees held firm. The first real chance fell to Sidmouth, when slick passing from Billy Rudolph, Alex Stone, & Jonny Dunn sent Charlie Freeman through & his shot hit the post. Tyler Wellman was picking up most of the loose balls & feeding Freddie King who was causing all sorts of problems & when he met a Welman corner he powered his header into the net only to have it disallowed for a push. Exwick hit back & a good move down the left resulted in a tremendous shot that cannoned off the bar. Five minutes before halftime Freddie King picked the ball up just outside the area & after beating a couple of players fired in to give the Sidmouth the lead, but Sidmouth had 12 players on the field at the time , but the referee allowed the goal. This fired up Exwick & they attacked Sidmouth for the next few minutes. Halftime arrived with plenty of protest & it was mutually agreed for Sidmouth to allow Exwick to walk a goal in & so at all square the game was on with both teams attacking & both defences holding firm. With 15 minutes left Freddie King went on another run which saw him beat 3 players & slot the ball past the keeper to give Sidmouth the lead. Sidmouth now had their tails up Dunn, & Joe Miller both shot over the bar Exwick pressed hard But Alister Forsyth Ben Miller, Wellman, & Surtees defended outstandingly, giving keeper Harvey Sargent nothing to do . The final whistle blew to a great match that Sidmouth deservedly won with a great team performance & are now the only unbeaten team so far in league.
SIDMOUTH 5 CULM 9 - Sat 12th February 2011 - Report by Paul Newbery
On a bright & sunny morning Culm were the brighter team forcing Sidmouth to defend with Jamie Newbery, Billy Rudolph, & Dylan King, having to work hard, but gradually Sidmouth grew into the game & with the introduction of Tyler Wellman Sidmouth started to push Culm back. Wellmans good ball through the middle allowed Jonny Dunn to run through & slot the ball into the net to open the scoring. With Wellman & Alex Stone controlling the middle of the park it allowed wide players Ben Miller & George Harris to raid the flanks & it was from Harris cross Connor Murphy finished off another good move with a cool shot into the corner. Culm hit back & Joe Miller had to make a good save to keep the halftime score at 2-0. Second half was much the same as the first with Sidmouth dominating & were awarded a freekick which Wellman took & it squirmed into the net for 3-0. Sidmouth were playing some great passing football with everyone playing quality football & Sam Hicks went on a run past a couple of players which forced a corner & when it eventually came across, Roel Ruigrok chested it done & smashed it in on the volley from 3 yards for number 4. Rudolph then crossed the ball in & Alister Forsyth tapped into the net for the fifth. In the last minute Newberys shot hit the post & rebounded into the keeper's arms. A great all round display from everyone keeping their unbeaten run going & hearing their great rivals Newton 66 had lost to this week's opponents Exwick who along with Sidmouth are now the only two unbeaten teams in the league.
THORVERTON 0 SIDMOUTH 4 - Sat 5th February 2011 - Report by Paul Newbery
Playing away, it was Thorverton who started the stronger side passing the ball around & making the defence of Sam Hicks, Jamie Newbery, Dylan King, & Tyler Wellman worked hard. Sidmouth gradually got into the game when Billy Rudolph came on in midfield & started to dominate the game. A fine move saw Jonny Dunn have a great shot well saved & the ball broke to Alex Stone who was dumbfounded to see his shot cleared off the line. Sidmouth took the lead when George Harris played a one-two with Dunn & his great cross was met at the far post by Connor Murphy to volley the ball home. It was soon two when Harris who was having a fine game down the wing beat a couple of players & shot into the far corner. The second half started with Sidmouth playing some great attractive football with Joe & Ben Miller, Freddie King, & Rudolph completely controlling the midfield & forcing the Thors into frantic defending, eventually Sidmouth scored their third goal from a Harvey Sargent corner which was met on the half volley by Jamie Newbery who thundered it into the roof of the net. A Sargent freekick was headed towards goal by Wellman 7 was well saved by the keeper but the ball rebounded to Rudolph whose shot looped back over the keeper for Sidmouths fourth. A good result against a good Thorverton team with a good all round performance to keep Sidmouths unbeaten league run
EXWICK 1 SIDMOUTH 0 - Sat 29th January 2011 (Cup 2nd Round) - Report by Jo Newbery
Playing away in a cup match at Exwick was always going to be hard with the weather freezing & the pitch frozen it was definitely going to be a trial. Sidmouth started brightly & forced the first chance when a thunderbolt from 25 yards from Tyler Wellman crashed against the bar & was scrambled away. Chances after that were few & far between & when the ball bounced it could go anywhere. Exwick took the lead just before halftime when the ball was knocked through & it bounced & bobbled pass the keeper 7 into the net. The second half Sidmouth tried to play their trademark passing football but the pitch made it very difficult. Jonny Dunn had a great run past a couple of defenders & he hit a terrific shot which the Exs keeper made a great save. Charlie Freeman had a good shot well saved also by the keeper, but it was not to be Sidmouths day & Exwick were fortunate to progress to the next round.
SIDMOUTH 20 OTTERY 1 - Sat 11th December 2010 - Report by Jo Newbery
Sidmouth played at home on Saturday on a cold morning & with a pitch that was hard underneath but wet on top completely over whelmed a weakened Ottery side. With only a bare team & then with a couple of injuries Ottery were never in the game & Sidmouth matched Otterys playing team playing nine a side & playing players not in their position, Sidmouth turned on a masterclass of football, if it wasn't for the Otters keeper & the woodwork it could have been double! Ottery did score when they were 8-0 but they kept on until the end. Pick of the goals were 2 headed goals from Charlie Freeman & Joe Miller.
Goal scores; Charlie Freeman 3, Harvey Sargent 3, Dylan King 3 Alister Forsyth 3, Ben Miller 2, Jonny Dunn 2, Joe Miller 1 Sam Hicks 1, Connor Murphy 1 & Billy Rudolph 1.
CREDITON 1 SIDMOUTH 4 - Sat 27th November 2010 - Report by Jo Newbery
Sidmouth travelled to Crediton on a bitterly cold morning with a much depleted Squad which only had the 1 sub, but, started brightly with a goal after 5 minutes, a great ball from Billy Rudolph found Charlie Freeman whose superb shot found the top of the net. After 10 minutes things got worse for Sidmouth when Jamie Newbery limped off injured to leave Sid with just the bare 11 for the remainder of the match. Freeman was bundled over in the box but the resulting penalty was well saved, then Sid gave away a freekick on the edge of the box & a goalkeeping error saw Crediton equalise to go into the halftime break 1-1. Crediton started stronger at the start of the second half & a fantastic save from Connor Murphy kept the score even. Good defending by Dylan King, Sam Hicks, Harvey Sargent & the excellent Rudolph kept Sidmouth in the match & eventually Joe Miller found Freeman to score his & Sidmouths second. Good work from George Harris resulted in the keeper fumbling the ball & Alex Stone nipped in & laid the ball back to Roel Ruigrok whose superb lob made it 3-1. Ben Miller went on a great run & was scythed down in the box, he got up & coolly despatched the penalty into the corner of the net for 4-1. Ben then went in goal & made two great saves to keep the result safe. All the players gave 100% in difficult & cold conditions.
SIDMOUTH 8 BRIXINGTON 0 - Sat 13th November 2010 - Report by Jo Newbery
In a recent cup Match against Brixington, Sidmouth totally dominated & overran the opposition running out 8-0 winners & could easily won by more The goal scorers were Charlie Freeman 3 Jamie Newbery 2 George Harris, Ben Miller & an own goal to take them into the next round.
SIDMOUTH 5 DAWLISH 1 - Sat 16th October 2010 - Report by Paul Newbery
Sidmouth reaffirmed their position at the top of the table after an emphatic victory over a strong Dawlish side. Sidmouth knew that Dawlish would get plenty of men behind the ball and hope to score on the counter. This proved to be the case with 10 Dawlish players in the box whilst defending. However some of the best football this season saw wide men Ben Miller and Billy Rudolph getting around the back and creating lots of chances, the dangerous George Harris, with his strongest performance to date, going close on 2 occasions. Sidmouths domination paid off with Harvey Sargents well struck 30 yarder beating the keeper and Jonny Dunns side footed volley, after excellent work from Freddie King, putting Sidmouth two up. However, just before half time Dawlish unjustly got a goal back.
Sidmouth came out strongly in the second half with Jonny Dunn quickly getting his second and Connor Murphy's cool, high class finish making the score 4.1. Dawlish went 3 up front but watchful defending from Sam Hicks, Tyler Wellman, Jamie Newberry and Dylan King quickly broke down any counters. The goal of the game was Sidmouth's fifth, Joe Millers quality ball over the top left Jonny Dunn to lob the keeper with an equally high quality finish. Alex Stone, Roel Ruigrok and Charlie Freeman worked tirelessly in midfield to help Sidmouth dominate possession and territory throughout
SIDMOUTH 11 BRIXINGTON 0 - Sat 9th October 2010 - Report by Paul Newbery
Sidmouth hit the top of the league for the first time this season, ahead of arch rivals Newton Abbot on goal difference. The next three weeks will test the teams potential to lift the league trophy with tough matches against fellow title contenders Dawlish, Thorverton and Exwick.
In the first half of this match Sidmouth continued in the vain of recent matches, being unconvincing but being able to rely on a stronger squad. When the sides changed ends at 3.0 to Sidmouth they had not stepped into second gear. But an early second half goal sparked the team into an outstanding display of attacking football, with a further 8 goals. Brixington battled to the last with the keeper pulling off a string of fine saves to compliment his bravery. Defensive coach Paul Newberry was delighted with a second concurrent clean sheet with son Jamie, Dylan King, Connor Murphy, Sam Hicks and Tyler Wellman falling into the new 'man marking' system well. Billy Rudolph, Alex Stone, Freddie King, George Harris and Harvey Sargent created chance after chance from midfield. Goal scorers were Joe Miller with a hatrick and two from Jonny Dunn, Roel Ruigrok, Ben Miller and Charlie Freeman, his first the pick of the bunch with a 25 yard drive from the angle
CULM 4 SIDMOUTH 5 - Sat 25th September 2010 - Report by Paul Newbery
Sidmouth played away at Culm on Saturday & were fortunate to come away with a 5-4 victory. Things started well for Sidmouth when they raced into a 2 goal start with goals from Freddie King, & Jonny Dunn but Culm hit back & had a couple of chances before pulling a goal back. Sidmouth were under pressure for the rest of the half defending down the hill & it was no surprise when they equalised just before half time. It was the same at the start of the second half with Culm playing the better football & deservedly went into the lead. Sidmouth came back & King with a long raking run finished with a great strike into the top corner to equalise for Sidmouth. Culm were then given a dubious penalty to restore their lead & only dogged defending from Jamie Newbery, Sam Hicks, & Billy Rudolph prevented Culm from scoring any more. Sidmouth were then rewarded with a penalty of their own & King coolly converted to complete his hatrick & level the scores again. With 5 minutes remaining Dunn found the net for his second & Sidmouth's fifth & they held out for the final whistle & narrow victory. Culm played well & deserved a draw but Sidmouth who were not at their best & missed the Miller boys along with Dylan King showed character to record a victory with Freddie King the awesome & outstanding player of the match.
OTTERY 1 SIDMOUTH 8 - Sat 18th September 2010 - Report by Paul Newbery
Sidmouth played away at Ottery on a beautiful sunny morning were slow to star on a bumpy pitch & it was Ottery who scored first & could have had another but for good defending from Jamie Newbery. Gradually Sidmouth grew into the game & Jonny Dunn scored from a good pass from Freddie King. Soon Sidmouth had their second when Charlie Freeman pressurised the keeper & his kick found Ben Miller who scored with a first time shot. Second half Sidmouth played some good football & when Harvey Sargent crossed Dunn headed his second goal. Freeman then scored the fourth after good work from Ruel Ruigrok, Joe Miller got into the act with the sixth. George Harris then scored his first goal, but Ottery came back at Sidmouth but Alex Stone, Sam Hicks, & Tyler Wellman kept them at bay. Joe Miller then scored number 8 with a great shot from outside the area after good work from Billy Rudolph. A comfortable win in the end over an ever improving Ottery team.
SIDMOUTH 2 NEWTON ABBOT 2 - Sat 11th September 2010 - Report by Jo Newbery
The first game of the season couldn't have been harder; a game against last season s champions Newton Abbot so an intriguing match to start. Sidmouth bossed the opening 20 minutes with Harvey Sargent & Joe Miller dominating the midfield. They created several chances. Ruel Ruigrok was forceful down the wing & a fine ball found Jonny Dunn who hit the bar. A mix up in the Abbots defence saw Sid again going close with the ball this time hitting the post. Then against the run of play Abbot took the lead with a fine finish. The second half was much the same vein, Connor Murphy put pressure on the defender & managed to get the ball to Dunn who slotted into the net for a well deserved equaliser. Ben Miller, Billy Rudolph, 7 George Harris produced some good football & the ball was played to Dunn to race through & finish calmly from the edge of the box. Alex Stone had to come off with a injury but Any attacks Abbots had was calmly dealt with by Jamie Newbery, Sam Hicks, & Dylan King who were all outstanding. Dunn had a couple more chances to put the game out of Abbots reach but they went agonisingly wide. With 5 minutes to go Abbots equalised with a good shot from the edge of the box & Sid found themselves under pressure but a great save from Charlie Freeman & 2 last ditch tackles from Newbery saw a brilliant game finish all square at 2-2 A great first game of the season.
EAST DEVON YOUTH FOOTBALL LEAGUE
SIDMOUTH 1 PHOENIX 6 - Sun 27th March 2011 - Report by Sean Murphy
Sidmouth under 12's missed the chance to make it to a fourth cup final this season when they lost 6-1 at home to Phoenix. With only 10 available players due to injury and other sporting committments, it was always going to be an uphill task. This was proved correct as Phoenix were soon on the front foot and were 2-0 up by half time. Sidmouth finally got on the scoresheet when Joe Miller headed home a terrific Alex Stone free kick. They pushed hard but were deflated when Phoenix got their sixth. Manager Sean Murphy said " Phoenix played very well and deserved the victory. We wish them the best of luck in the final. Credit must go to my players, who never gave up and kept battling right to the final whistle.