Welcome to our web page. We'll be adding news, match reports and photos throughout the season.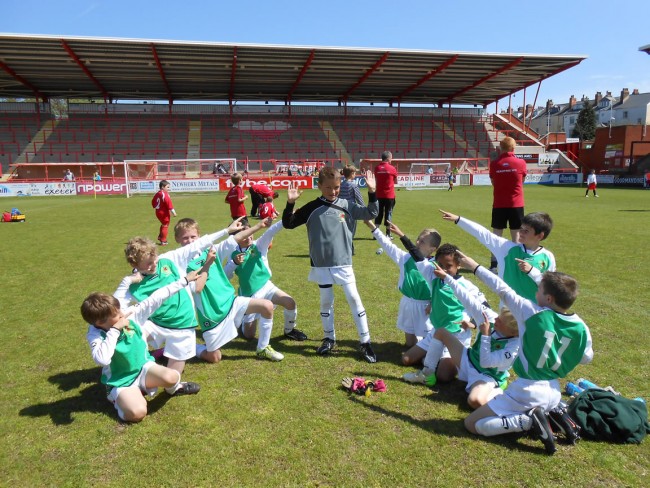 End-of-Season Weekend Celebrations
Let's start at the end – Monday's triumph at St James' Park! At 7am on a glorious Bank Holiday morning I'm sure everyone was cursing me for arranging to take part in the Futsal tournament! I would have been quite happy lounging in bed with a cuppa, myself.
However, once the Ashbys and Salters teamed up for the journey into Exeter, the excitement grew as we discussed possible formations and Futsal tactics. Would it be the favoured diamond or a flat 2+2? Jamie & Joe quite rightly seemed more interested in the boiled sweets on offer!
Tournaments don't leave much time for post-match analysis and team-talks and sometimes this can be an advantage! As one game finishes, a new game begins without much of a break. Fortunately, with a squad of 10 we were able to rotate the players to keep everyone fresh for the busy morning ahead.
The boys adapted quickly to the Futsal format – the boys from Drakes (Samuel, Ben, Louis) and Benedict had played a Futsal tournament before and knew what to expect. The other boys quickly grasped the demand for quick-thinking and sharp passing and strolled through the first couple of group matches.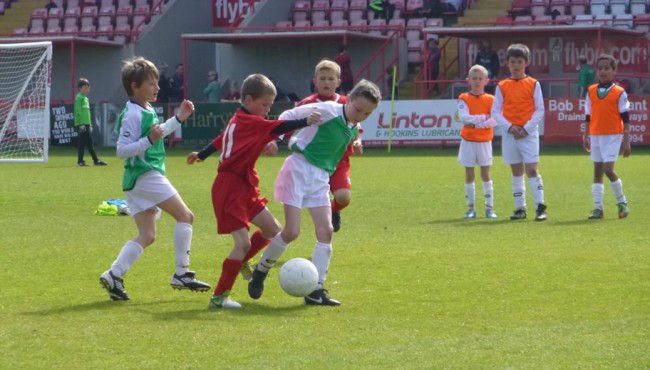 Exmouth and St Martins both provided stiff opposition and held the Warriors to a goalless draw. Central were always going to be tough (they finished 4th in the league) and the boys played extremely well to win 1-0. I didn't keep a tally of the goal-scorers but it seemed to me that Samuel, Stanley & Louis tucked away a lot of goals! At the other end of pitch we kept 7 clean sheets in 8 group matches – pretty mean. For the record, the stats after the group matches (80 mins of football) were: P8 W6 D2 L0 F24 A1 GD+23
With those sorts of figures we were confident of earning a place in the final. But, we had a tense few minutes to wait as it became clear that Exmouth and St Martins also secured 20 points, so it would come down to goal difference. I had no doubt ours would be good enough and sure enough the Tannoy announcement confirmed the U9s final would be contested between Exmouth United & Sidmouth Warriors. Cue celebration No.1 :)
And so, onto the final. Memories of Feniton! Actually, I don't really need to write much about the final. I think the video and photos speak for themselves. But, here's just a few things that stood out for me:
~ Benedict, who was on the touchline as a sub during the final, insisting to the other subs (who wanted to come on) that I don't make any changes because "we are on top of this game". Remarkable.
~ The boys' response when we asked for volunteers to take penalties (big respect too for those who said "no way" – you have to be brave to say 'no').
~ Watching the boys' reaction to the penalties (captured in Merv's photos!)
~ Stanley's run back to his team-mates after he nailed his penalty (see Rupert's video)!
~ Benedict crying tears of relief when his team won.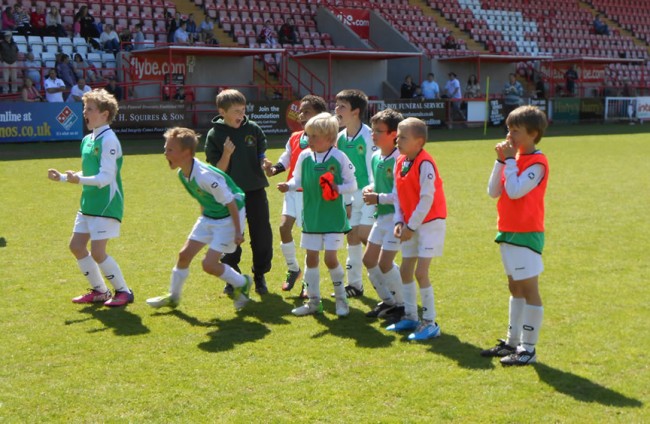 As I've said, we took 10 boys and I've no doubt that all of those fresh legs was a factor in our success. Everybody made a valuable contribution but I would like to specifically highlight Louis and Stanley who showed nerve AND great technique in expertly dispatching their penalties. And, of course, the hero of the day, George! He didn't let in a goal for the whole morning, which is quite ridiculous really. We shall not tire of watching your two brilliant saves in the shoot-out. Legend!
Boys, having fun together and enjoying success in a team is a very special thing. We are very very proud of you.
Exeter City Futsal Trophy Winning Squad: Ben Chapman, Benedict Teague, George Crofts-Wheeler, Jamie Salter, Jed Ionov-Flint, Joe Ashby, Louis Silk, Samuel Rice, Stanley Richardson, Toby Hill.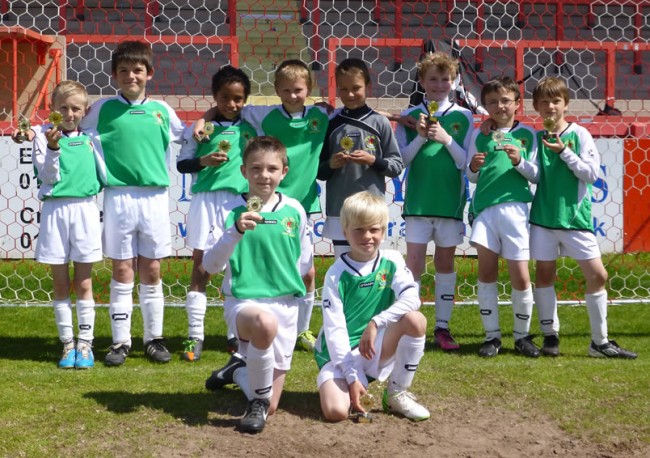 Saturday 4/5/13
And let's not forget what a great day we had on Saturday too!
Sidmouth Warriors 5-1 Moors Youth
Moors have recorded some excellent results this season and were well-organised from the 'off' but could not match the tempo and skill on display from the home side. The boys raced into a 2-0 half-time lead and even managed to step-up a gear after the break! This was a great display with goals from Ben (2), Toby, Stanley & Joe.
Sidmouth Warriors 4-2 Tiverton
The Warriors' coaching staff were pre-warned about Tivvy's tactics, i.e. "their goaly has an enormous kick and will boot it as far and high as possible". Apparently he was on the score sheet vs. the Raiders! So, the skilful pairing of Samuel and Joe were deployed on the boundary to field the aerial bombardment. The Tivvy tactics did not make for enjoyable watching as 9 out of 10 goal kicks went out of play for a goal kick to us! However, the balls that did land at our defence were expertly dealt with. The Tivvy approach seemed a shame as they have some good technical and strong players who can cause trouble. Well done to the boys, though, for playing with style and scoring four great goals from Ben, a long-range beauty apiece for Jamie and Joe and, best of all, the first of the season for sweeper, Benedict. His goal prompted fantastic celebrations amongst the players, coaches and parents. What a great finish to the season!
U9s Awards Ceremony
I won't dwell on the Dads' 5-3 defeat by the Boys. Needless to say we were out-numbered, out-battled and out-witted. Maybe the mums will do better next year?! But, we all enjoyed a fabulous afternoon playing in the sun at 'Warrior HQ'.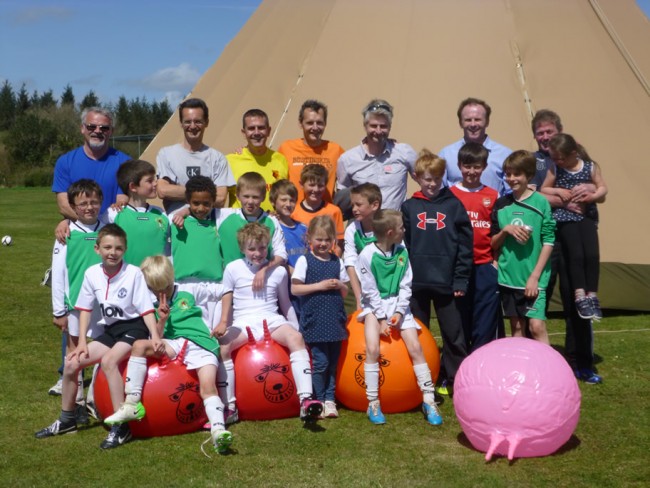 Congratulations to all the boys for their achievements this season and for making the life of a football coach a very satisfying one.
Players' Player – Benedict Teague
Coaches' Player – Joe Ashby
Most Improved – Jamie Salter
Attitude – Toby Hill
Top Goalscorer – Stanley Richardson
Exeter City Award – Ben Chapman
Exeter City Futsal Tournament winners 2013 (U9s)
Exeter City Feniton Trophy winners 2012 (U8s)
Unless otherwise advised, our home games are played at The Recreation Ground, Back Lane, Newton Poppleford. EX10 0BX.
Sun 26 May - Defence of the Feniton Trophy!
We are searching for new players to join our talented squad.
Anyone interested should contact coach, Justin Ashby 07917 853847.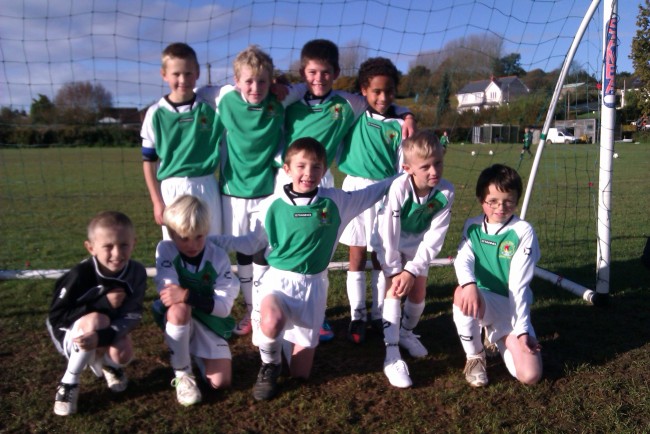 Please check the Exeter Youth League website for our fixture list. When we don't have a match we are training at Newton Poppleford depending on available space, 9.30 to 11.00 approx. Justin will confirm by text/email each week.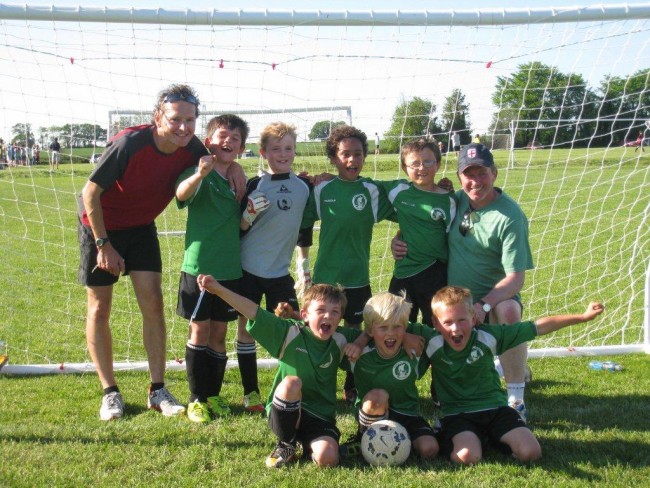 Ottery St Mary 2-1 Sidmouth Warriors
In a closely fought contest the Warriors were defeated in a match that was far from pretty! A howling wind and a short, sloping pitch aided the aerial bombardment tactics of the home team. The Warriors did grab the lead with a well-taken goal from Stanley Richardson and looked certain of stretching their lead. However, OSM struck back with two very well taken goals of their own and despite chances being made, the Warriors could not find the back of the net.
Feniton 1-2 Sidmouth Warriors
The second match was in a similar vein but this time the boys coped better with a determined display and never resorting to 'route one' tactics. The passing game was more effective and Samuel Rice and Joe Ashby expertly finished off two fine moves for a two-goal half-time lead. Feniton kept pressing for a life-line in the second half and their efforts were rewarded with a scrappy goal. However, it was the Warriors who then created the best chances with some excellent passing football, and they held on for a deserved victory.
Warrior's U9's competed in plate at Culm (21/4/13)
A change from the usual Saturday programme saw our Sidmouth boys compete in a mini style tournament on Sunday. On a busy marathon weekend our squad had minimum numbers but proved their fitness and willingness over four matches. First opponents were Newton Town and our boys put on an exceptional display of passing throughout the team winning 2-0 with goals from Jed Ionov-Flint and Samuel Rice. Both taken after skilful approach play from their team-mates.
This was followed by 1-1 against Honiton Demons, a surprise 0-1 slip-up to Cullompton Rangers wasn't in the plan, although tournament matches of only 15 minutes duration can be affected by an element of luck or route one tactics that can spoil quality!
Our boys gave a welcome to a new signing, school friend Jed Flint who settled quickly and showed great commitment, as did George Wheeler who made his second appearance with confidence. Leading from the back was sweeper Benedict Teague who marshalled the creative mid-field foursome of Toby Hill and Stanley Richardson linking in the middle with Jed Flint and Jamie Salter running the wings.
Our last match against Exeter Panthers was keenly contested. The Exeter side haven't lost for a year or two! Warriors could have taken an early lead after a whipped in cross was put just beyond their post. Panthers then scored and with 5 minutes remaining but our boys fought well and kept their shape in a fast paced game. Reward for the effort was always in sight; Stanley Richardson struck a controlled low drive that was tucked into the Panthers goal by the well positioned Samuel Rice. The panicked panthers managed to hold on to 1-1, until next time.
Warriors 4-1 Inter Heavitree & Warriors 4-0 CS Rangers (30/3/13)
The Warriors picked up maximum points from their two Easter Saturday fixtures and had much to celebrate in the process. Debutant goaly George Wheeler made a very impressive start as the Warriors' new goaly with his
assured handling and distribution. Well done, George! Brothers Bradley & Toby Hill teamed up in defence for the first time and competed superbly for the ball all morning. In fact, every individual can be proud of their
performance and it was hugely satisying for the coaches to see the Warriors working so hard to win the ball back - something we've focused on in training of late.
In the first match, an entertaining affair with high-flying Inter, the visitors took the lead soon into the second half.
The boys responded superbly, sticking to their passing game and were soon rewarded with a fabulous equaliser, Jamie Salter sending in a dream cross for Joe Ashby to expertly convert with his head. With renewed belief, the
boys added a further three very well-taken goals by Ben Chapman (2) and Joe Ashby.
The Warriors dominated the second fixture creating chance after chance. Stanley Richardson tucked away two lovely goals, one a delicious long-ranger. Samuel Rice deservedly got on the score sheet and Joe Ashby
netted another too.
An excellent morning's work, boys, now go enjoy your Easter eggs!
Sidmouth Warriors 1-0 Twyford Madrid (2/3/13)
The Warriors made hard work of this match by not converting a host of chances. The quality of football was good but the first half ended in stalemate. Home nerves were settled quickly after the break when Joe Ashby
applied the finishing touch (great header) to a zipping cross from Jamie Salter. The Warriors created enough chances to win three games but had to settle for a 1-0 victory.
Sidmouth Warriors 2-3 Twyford Barca (2/3/13)
The visitors had lost only once all season and came well-drilled and physically strong. It was the Warriors, though, that bossed the opening 10 minutes with some excellent, high-tempo attacking football. However,
against the run of play, Barca claimed two well-taken goals. The boys showed a lot of character in hitting back almost instantly with two of their own, from Bradley Hill and Ben Chapman. The game was there for the
taking but in an even second half, it was Barca that snatched the winning goal. A defeat that was difficult to take for the coaches and boys alike, particularly Ben whose work-rate was outstanding.
Pink Panthers 4-1 Sidmouth Warriors (16/2/13)
Exeter Panthers 2-0 Sidmouth Warriors (16/2/13)
It was an unhappy morning in Rockbeare for the Warriors who lost their key sweeper, Benedict Teague, to injury in the warm-up. A hastily re-shuffled line-up took to a muddy field against a powerful and very pink home team. The opening 5 minutes was edged by a battling Warriors team who nearly took the lead from a brilliant Stanley Richardson corner which Joe Ashby clattered against the post with a bullet header. What a goal that nearly was!
The two teams were evenly matched with half-chances being created at both ends. You always felt the first goal would prove critical and it was the Panthers who broke the deadlock against the run of play with a fine individual goal. The Panthers added a second shortly before half-time, a scoreline that was certainly harsh on the visitors.
Alas, it was the Panthers who, knowing they were up against an excellent team, stepped up a gear for the second half and took control for a 5 minute spell that saw them add two more goals. To their great credit, the Warriors kept battling away and in-form Samuel Rice was on the end of a fine through ball to give the Sids a consolation goal – the least they deserved. It was telling how this goal lifted the team spirit and it was Sidmouth who pressed for more goals.
In match two vs Exeter Panthers, the Warriors' luck did not improve! A couple of mud-induced defensive mistakes allowed the Panthers to snatch a barely-deserved two goal lead at half-time. And once you've given a good team this sort of head-start it was always going to be difficult to secure a result. The Warriors applied a lot of pressure but couldn't force a goal that would have turned the game round and done justice to their hard work.
Boys, I was so disappointed for you. You put in a massive amount of effort and didn't get the breaks at all. There's no doubt in my mind that you can compete with the top 4 or 5 teams, with a bit more self-belief and some more work on the training ground (oh, and a little more luck would also help). That said, a big lesson from Saturday was seeing how every single Panthers player pressed us, tackled us and closed us down whenever we had the ball. Their individual and collective work-rate was impressive and we need to add that determination and 'steel' to our footballing talent if we are to secure victories against the best teams. The good news is that YOU CAN DO IT :)
Central Redstar 3-0 Sidmouth Warriors (9/2/13)
Having lost to Redstar in the cup before Christmas the Warriors knew this would be a tough, physical encounter. But from the out the boys equipped themselves well, with Joe and Stanley bossing the midfield and moving the ball well. A flowing move from Sidmouth and a great Louis strike drew a superb early save from the keeper. But Redstar kept their heads and against the run of play scored a lucky goal early in the first half. Growing in confidence Redstar put increasing pressure on our defence and their physical approach soon saw them 2-0 up.
Sidmouth needed cool heads and it was a great individual run by defender Benedict that demonstrated we were very much still in the game. Bradley grew in confidence and a series of superb saves kept the Warriors in contention.
Sidmouth piled on the pressure in the second half. There were opportunities for Joe and Samuel but the boys were unable to get the ball across the line. With Sidmouth chasing the game a third goal for Redstar seemed inevitable. Overall a great effort by the boys – you're getting closer!
Central AC 3-3 Sidmouth Warriors (9/2/13)
Perhaps exhausted from the previous match Sidmouth started slowly and were soon 1-0 down. But the boys had plenty of the ball and a beautiful lay-off from striker Samuel was expertly converted by Stanley. Again we had chances but were unable to convert until Central again took the lead to make it 2-1 at half time. But Sidmouth were not done yet. Joe equalized early on in the second-half and Sidmouth kept up the pressure. Ben was in great form hitting the cross bar with a sublime strike. A great corner from Joe, was converted by Stanley and
Sidmouth found themselves in the lead for the first time in the game. Sensing victory Sidmouth piled forward leaving themselves vulnerable to the counter attack. In the final minute Central equalized for a well-earned draw.
Comment from Coach Justin: "I thought the boys played some fantastic, composed football against Redstar, who I think are the best team in the league. I think we deserved at least one goal from that performance. You've just got to believe your are good enough. Me & Merv think you are.
It was always going to be a difficult job to raise the bar again against AC who are also a very competent side. Whilst it was disappointing to concede a late goal the way we did, I can't fault the effort and commitment. Some of the boys were clearly upset to lose that late goal but it's something that can easily be worked on in training."
Warriors 11-1 Honiton Devils (26/1/13)
Warriors 2-0 Honiton Demons (26/1/13)
Without a match for 6 weeks and with only 1 training session completed so far this year, a 'rusty' performance would not have been a surprise. With three 3 players absent and a very sticky pitch added to the challenge, the
home fixtures vs local rivals Honiton were shaping up to be a potential 'banana skin'.
But, what happened next turned out to be nothing short of a joy to watch for the coaches and parents, as the Warriors dominated to record a scintillating victory. To deliver such a great performance in such challenging circumstances is something the boys can be very proud of.
Bradley Hill was asked to anchor the team in defence and his tackling and passing were outstanding. Joe Ashby worked tirelessly in the centre of midfield; Stanley Richardson and Jamie Salter ran the wings brilliantly with Samuel Rice at the end of many great moves. A massive 'well done' and high fives from all the team go to Owen & Yan. Goalscorers for the Warriors: Rice (4), Richardson (3), Ashby (2), Mercan (1), Picken (1).
Boys, the coaches could not be more delighted with this performance.
In the second fixture vs Honiton Demons, the Warriors quickly established a two goal lead but found the going much tougher against a very competitive team, prepared to work hard. By this stage of the morning, the ball could barely move along the pitch! The boys understandably grew tired and the tracking back to defend became increasingly hard. A few missed chances came and went at either end and the excellent Honiton goaly helped keep the score to 2-0 to the Warriors.
Well done to Honiton for agreeing to play on a difficult pitch and making the most of it – a great morning of football with everyone glad to be back out there again.
St Martins 0-3 Sidmouth Warriors (15/12/12)
Two well-organised sides contested a competitive first half which ended goalless without the Warriors' goal ever truly being troubled. The passing game was working well and the Warriors' second half pressure told when Joe
Ashby scored with an excellent long distance lob. Bradly Hill quickly added a well-taken second and Ben Chapman finished the job with an excellent LEFT foot strike. This was a controlled and mature performance.
Alphington 2-0 Sidmouth Warriors (15/12/12)
The home team were quick out of the blocks with some very direct and physical football on a pitch better suited to cattle farming. A pumped-up Alphington quickly established a two goal lead after a couple of defensive mix-ups by the Warriors (this doesn't happen very often) and the Vikings spent most of the half defending deeply. However, the second half saw a complete turn around with Sidmouth playing some scintillating football and creating chance after chance. A blistering long range strike from Toby Hill crashed off the bar, Louis Silk hit the post and there were goalmouth scrambles galore! Try as they might, a goal wouldn't come and with the home team deciding to play only 10 minutes each way, time ran out for the boys.
The coaches remained philosophical having seen the team play 3 excellent halves of football out of 4 that morning. Coach Justin commented "It's very rare for me to feel ok after a defeat but I was really proud of the way the boys approached the second half against Alphington. They were very unlucky not to grab a couple of goals that their football deserved. The pitch was awful and the result does not matter. What does matter is that they learn to enjoy having the ball at their feet and feel comfortable using the ball. We end the year on a high and look forward to plenty of excellent football in 2013."
Sidmouth Warriors 6-1 Dawlish (8/12/12)
They say that the sign of a good team is to win when you're not playing well. Well, the Warriors did this twice on Saturday morning! After a tentative first 5 minutes at home to Dawlish, the Warriors fell behind to a stunning own-goal deflected off two Vikings and wrong-footing the goaly. Was it to be one of those days? Well, thankfully, a quick equaliser by Toby Hill settled the team and second half pressure saw further goals from
Jamie Salter (2), Louis Silk, Stanley Richardson and a well-taken finish by Samuel Rice playing striker.
Sidmouth Warriors 4-2 Newton (8/12/12)
In the second match there was no shortage of effort, just a very 'end of term' feel to the game. Chances went astray, simple passes weren't completed and the midfield struggled to hold their shape when the ball was
lost. However, to their great credit, the boys fought hard and took the game to a strong Newton side. Scorers for the Warriors: Joe Ashby, Stanley Richardson (lovely team goal), Louis Silk, Bradley Hill. A special mention to Jamie Salter for a great morning's work – shouting for the ball, taking players on and his intelligent positioning in attack was rewarded with 2 well-taken goals. Legend!
Coach Justin:
"We've spent most of our recent training sessions working on defending as a team and retaining our shape in defence when we've conceded possession – that learning needs to be put into practise in our next match! Full credit to the boys though for their massive determination even though legs and minds were clearly very tired."
Sidmouth Warriors 0-3 Central Redstar (10/11/12 - League Cup)
On paper this looked liked a tricky first round tie for the Warriors writes Mark Rice. Early pressure from Redstar saw them hit the cross bar in the first move of the match with Joe clearing from the line. With Sidmouth struggling to match the tempo of the opposition the first goal from a sweeping Redstar move was inevitable. But Sidmouth kept their heads high. Toby chased everything up front and a beautifully struck ball from in-form Stanley pulled out a fingertip save from the Redstar keeper. The resulting corner saw Louis's effort head just over the bar. Continued great defensive play from the solid Ben/Benedict duo kept Sidmouth in the game, alongside a superlative goal-keeping performance from Bradley. The second half witnessed more Sidmouth pressure with a great through ball from Joe to Samuel up-front. But Redstar continued to enjoy the majority of chances. A dazzling run from Redstar's tricky number 11 resulted in a second goal and a third was added shortly later. Sidmouth need to work harder when they don't have the ball and apply greater pressure if they're to match Redstar next time.
Sidmouth Warriors 3-0 Central Redstar (10/11/12 - Friendly)
Redstar lined up differently for this second encounter with Sidmouth taking the opportunity to showcase talent rested from the previous game. And the gamble paid off with Jamie finishing off a beautiful Sidmouth move for a one-goal lead. Bradley now up front impressed from the off and forced a good save from the Redstar keeper. Ben hit a great strike that the keeper could only parry. The ever alert Joe followed up for Sidmouth's second. Confidence was now building and more great Sidmouth midfield play yielded a spectacular second for Joe and a third for Sidmouth. The second half saw more good football from Sidmouth with a lovely weighted through ball from Louis to Samuel. Both Ben and Stanley shot just wide. Redstar were much better in the second half and it was only some brave-keeping at the close from Joe that kept a clean sheet for the Warriors.
Sidmouth Warriors 0-3 Brixington Blues (13/10/12)
Unbeaten for two years, the Blues were full of confidence and raced into a 3-goal half-time lead. The Warriors were guilty of some uncharacteristically poor positional play and were punished by a powerful team. The second half saw a big improvement and although the boys could not apply finishing touch, the match was an excellent contest between two high-flying teams. Boys, you can win these games!
Sidmouth Warriors 0-2 Heavitree Social (13/10/12)
The Warriors slipped to a rare defeat - their first in 17 games - against a well-organised and talented Heavitree team. That said, the passing was again excellent and the boys had enough possession and chances to win the
game, and their disappointment at the final whistle was certainly justified. Bad luck to Samuel Rice and Joe Ashby who both hit the woodwork. On another day it would have been 2-0 to us.
Sidmouth Warriors 5-0 Whipton Warriors (29/9/12)
The second match started more sluggishly with the Warriors taking a slender one-goal lead at the halfway mark. However, the boys responded superbly to the half-time team talk and moved up several gears to take a firm control of the game, despite playing uphill. Dominating the game, the Warriors added four further goals.
Sidmouth Warriors 12-0 Whipton Wanderers (29/9/12)
The first game saw the Warriors quick off the mark with their trademark sharp passing creating lots of chances.
Stealing the show was Toby Hill with a double hat-trick but the pick of the goals was a lightning attack releasing Ben Chapman down the right who whipped in a brilliant cross for Joe Ashby to head home. This was another
very entertaining and skilful display.
West Hill Wasps 0-6 Sidmouth Warriors (15/9/12)
The Warriors put on a brilliant display of passing football to record an excellent away victory. The goals were shared by Louis Silk (2), Toby Hill (2), Samuel Rice and Stanley Richardson. The pick of the goals started near the Warriors' own penalty area – Ben Chapman won the ball and stroked a cross-field pass to Stanley Richardson who hit a first-time through-ball for Toby Hill to collect and dispatch into the top corner of the Wasps' net. This was an excellent display of football that even drew compliments from the West Hill coaches and parents – very well done, boys.
CS Pumas 1-4 Sidmouth Warriors (15/9/12)
The Pumas were always going to be difficult opponents – we remembered that from last season. However, the boys quickly settled into the game and dominated possession. After a succession of early corners, Ben Chapman broke the deadlock with a trademark 'missile' from the edge of the penalty box. A second was added by Bradley Hill to give the Warriors a well-earned two goal advantage at half-time. Shortly after the break, striker Bradley Hill added a third with a well-taken shot. The Pumas' hard work paid off when they pulled a goal back but Ben Chapman made things comfortable again with a late goal to cap off another determined display.
This was an outstanding team effort and two very entertaining displays of football.
Warriors 6-0 Exmouth United (1/9/12)
Goals from Stanley Richardson, Louis Silk, Joe Ashby, Bradley Hill, Ben Chapman plus one own goal, saw Sidmouth cruise to victory. Stanley was tormentor-in-chief with his pace and crossing from the right wing causing endless trouble for the Exmouth defence. The game was played in a good spirit with the Exmouth boys coached to play passing football.
Warriors 3-0 Lympstone Lympets (1/9/12)
Despite controlling possession and constant pressure on the Lympets' goalmouth, the Warriors only held a one goal advantage going into the break a well-taken strike by Joe Ashby. Playing down the slope in the second half, the home team quickly added two more through Louis Silk and Toby Hill. The Warriors never really reached top gear but worked exceptionally hard on a very hot day. Final score 3-0.