Harry Ensall,Jordan Fowler,Ryan Griffiths,Dylan Lascelles,Louis Stamp,Tyler Wood,Thomas Rush, Will Hollis,Josh Roberts,George Salter,Jack Wilson ,Sam Pyne, Alex Mitchell, George Salter.
Sidmouth had a tough start against stoke hill at home and a step up to 9 a side and a bigger pitch but Sids were up for this challenge. Sidmouth took a early lead from a long distance shot from Jordan fowler witch whistled into the top corner of the goal .but stoke hill came back at Sids but the defence held strong and goalie Harry Ensall kept them at bay. But in the end they got back on levell terms. Then the momentum was with Stoke hill and Sids found them selves 2-1 down but just before half time Sidmouth were awarded free kick on the edge of the penalty area Jordan fowler saw his rocket of a free kick blocked by the keeper but Josh Roberts was on hand to levell things up at 2-2 at half time. The second half was not so interesting but some good performances from Thomas Rush,Ryan Griffitths ,Dylan Lascelles ,Tyler wood and the hard work of the forwards Pyne And Mitchell always kept Stoke Hill on their toes this was a hood point for Sidmouth .
Sidmouth 2 City Raiders 2
Sidmouth had a depleted side missing players LStamp,H Ensall and G Salter but the show must go on and with a reshuffle the team were J Fowler,D Lascelles, R Griffiths, S Pyne, T Wood, T Rush , J Roberts , W Hollis, A Mitchell and new signing J Wilson as sub SIDS took an early lead with Alex Mitchell getting the goal but city raiders kept attacking sidmouth with Fowler producing a fine save to keep it 1-0 at half time Wilson came on at half time but quickly sidmouth were 2-1 down but the boys kept trying and putting city raiders under pressure with Wilson getting his first goal for Sidmouth and making it 2-2 but the sidmouths defence of Griffiths, Pyne and Lascelles were a rock but the lack of subs left the players tired and they kept the pressure on in midfield through Hollis, Wood, Rush and Roberts proberbly a fair result .
Sidmouth vs West Hill Wasps
Sidmouth had a tough local derby against West Hill two good footballing sides in the top division ofthe three leagues.Sidmouth were on the attack but found themselves 1-0 before long but some good football got Sids back on levell terms through Tyler Wood.half time score 1-1 Sidmouth were slow to start the second half before they got going they were 2-1 down but Sids then threw everything at West Hill and domanated play Tyler Wood was there again to make it 2-2. Sidmouth were caught on the break with a sucker punch to go 3-2 down Sidmouth lost this game by trying to win it .
Sidmouth Vs Brixington Blues
Sidmouth 3 Brixington Blues 5
Sidmouth had a tough game against a very good side sidmouth goals scored by Sam Pyne 1,Tyler Wood 1, and
george salter1.
Sidmouth 5 West Exe Wizards 1
Sidmouth won there first game of the season with a great team performance goals from.Alex Mitchell 2,Ryan Griffiths 1,Josh Roberts 1,and Tyler Wood 1.
Sidmouth Vs Okehampton Argyle
Sidmouth 1 Okehampton Argyle 1
A good point against a good team goal scored by Alex Mitchell 1.
1st Round of cup Sidmouth V Seaton
Sidmouth secured a place in round 2 with a good performance against unbeaten division 2 leaders Seaton with goals from George salter 3, Thomas rush 2, Sam Pyne 2 and Tyler wood 1 it was a good team display and the boys got rewarded with the result their hard work diserved
Sidmouth v central Rovers
Sidmouth 3 Central Rovers 4
Sidmouth v Ottery st mary
Sidmouth 2 Ottery st Mary 2
A local derby was what the crowd needed to warm them up on a cold sat morning and the teams did not disappoint them . There are no easy games in a very competitive division 1 as Sidmouth have found out this season but the boys will learn and develop better playing in this top league. It was a good display of football from Sids earning a 2-2 draw with goals from Alex Mitchell and Will Hollis but the football Sids played in the second half ottery had no answers to it but they could not get that winning goal.Sidmouth were camped in otterys half and they had ottery hanging on but could not just finish them off they hit posts, cross bars and a string of fine saves from otterys goalie. But the boys can look at the performance witch was excellent.
Sidmouth 3 Central City 2
Sidmouth v Central city the boys were on top form today the team: J.Fowler,S.Pyne, L.Stamp,R.Griffiths,W.Hollis,T.Rush,G.Salter,T.Wood and A.Mitchell with the team reshuffled and up for a battle Sids were strong in the tackles and confident on the ball and sidmouth had that little bit of luck with them that you need.Two goals from Will Hollis and one from Alex Mitchell was just reward for the hard work the team put in.The second half saw the introduction of Dylan Lascelles who's second half performance was fantastic Josh Roberts came on in midfield to break up play and set up endless attacks through his endless hard work Jack Wilson was put on up front and showed flashes of brilliance and we hope he can go on and get the goals to push us up the league but this victory was based on a solid base of goalkeeper and strong defending, hard work and good passing in midfield and excellent front play these standards have set now we need to build on them.
Sidmouth v Heavitree Tornados
A HAPPY AND CONTENT START TO 2013
Sidmouth v City Raiders cup match
Sidmouth 4 City Raiders 0
Sidmouth town U11s warriors with new training tops from Ian Roberts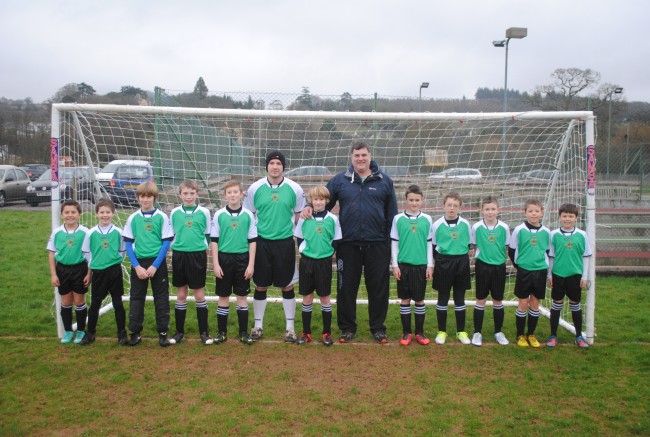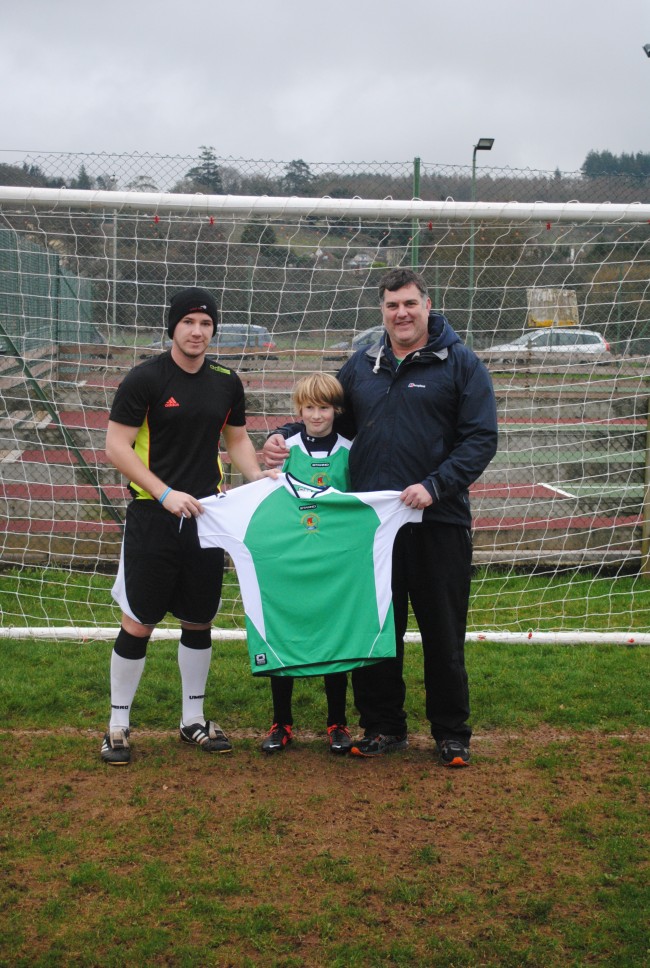 sidmouth warriors 4 city raiders 0 sidmouth started the season the way they ended 2012 playing football the right way and got thier just reward in the cup goals from Sam Pyne 2,George Salter 1 and Tyler Wood 1 but men of the match were Alex Mitchell for his forward play and George Salter who was brillant in midfield and won endless tackles
WEST HILL WASPS V SIDMOUTH
SIDMOUTH TOWN FOUND THEMSELVES IN A STRONG POSITION IN THE FIRST HALF WITH MOST OF THE PLAY AND IN CHARGE WINNING ALL THEIR TACKLES AND DOMMANATING PLAY AND GOT JUST REWARD TAKING THE LEAD 1-0 BUT THE SIGN OF A GOOD SIDE IS THEY NEVER GIVE UP WEST HILL KEPT GOING AND GOT IT BACK TO 1-1 AT HALF TIME SIDMOUTH KEPT GOING IN THE SECOND HALF AND MADE IT 2-1 MIDWAY THROUGH THE SECOND HALF WEST HILL MADE IT 2-2 WITH 10 MINS REMAINING AND THEN MADE IT 3-2 WITH JUST INJURY TIME LEFT WHEN SIDS TOOK THE KICK OFF THE REF SAID 1 MINUTE OF INJURY TIME LEFT BOYS SIDS SHOWED THAT THEY NEVER GIVE UP AND A LONG RANGE PYNE SHOT WAS DEFLECTED INTO THE WEST HILL NET TO SEE THE GAME FINISH 3-3 A GREAT ADVERT FOR YOUTH FOOTBALL AND 2 GOOD SIDES SIDMOUTHS GOALS SCORED BY S.PYNE 2,W.HOLLIS 1. THE TEAM WAS.H.ENSALL,J.FOWLER,R.GRIFFITHS,D.LASCELLES,T.WOOD,J.ROBERTS,G.SALTER,S.PYNE,A.MICHELL,T.RUSH,W.HOLLIS,J.WILSON.
Sidmouth v Heavitree tornados
Sidmouth continued thier fine form with a 3-0 win against Heavitree tornados goals from W.Hollis,R. Griffiths and T.Rush.The team have found thier belief and confidence and now getting the just rewards from the hard work on the training ground team : H.Ensall,J.Fowler,R.Griffiths,D.Lascelles,T.Wood,T.Rush,J.Roberts,W.Hollis,S.Pyne,A.Mitchell,G.Salter.
Sidmouth v Brixington blues
Sidmouth 1 Brixington blues 4
I don't know if it was the early start or just the quality of the opposition but sidmouth never recoverd from conceding 2 early goals you can't give teams in the first division that kind of a start but things went from bad to worse when they found themselves 3-0 at half time Jack Wilson gave sidmouth a glimmer of hope with a well take goal 3-1 sidmouth asked questions of Brixingtons defence when they got passed that they saw shots rebound of posts and cross bars Brixington made it 4-1 as sidmouth tried to get back into the game we will put this match down to a bad day at the office and a good Brixington team
Sidmouth reach cup semi finals
Sidmouth had a no win cup quarter final against unbeaten div 3 leaders Broadclyst Sidmouth were expected to win but they had to go into this game with the right attitude this week they treated Broadclyst with the respect they deserved and played well winning tackles and settling in to a good passing game witch they feel comfortable with and witch serves them well sidmouth won 5-1 goals from Alex Mitchell 2 , Tyler Wood 2 and Sam Pyne 1.Squad H.Ensall,J.Fowler,R.Griffiths,D.Lascelles,T.Wood,T.Rush,W.Hollis,S.Pynes,A.Mitchell,J.Wilson,G.Salter,J.Wilson,L.Stamp.
Sidmouth v west exe wizards
Sidmouth 2 west exe wizards 0
Sidmouth faced a tough game and had 5 regular players missing but welcomed new signing Joel henderson into the side the team was Ensall, Fowler,Griffiths,Lascelles,Wood,Hendrson, Pyne,Wilson and mitchell sidmouth settled down well and took an early lead from a fowler shot sidmouth had a blow whe they lost Wilson through injury with no sub goal keeper Harry Ensall was put in defence and Wilson put on the gloves sidmouth nerves were settled when fowler got his second and Sidmouths second to ease them towards the final whistle sidmouth created lots more chances but did not manage any more goals well played boys
Sidmouth came through a tough trip to Okehampton winners against a well drilled and organised team 4-3 The goals were scored by Sam pyne and George salter and 2 stunning free kicks from Jordan Fowler but sidmouth knew that they had to battle for this result lascelles ,griffiths and fowler were brilliant in defence Hollis and salter work rate in the midfield was great wood and rush forward play was great henderson added steal into the team ensall in goal was commanding and strong in goal and wilsons forward play brought others into play not many teams go to okehampton and leave with all 3 points
Brixington blues 2 Sidmouth town 3 AET
Sidmouth town U11s warriors reach cup final
After losing twice already this season to Brixington sidmouth were determind to put in a good performance to secure place in the final at Exeter city's St James park at the end of the season team : fowler, lascelles ,griffiths , pyne,wood,Hollis , rush,henderson ,and mitchell subs salter,roberts, Wilson ,stamp,ensall this was what all the hard work is about big semi finals and finals sidmouth domanated play all night hard work good passing and high levels of energy witch were needed as the game went to extra time but sidmouth won 3-2 goals from Thomas Rush 2 and Will Hollis 1 it would not be possible to pick a man of the match I would rather call it performance of the season goal keeper fowler performed well the defence of pyne,griffiths,lascelles were solid and confident midfield Hollis,rush, henderson, wood, roberts, and salter worked hard creating chances and working back to stop Brixington from scoring mitchell up front caused problems all night with his skills and pace well done boys
Sidmouth v Central Rovers
Central Rovers 4 Sidmouth 1
Sidmouth v Ottery St Mary
Sidmouth 3 Ottery St Mary 2
Sidmouth travelled to ottery st Mary with only 9 players the team was: Ensall, Fowler,Griffiths,Lascelles ,Wood,Rush,Roberts,Pyne and Mitchell Sidmouth found them selves 3-0 up at half time Sam Pyne 2, Jordan Fowler 1 but the hard worked started the second half tired legs playing up the hill but sidmouth dug deep and worked hard ottery got two goals back and through everything at sidmouth but the defence and goal keeper hung on took the 3 points a great team performance special mention josh Roberts who played well and stayed on the pitch and played through the pain barrier with an injury
Central city 0 Sidmouth 6
2 goals a piece from Tyler Wood,Joel Henderson,Alex Mitchell was enough to see sidmouth win 6-0
Sidmouth v Heavitree Tornados
Will Hollis 1 Jordan fowler 1