WELCOME TO THE U12 SIDMOUTH RAIDERS
U11 2011/2012 CUP WINNERS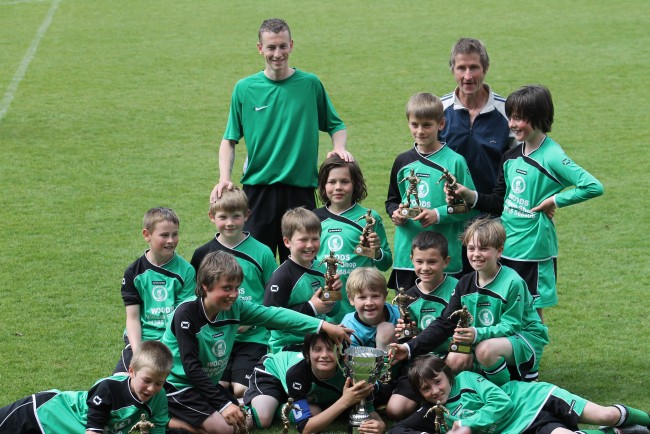 U12 RAIDERS CONTACT DETAILS
Martin Spiller 01395 597304 or 07939064886
email sandra.spiller@btinternet.com
Lee Adey 01395 567031 or 07817493145
email adywht@aol.com
2012/2013 GAMES AND TRAINING TIMETABLE
8th September friendly game TIVERTON AWAY leave newton pop 8.30am
15th September game WHIPTON AWAY leave newton pop 9am
22nd September game WEST EXE RANGERS HOME
29th september game CENTRAL AWAY leave newton pop 9am
6th October game HOME STOKEHILL cancelled now play 23rd march
20th October game WEST EXE EXILES AWAY
3rd November game ST MARTINS HOME
10th November cup game DALWISH HOME
17th November game SIDMOUTH WARRIORS AWAY
24th November game TIVERTON AWAY
22nd December game WHIPTON HOME
2nd Febuary game WEST EXE EXILES HOME
9th Febuary game ST MARTINS AWAY
16th Febuary game CENTRAL HOME
2nd March game STOKEHILL AWAY
9th March game SIDMOUTH WARRIORS HOME
16th March game TIVERTON HOME
20th April game WEST EXE RANGERS AWAY
Martin and Sandra would like to thank Lee and Sonya for doing the match report. this season
so that sandra can see her daughter play in the under 8
they will be sented a report into the paper each game and sented it to sandra to put on are web page
15TH SEPTEMBER SIDMOUTH RAIDERS 1 WHIPTON YOUTH 3
On Saturday morning Sidmouth Raiders travelled to the league 1 runner ups Whipton youth for their 1st game of the season.
Sidmouth started the game really well with Thomas Moore and Thomas Blackham looking solid in the centre of the park. Whipton also started the game very bright and were always looking to cause goal keeper Oran Bramble problems.
After 15 minutes Whipton put together some fantastic passes which there striker equaled with a good finish to put the raiders 1-0 down.. Sidmouth restarted the game and looked verypossitive going forward and after 20 minutes they got the break they deserved, when Whipton defender passed the ball back to his goal keeper to give Sidmouth an indirect free kick. Thomas Moore passed the ball back to Louis Adey who struck the ball from 16yrd to make it 1-1. Great piece of play from the two forwards.
Whipton restarted the game and very quickly and put together another fine move to make it 2-1 at half time.
Whipton kicked off the second half with both teams enjoying some great possession. Sidmouth Captain Ben Goodier was having a great game playing out of position at the heart of the defence with Jed de Meynier. It wasn't long before Whipton again managed to break Sidmouth down with some more great moves and forcing goalkeeper Oran Bramble to pull off a string of great saves but went 3-1 up.
Sidmouth continued to try and get back in the game but with legs getting tired and time ticking on it was very much an up hill battle on a very warm Saturday morning.
The game finished 3-1 to Whipton but on the plus side it eas a very good Sidmouth Raiders performance on the opening day of the season.
Well done to all the lads that played great team spirit from everyone.
22ND SEPTEMBER SIDMOUTH RAIDERS 2 WEST EXE RANGERS 5
Sidmouth raiders welcomed West exe rangers for there first home game of the season.
Sidmouth started the game as the stronger side, with some good passing and moving but it wasn't long before West exe opened the scoring, with a fine run down the wing and a great chip to beat keeper Oran Bramble.
Sidmouth responded with some good possession and a great strike that went just wide from Ben Goodier.
West exe then regained possession and caught out the raiders on the break, to go 2-0 up. The raiders did not let there heads drop as they continued to battle and with great determination they pulled a goal back, with a fine cross from Max Peacock to set up Louis Adey for his 2nd goal in as many games.
Louis Adey again went close a few minutes later when he was put through by Marcin Bielawski. West exe gained a corner from some good play and scored again 3-1 at half time.
Sidmouth tried to contain a very strong West exe side in the second half , with some great defending from Jed and Jimmy. But it wasn't long before West exe made it 4-1, When keeper Bramble parried a strong shot and they followed up with a goal. With Sidmouth feeling a little bit sorry for themselves, they let West exe through again to make it 5-1 and all but game over until Thomas Moore unleashed a thunderous free kick from just inside the halfway line 5 minutes from time. Great goal Tom!!!
29TH SEPTEMBER SIDMOUTH RAIDERS 1 CENTRAL 3
Sidmouth Raiders travelled to King George the 5th playing fields to play Central.
Sidmouth started the game very well with lots of quick passing and some great early chances. With only 5 minutes gone Sidmouth broke the Central defence with a great sweeping move, for Burhop to set Moore for his 2nd goal in 2 games. Central looked very quite through the first half and Sidmouth where much the better side. with Adey and Spiller linking up to make life hard for the central defence.
Goodier, Blackham and De Meynier looked very strong for Sidmouth and with half time approahing keeper Bramble was called in to action to pull off a fine double save on the line to keep it at 1-0 on half time.
Central kicked off the second half looking a lot brighter and it wasn't long before they broke the Sidmouth defence to make it 1-1. Sidmouth kicked off and where finding it difficult to break down a much more solid looking Central side, that where growing in confidance, with another good attack Central made it 2-1, when they had a extra man over at the far post.
Central took full control of the game when they scored again with some fine passing. Sidmouth continued to try and get back in the game, with great play from Moore and Adey going forward but with time running out fast Sidmouth had a tough test to say the least.
20TH OCTOBER SIDMOUTH RAIDERS 3 WEST Exe EXILES 5
Sidmouth Raiders travelled to cowick barton playing fields to take on West exe exiles in the league.
Sidmouth started the game very quite and finding it difficult to string passes together. West exe took the lead after 10 minutes with a great through ball from the mid field and a fine finish from the striker.
Sidmouth kicked the game off again and with some good work they managed to get a goal back. through Louis Adey . 1-1.
West exe struck again just before halk time to make it 2-1. Sidmouth kicked off the second half and where looking to grow in confidance, with Bramble pulling off some great saves and De Meynier commanding things very well at the back. West exe scored a third with some great play down the wing, forcing Bramble to save, which the ball slipped out his hands and left an easy tap in for the west exe player. 3-1`
Sidmouth pulled another goal back with a great through ball from Moore, which Blackham managed to latch on to and make 3-2.
West exe replied with 2 more goals but with some strong tackling and good play on the wing from Spiller, Sidmouth managed to force one last corner, before the final whistle which fell to Adey , who again unleashed a fine finish from a acute angle to make 5-3 to west exe exiles.
12th january sidmouth raiders 4 sidmouth warriors 6 cup game
On Saturday morning sidmouth raiders took on the sidmouth warriors in the league cup.
It was the raiders who started very quick with Louis Adey beating 2 defenders and the warriors keeper to open the scoring after 30 seconds.
The warriors kicked off again with both sides playing some great football, on what was an extreamly wet pitch.
Both sides could have added a few goals in the first half, if it wasn't for some great goal keeping from both sides. It was thr raiders who had the lead at the break.
After half time the warriors came out very fast, getting an early goal to make it 1-1
The raiders kicked off again but it was quite clear that the raiders had been taken by surprise as the warriors added another goal within seconds to make it 2-1
The warriors got the next 3 goals with raiders looking down out of this match, it looked like the warriors were runnung away with the game, when they added a 6th goal with fine foot work from the midfield 6-1
The raiders got some determination back and with some great passing Ben goodier to set up Louis Adey for a great goal from the 25yrd. The warriors kicked off again and it wasn't long before Captain Ben Goodier set Louis Adey up to complete his Hat-trick.
With the game coming to an end Luke Spiller managed to grab another goal back, but with time running out the raiders cup run came to an end, with the warriors winning 6-4
Well played to all ther lads, great game of football from two very good sides