Sponsors of kit for Sidmouth Town Junior Vikings (Under 14s) Exeter and District Youth Football League .... EXETER MEDICAL... (White/Green Kit)
Sponsor of kit for Sidmouth Town Junior Vikings (Under 14s) East Devon League .... FREDERICK ORCHARD...(Blue/White Kit)
Welcome to our web page where you'll find photos, match reports and news about STJVs - under 14s playing on Saturdays in Exeter & District Youth (Green Kit) Football League & Sundays in East Devon Youth Football League (Blue Kit).
To see fixture list our Saturday matches and to find venues for our away matches please check the following link:-
To see a fixture list for our Sunday matches and to find venues for our away matches please check the following link:-
Our Managers/coaches for our teams are JON MILLER, Manager .. Under 14s (Saturdays) in the Exeter & District League, (White Kit) SEAN MURPHY, Manager ..Under 14s East Devon League (Sundays) (Blue Kit) & coach & correspondent PAUL NEWBERY
NEWS UPDATES & FUNDRAISING
MEETING FOR FAMILIES TO ATTEND TO FINALISE ARRANGEMENTS FOR TOURNAMENT @ DEVON CUP FINAL @ NEWTON ABBOT ON TUESDAY 16TH APRIL NEXT
ESFF FESTIVAL OF FOOTBALL TOURNAMENT @ BUTLINS ON FRIDAY 3RD MAY TO MONDAY 6TH MAY 2013...BOYS PAID MOSTLY THROUGH FUNDRAISING...HUGE THANK YOU TO EVERYONE WHO HAS CONTRIBUTED... HOPE THE BOYS AND FAMILIES HAVE A FANTASTIC TIME...
REPORT FROM FUNDRAISING CHRISTMAS RAFFLE HELD ON SATURDAY 22ND DECEMBER 2012
The Christmas draw organised by Paul and Jo Newbery raised a total of £157.30... Well done to all who made this event a success!!
Welcome back to JONNY DUNN, who has retired from Exeter City to return to play for our Saturday and Sunday teams
REPORT FROM FUNDRAISING POP QUIZ HELD ON FRIDAY 19TH OCTOBER 2102
STJV (under 14's) hosted a Pop Quiz at the Balfour Arms and raised the sum of £523:00 from the sale of entry tickets and rafffle tickets. Well done to all those who helped to make this event a success.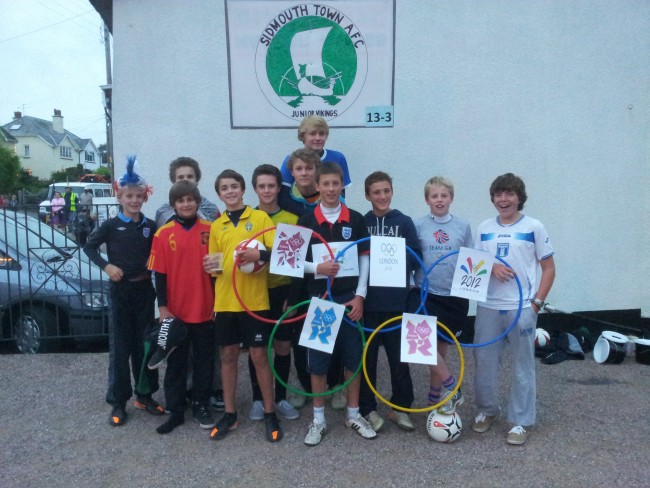 Ben Miller, Tyler Hillier, Jack de Winton, Al Forsyth, Jonny Surtees, Freddie King, Tom Orchard Jamie Newbery, Joe Miller Billy Rudolf & Conner Murphy
Players from Sidmouth Saturday and Sunday teams entered the Carnival with an Olympic theme, sporting football shirts from countries that entered the football olympics. The players raised total of £46.47 collecting during the procession... Well done
During the holidays, the players took part in a sponsored marathon, an idea by Jamie Newbery and raised some £457.00. Well done to all the boys, great effort!
SIDMOUTH TOWN JUNIOR VIKINGS (Under 14s) SATURDAY TEAM --- Exeter & District League
Newton Abbot 0 Sidmouth 3… 30th March 2013 … Match Report by Paul Newbery
Sidmouth travelled to Abbots in a league fixture just a few weeks after their Devon Cup semi-final win against the same opponents. Again Sidmouth were the stronger team & with the bare 11 players had numerous attacks but their opening goal was a mistake by the Abbots keeper & Jonny Dunn pounced to score. Good work from Joe Miller produced another mistake by the keeper & this time Freddie King was on hand to score. Will Down in the Sid goal had very little to do & Sidmouth went into the halftime break totally dominating the half. Second half was much of the same with Sid missing a few chances but eventually Sid scored their third through King. The last 10 minutes saw Sid under pressure but Jamie Newbery & his fellow defenders Jonny Surtees, Al Forsyth, & Fin Marks kept the Abbots at bay & when they did break through Down made a couple of good brave saves. Final score line of 3-0 showed the dominance of the game against third in the table Abbots.
Sidmouth 5 Alphington 2 … Saturday 16th March 2013 … Match Report by Paul Newbery
Sidmouth played host to the reigning champions looking to secure much needed points. Sid started the best with good attacking play from Tyler Wellman, but it was from a Jamie Newbery free kick that found Jonny Dunn whose flicked header went over the keeper to open the scoring. More good play involving Joe Miller, & Ed Doble saw Wellman place a great shot into the bottom corner to give Sid a two goal lead. Alphas came back at Sid strongly but good defending from Fin Marks, Al Forsyth, Alex Stone, & Newbery kept them out, but just before halftime the speedy Alphas winger pulled a goal back to go into the break 2-1 down. Second half Alphas started stronger & they got their reward with a equalising goal. Sid were now under pressure & a couple of good saves from Will Down, & a last ditch tackle from Newbery prevented Alphington taking the lead. A long ball out of defence caught the Alphington Defender & keeper looking at each other & Joe Miller nipped into score Sid's third. This turned the game & Sidmouth started to play great Football with first Jack de Winton & then Freddie King scored to put the game out of Alphington's reach to win 5-2. A great team performance, against good opposition, which will boost confidence with the team's County Cup Final next month
Sidmouth 4 Moors Youth 2 … Saturday 9th March 2013 … Match Report by Paul Newbery
Sid played at home & played some good attacking play & opened the scoring when a good cross shot from Joe Miller found the bottom corner. Sid went 2-0 up with some good play & Jonny Dunn finished it off with good shot. Play then became scrappy till halftime when in the second half Moors got their reward with a goal to bring the score 2-1. Back came Sid & Alex Stone stole in around the back to make it 3-1, Moors kept going & made it 3-2 but a great run from Al Forsyth saw him run onto a ball from Dunn to score to make the final score 4-2 with another good all-round performance
Sidmouth 1 –v- Newton Abbot 1 … Saturday 8th December 2012 Match Report by Jo Newbery
For the third game running this match finished 1-1. On a sticky pitch Sid worked hard without having any clear chances. Ben Miller, Alister Forsyth, & Jonny Dunn worked tirelessly but couldn't provide the break through. Abbots didn't create chance in the first half & at the start of the second half were still found wanting. Sid took the lead when Jack de Winton had a fine run & finished with a powerful shot that nestled in the corner. Jamie Newbery then headed just over from a corner & as the half wore on Sid dropped deeper in their own half & with 5 minutes to go a through ball found an Abbot striker & with the defender slipping in the mud he finished well. A scrappy match & Sidmouth need to get back to winning ways.
Dawlish 1 -v- Sidmouth 1....Saturday 1st December 2012...Match Report by Paul Newbery
For the fourth game in a row Sid failed to beat Dawlish when they have had 90% of the match. Sid started a bit tentative on a big pitch & tried to play too many long balls which were cut out & kept putting the defence under pressure. After a couple of changes which saw the returning Jonny Dunn from Exeter City Sid played shorter & more fluent passes which put the Dawlish defence under pressure & should have gone into the halftime break four or five goals up. Second half started in the same vein with Sid creating & missing chances. Eventually Sid scored with a good move finished off with Dunn finding the net. More chances were missed & then a shot from a corner was handled by a Dawlish player & they then went up although the ball should have been cleared Dawlish to scored with there only real attempt at goal. Sid had a couple more chances but in the last minute Jamie Newbery was brought down by the keeper but his only reward was corner even though everyone even the Dawlish manager thought it was a penalty (but not the ref!) Sidmouth should have won the match but bad finishing against a team that has become a bogey team cost them more league points.
Thorverton 1 –v- Sidmouth 1… Saturday 17th November 2012 ...Match Report by Jo Newbery
Sidmouth started well in this game & attacked from the whistle. George Harris was given the chance to lead the attack & his pace enabled him to have a great shot which was well saved. He then got through again to see his shot unluckily hit the post & the rebound fell kindly for the opposition, but it was, by no means, one way traffic. Will Down in the Sid goal made a great save & the defence defended superbly. Jamie Newbery then thought he had opened the scoring but the goal was disallowed for an alleged foul. The 2nd half was just as actin packed & then Thorverton took the lead with a deflected shot that Down got his fingers to but couldn't keep out. Sidmouth piled forward for the equaliser & a Joe Miller shot just went over the bar. Jack de Winton then played a ball to Ed Doble & his great run & cross shot was brilliantly kept in by Ben Miller & Doble followed in for a much deserved equaliser. Sid pressed in the final 10 minutes but couldn't find the winner. A great game, by two, evenly matched teams.
Cullompton 0 –v- Sidmouth 2......Saturday 6th October 2012.. Match Report by Paul Newbery
Sidmouth travelled to Cullompton on a sunny morning although the recent storms had left all of the pitches lying in pools of water. It was decided to go ahead & after a short delay trying to clear the pools the game started. Sid played some good football but the puddles stopped any free flowing football. Midway through the first half after good play from Jack de Winton who put Ed Doble in to put Sid one up. Cully got back into the game but good defending by Billy Rudolph, Jamie Newbery, Finley Marks & Alister Forsyth kept them at bay, & when they did get through keeper Will Down saved well. Second half Sid again were in command with Joe Miller & Tyler Wellman prominent, but couldn't get the breakthrough then a through ball landed in one of the laying pools of water & Ben Miller was first to react rounding the keeper & putting Sid two up. Cully now had their best spell of the game pegging Sid back into their own half & forcing three more good saves from Down. Sid did finish the game attacking & thoroughly deserved their win against a very good Cully team
Brixington Blues –v- 2 Sidmouth 3... Saturday 29th September 2012..Match Report by Paul Newbery
Sidmouth played only their Second league game of the season against a team they won comfortably in a pre-season friendly. Sidmouth started well playing some good football but the final ball let them down. Finn Marks long throw was causing all sorts of problems, but it was from a corner that Sid scored when Jamie Newberys shot went across goal & Ben Miller was first to react to hook the ball home. Sidmouth scored again when some good interplay from Connor Murphy & Dylan King saw a good pass from King into the path of Joe Miller who's first time shot flew into the top corner. Sid totally dominated the first half but wayward final ball & poor finishing meant that Blues went into halftime only the two goals down. Blues had the wind & came out the stronger which meant the defending with Al Forsyth prominent was at times desperate & it was no surprise when they pulled a goal back. This spurred Blues on & Sidmouth couldn't string three passes together & then a tremendous volley from a Blues player produced a great save from Will Down. Sidmouth managed to get a foothold back into the game & from a free kick inside the Blues penalty area Ed Doble bundled the ball over the line for an important third goal. Blues still had time to score with a looping header but Sidmouth held out for the final whistle for a narrow 3-2 victory. Not their best performance but if chances were taken first half it wouldn't have been so close.
Sidmouth 0 -v- Exeter Civil Service 4 ... Saturday 8th September 2012...Match Report by Paul Newbery
A couple of weeks ago Sid opened their league campaign against a big & physical Civil side which for the first time in this teams short history, totally dominated & outplayed them & only Jack de Winton, Jamie Newbery, & man of the match keeper Will Down played anywhere near their standard.
Newton Abbot U14s 0 -v- Sidmouth U14s 3 ... (Semi-Cup Final) ... Match Report by Jon Miller
'An outstanding performance, by an outstanding group of players', how manager Jon Miller described the display provided by the Sidmouth team as they reached their second consecutive County Cup final. The side controlled the match from start to finish, playing all the football and limiting their opposition to a handful of counter attacks.
Sidmouth started brightly with the whole side fulfilling their brief of high energy, committed football. The giant central midfield trio of Freddie King, Harvey Sargent and Tyler Wellman shadowed their opposite numbers and dominated, feeding wingmen Alex Stone, Ben Miller and the exceptional lone striker Ed Doble. Meanwhile the defensive line of Jonny Surtees, Billy Rudolph, Fin Marks and Al Forsyth held firm under the controlling voice of Jamie Newberry. Will Down, a virtual spectator in goal.
Despite their ascendancy Sidmouth had to settle for a goalless first half. Joe Miller, Connor Murphy and Roel Ruigrok all limped off injured, joined by sparkling substitute Jack de Winton when he was studded in the face by a high boot on the edge of the box. However from the resulting free kick Freddie King strolled up to bend the ball around the wall and into the bottom corner. And the tie was won five minutes from time when King sent in a searing cross for Ben Miller to rise majestically at the far post to nod Sidmouth into the final. Ed Doble had the last word with a lob of high quality late on to make it three. Man of the match was Alex Stone for a brilliant display of aggression without the ball and class with it.
Sidmouth will play Marine Academy of Plymouth who dispatched last year's winners Marldon by five goals to one. Hopefully Sidmouth can rise to the occasion and go one step further to win the 16th April final.
Sidmouth 1 –v- Weston Oak Mill Villa 0 ... Sunday 11th November 2012 (3rd Round)... Match Report by Paul Newbery
Sidmouth played at home to a fourth Plymouth side in two years & although the scoreline was close Sid were comfortably the better side. Oak had a couple of second half chances one superbly tipped over by Fin Marks but in general Jamie Newbery & his defence were excellent in keeping them to the couple of chances, whereas Sid squandered chance after chance with the excellent Joe Miller & Tyler Wellman probing. It was left to a Freddie King strike to put Sid into their second consecutive Devon quarter final.
Plymstock 1 –v- Sidmouth 2... Sunday 14th October 2012 ... Match Report by Jon Miller
Manager Jon Miller couldn't contain his disappointment in drawing high flying and last year Devon Cup semi-finalists Plymstock away in the 2nd round of this year's Devon Cup. Having already drawn and dispatched top North Devon side Bideford in the 1st round Miller felt aggrieved with the luck of the draw. However he need not have worried with the Sidmouth side playing to their potential and completing a fairly comfortable victory.
Sidmouth dominated the first 20 minutes, scoring twice. Alex Stone and Tyler Wellman threatened constantly down the left, playing the ball into acres of space for right midfielder Ben Miller, firstly to set Ed Doble for a 20 yard first goal and then falling as if he had been sniped under a foul to earn a penalty, calmly dispatched by King. Plymstock were limited to two attacks in the first half, a one on one brilliantly saved by keeper Will Down and shortly afterwards a goal conceded when the defence stood still having thought that the advancing striker had handled the ball before finishing excellently.
Sidmouth dug in deep in the second half to protect their lead, denying their opponents a single serious attempt on goal. A superb defensive display from Stone, Jonny Surtees and Fin Marks, controlled and marshalled by outstanding captain Jamie Newberry was stabilised by determined break up play from holding midfielders Billy Rudolph and Al Forsyth. The fresh legs of Roel Ruigrok, Connor Stone and George Harris, the latter having a 35 yard strike well saved, refreshed the tiring, battle weary Sidmouth side. None more worthy of a break than lone striker Jack De Winton, keeping the opposing back four alert. Sidmouth kept their heads and continued to play football despite an aggressive Plymstock side that coach Paul Newberry described as the most physical youth side he had seen.
With the whole side worthy of plaudit the ref did single out Freddie King as man of the match; not complaining once despite constant attempts to slow him down through foul play. Another outstanding display of footballing, sportsmanship, desire and determination that if replicated could see Sidmouth, last year's finalists, going one step further this year.
Sidmouth 3 -v- Bideford Youth 0 ..... Sunday 23rd September 2012 ... Match Report Paul Newbery
On a horrendous morning Sidmouth started their county cup game at home against a good, big & physical Bideford side. Sidmouth started the best with some flowing football with Jack de Winton & Ed Doble prominent. Sidmouth were awarded a freekick when Freddie King on one of his mazy dribbles was fouled & Tyler Wellman hit in a fierce & curling freekick which hit the deck & flew into the bottom right hand corner to put Sid 1-0 up. Soon it was two when a Doble shot was parried by the keeper into the path of skipper Jamie Newbery who rolled the ball into the net. Bideford hit back but the back four of Newbery, Fin Marks, Jonny Surtees, & Al Forsyth defended well to make keeper Will Down a virtual spectator. A couple more chances were made by Sid which weren't taken & at the halftime whistle Sid were well worth their two goal advantage. Second half was the same as the first with Sid carving out chances & with one of them Ben Miller coolly rounded the keeper for Sids third. Bideford rallied in the last 15 minutes but the defence with Alex Stone now in kept everything out except for one shot that a wet & cold Down saved. Everyone played well including the 4 subs on a miserable day & now Sidmouth move on to the second round & hopefully go one better than last year's runner-up.
SIDMOUTH TOWN JUNIOR VIKINGS (Under 14s) --- SUNDAY TEAM --- East Devon League
Sidmouth 0 –v- Colyton 0 ... Sunday 20th January 2013... Match Report Sean Murphy
With the game originally called off and then re-instated Sidmouth travelled to Colyton with just 10 players but still managed to gain a 0:0 draw. With just 10 players, and half of them under 13's,Sidmouth knew it was going be a struggle but in the first half they did manage to create chances of their own. The closest they came was from a shot from Jack Harwood which was cleared off the line and the follow up from Jamie Newbery went over the bar. The back four of Fraser Beaument, Newbery, Alister Forsyth and Matt Jones were resolute limiting the host's chances and anything that got past them was cleared up by keeper Henry Bartlett. The second half was mainly one way traffic with Colyton building the pressure up on the visitors. Sidmouth did ride their luck a little bit but defending from front to back they got their just rewards by holding firm and gaining the point. Manager Sean Murphy said "That was a terrific backs to the wall performance by the boys, and for differing reasons I would say that it was better than last week's come back victory. It should give us a lot of confidence for the remaining games this season."
Honiton 3 -v- Sidmouth 4 …Sunday 13th January 2013… Match Report by Sean Murphy
Sunday saw the under 14's host fierce local rivals Honiton and edged a 7 goal thriller. Honiton started the brighter pushing the back 4 of Tom Orchard, Jamie Newbery, Jonny Surtees and Matt Jones back. Although they started well on the pitch off the pitch was a different matter as there manager was sent from the touchline inside the first 10 minutes of the game. This however didn't affect the team and 5 minutes later they were awarded a debateable penalty, a terrific save from keeper Henry Bartlett was in vain as the kick was ordered to be re-taken and second time round the Honiton striker found the net. Sidmouth soon found their feet and started to push the visitors back without causing them any real problems. Honiton got a second on a breakaway, Sidmouth rallied again and before half time a terrific run and cross from Ed Doble found Connor Murphy on his own in the box and the ball found the back of the net. The half time pep talk about not giving Honiton time and space seemed to go unheeded as within 5 minutes of the restart they regained their 2 goal advantage. This however was short lived as a terrific 40 yard pass from Orchard found Doble who was able to out muscle and out pace the defender before burying the ball in the net. This really galvanised the hosts and they went in search of an equaliser and they thought they had it when Joe Miller finished a great move only to see the linesman flag raised, who later admitted he made a mistake raising it against another player. Miller did manage to get on the score sheet with about 10 minutes to go. Honiton were always dangerous on the break but Sidmouth smelt victory and with just 10 seconds left on the clock Doble scrambled the ball over the line to complete the superb comeback. Manager Sean Murphy said "I could not be any prouder of the boys the work rate and never say die attitude was first class. Credit must also go to Honiton who contributed just as much to the best match at youth level I have seen in quite a while. We lost 5:0 to these earlier in the season and midway through the first half I did start to think it wasn't going be our day again, just goes to show what I know doesn't it. Every single one of those boys put a real shift in today and they got their rewards. Hopefully we can kick on from here and put pressure on the teams above us and finish as high in the league as possible because on today's showing we are more than a match for anybody"
Millway Rise –v- Sidmouth Town .....Sunday 21st October 2012 ... Match Report by Sean Murphy
On Sunday Sidmouth travelled to Axminster to play Millwey Rise and came away comfortable 10:1 victors.Sidmouth started strongly and were soon ahead when Jamie Newbery's fierce shot was beaten away by the keeper and Connor Murphy followed up to tuck the ball away. The visitors kept up the pressure on their younger opponents and by half time they had increased their advantage to 6:0 with further goals from Newbery 2, Alex Stone, Murphy and Joe Miller. Such was their dominance keeper Henry Bartlett's only touch was a back pass and defensive trio of Tom Orchard, Alister Forsyth and Matt Jones were virtual spectators. The second period started with Sidmouth again in the ascendency forcing the home keeper into a number of good saves. Midway through the half Sidmouth were awarded a penalty after a defender handled the ball and Newbery completed his hat trick from the spot. Individuality instead of team play meant that Town had to wait for their next goal which finally arrived from Stone. The hosts were awarded their own penalty which they converted to cut the deficit. Goals from Freddie King and Stone (hat trick) completed the scoring. Manager Sean Murphy said "I was disappointed with some of the boy's attitude towards the game and their opponents in the second half it took the gloss off what was a good win. A few harsh words were said after the match so hopefully we won't see a repeat. I would like to congratulate Millwey and their players who never gave up and kept battling even though a lot of them are actually under 13's and so are physically smaller and weaker than we are but they fully deserved to get their goal"
Sidmouth 13 –v- Seaton 4... Sunday 7th October 2012... Match Report by Sean Murphy
Sunday saw Sidmouth host Seaton and they ran out comfortable 13:4 winners. Sidmouth started very strongly and were 4:0 to the good within the first 5 minutes with goals from Joe Miller 2, Freddie King and Alister Forsyth. After this start the hosts took their foot off the gas and stopped playing as a team and more as individuals which allowed the visitors to get back into the game. They pulled a goal back with a shot from the edge of the box this was soon followed with a second from the penalty spot. Sidmouth regrouped and by half time had scored 3 more through Ben Miller, King and Connor Murphy to go into the interval 7:2 to the good. The second period was again dominated by the home side but they were unable to turn chances into goals until midway through when Jack Silk got his first for the team. Murphy increased the lead with a terrific shot from 20 yards and Jack Harwood got his name on the scoresheet for the first time. Seaton got another goal back before Tom Orchard converted a penalty that he had won. The Sidmouth scoring was completed by King [hat-trick] and B Miller. Seaton were awarded another penalty which they converted before the end. Manager Sean Murphy said "The boys were fantastic apart from a 15 minute spell in the first half when they forgot to play as a unit. We soon returned to the passing game that serves us well and totally dominated the game thereafter. It was good to gain our first win of the season, and it is now onwards and upwards for the rest of the season"
Honiton –v- Sidmouth... Sunday 30th September 2012... Match Report by Sean Murphy
Sidmouth travelled to fierce local rivals Honiton last Sunday and came away on the wrong end of a 5:0 scoreline. The hosts started much the stronger but with a squad of just 12 players Sidmouth were soon in trouble when defender Jamie Newbery was forced off with a thigh injury and soon afterwards Honiton went in front when the Sidmouth defence failed to react when a shot from distance cannoned off the bar and the Honiton forward slotted home. Newbery was soon back into the fray but it didn't last very long as he couldn't shake the injury off and was forced to sit out the rest of the match. Sidmouth did start to create chances but were unable to convert any of them but for most of the half Honiton were able to waltz through the defence almost at will and only the heroics of keeper Henry Bartlett kept the visitors in the game but just before the half time whistle Honiton got their second. The second half was a much more even affair with both sides guilty of squandering good scoring chances, with 15 minutes to go Sidmouth changed their formation to 3 at the back to try and get something from the game. This left the defence vulnerable to the counter attack as this was proved and exploited with the hosts scoring 3 goals before the end. Manager Sean Murphy said "Congratulations to Honiton they were the better team on the day, but on another day we would have scored 5 maybe 6 times. We have now lost our opening 2 league games so it is going to be difficult to win the league but we will keep going and obviously there are the cup competitions"
Sidmouth 0 -v- Exeter Panthers 4 ... Sunday 16th September 2012 .... Match Report by Sean Murphy
The under 14's got their East Devon league campaign running with a tough trip away to league new boys Exeter Panthers and came away on the wrong end of a 4:2 score line .The Panthers won this league 2 seasons ago in their former guise of Phoenix so Sidmouth knew they were in for a real battle and so it proved. The game started brightly for Sidmouth and in the opening 7 minutes Connor Murphy latched onto a throughball from Joe Miller to calmly toepoke the ball past the onrushing keeper. This sparked the Panthers into life and the Sidmouth defence of Tom Orchard, Jamie Newbery, Jonny Surtees and Alister Forsyth came under increasing pressure which eventually led to an equalizer when a shot from distance dipped over keeper Henry Bartlett and just under the bar. Sidmouth rode their luck for most of the half and their luck ran out just before the whistle when the Panthers got their noses in front. The second half started in much the same vein with the Panthers comfortably on top and they increased their lead from the penalty spot and soon got a fourth. With nothing to lose Sidmouth finally started to play their football and ask some questions of their opposition a terrific ball from Newbery found Freddie King who calmly went round the keeper to fire home but it was just a mere consolation. Manager Sean Murphy said "we lost to the better team today, credit must go to the Panthers players as they did not allow us time and space to play our brand of football. Perhaps we were a bit unlucky to play one of the favourites for the league in our opening game but we are now playing catch up and when they come to our place hopefully we will be able to reverse the result"