SIDMOUTH TOWN JUNIOR VIKINGS (under 16s)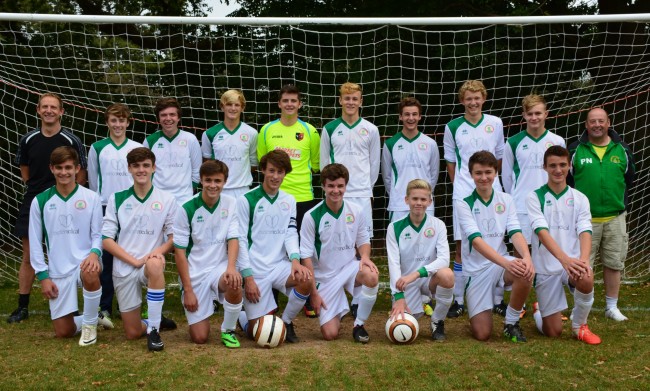 Top Row :- Jon Miller (head coach), Fin Marks, Connor Murphy, Tyler Wellman, Rowan Symonds, Freddie King, Jonny Dunn, Mark Pearce, Tom Orchard Paul Newberry (assistant coach)
Bottom Row :- Jack de Winton, Tim Jones, Al Forsyth, Jamie Newbery, Ben Gosse, Dylan King Alex Stone, Joe Miller
Players missing at time of team photograph :- Ben Miller, Ollie Turton, Ollie Newton , Jake Sellick & Will Down
Welcome to our web page, you'll find photos & match reports about STJVs - under 16s playing on Saturdays in Exeter & District Youth Football League.
The coaches for our teams are JON MILLER, head coach and PAUL NEWBERY assistant coach
Our correspondents are PAUL & JO NEWBERY
Sponsors of kit for Sidmouth Town Junior Vikings (Under 16s) SATURDAY TEAM Exeter and District Youth Football League .... EXETER MEDICAL... (White/Green Kit)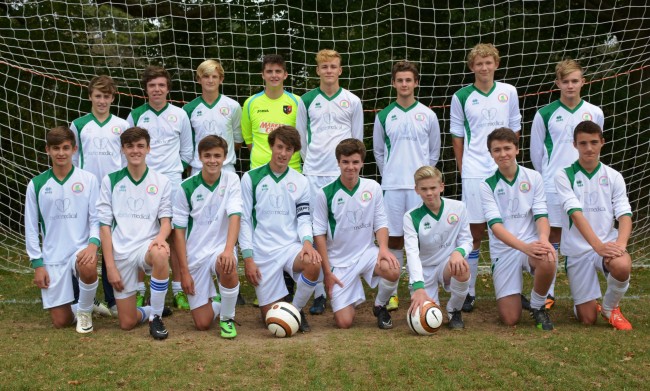 Our training kit is blue and white Sponsored by FRED ORCHARD and we train at astro at Kings School, Ottery St Mary, every fortnight
To view fixture list our Saturday matches and to find venues for our away matches, please check the following link below; this link also shows our position in the League tables
http://www.exeteryouthleague.co.uk/under16s-division1/
Players Match Availability
Please can players complete and update availability throughout the season using following doodle link http://doodle.com/xmpeirauf92e3s5p
Friendlies ... introducing new players to our team
The four friendlies saw 26 Sidmouth goals whilst conceding just five, including a 6.2 victory over North Devon Champions Bideford. A new formation, 12 goal Freddie King in outstanding form and three new players for this year, Tim Jones, Mark Pearse and returning keeper Will Down have given the team an edge and every hope for a push for titles.
JAMIE NEWBERY completed an outstanding week with his man of the match performance adding to his 16th birthday, 1st team debut and most importantly inclusion in the 16 man Devon squad to play Dorset this weekend.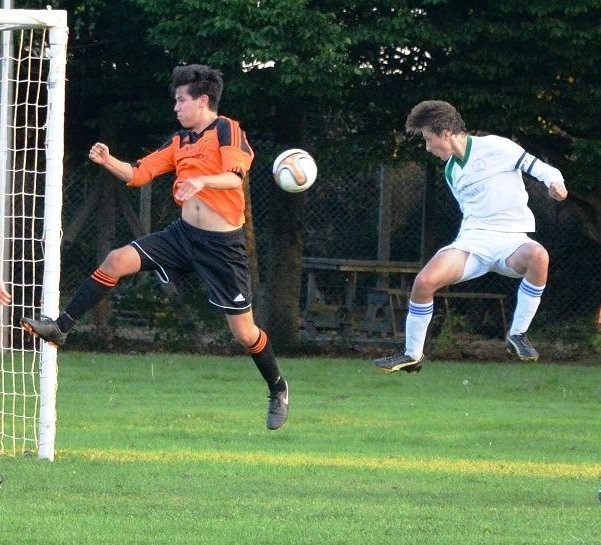 Congratulations also go to midfielders FREDDIE KING and JACK dE WINTON who both made the 9 man county team reserve list.
Congratulations to JOE MILLER who played his first game for Sidmouths mens first team this week
STJV.... U Tube Channel ..... TSfootballHD ...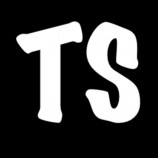 A few of our players have produced their own u tube football channel showing amazing shots and skills .... 'TSfootballHD' ..... take a look it can be found at http://www.youtube.com/watch?v=Y63RX-mWHTg&list=TLydi1sP1okDilHX0NoSESjwkBiI7BlYXE
Check out our page on facebook for all latest information on our team... https://www.facebook.com/#!/pages/Sidmouth-Town-U16/432185733586911?fref=ts
MATCH REPORTS ( Exeter and District LEAGUE)
Dawlish 2 – v – Sidmouth 6 … Saturday 21st February 2015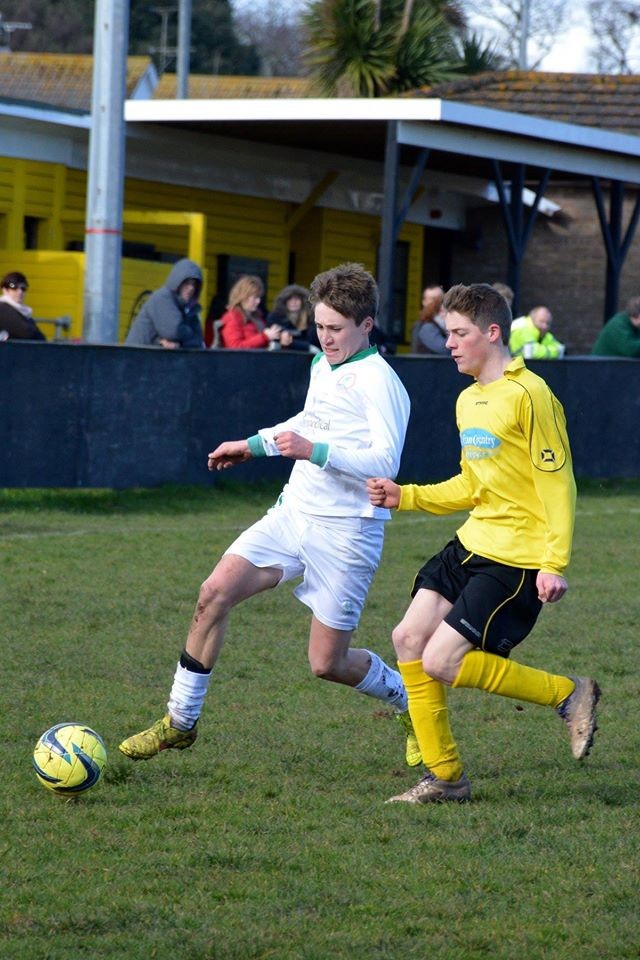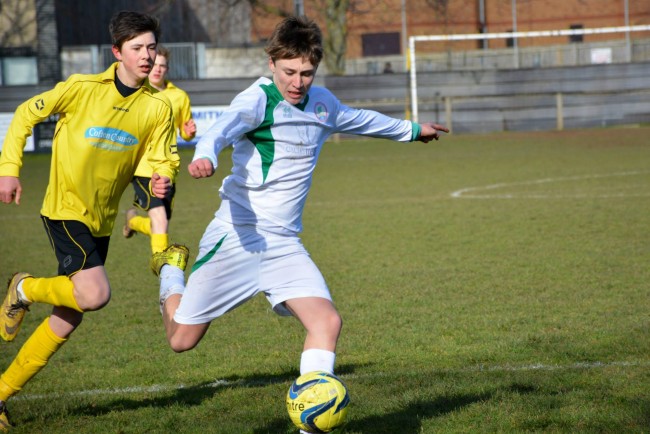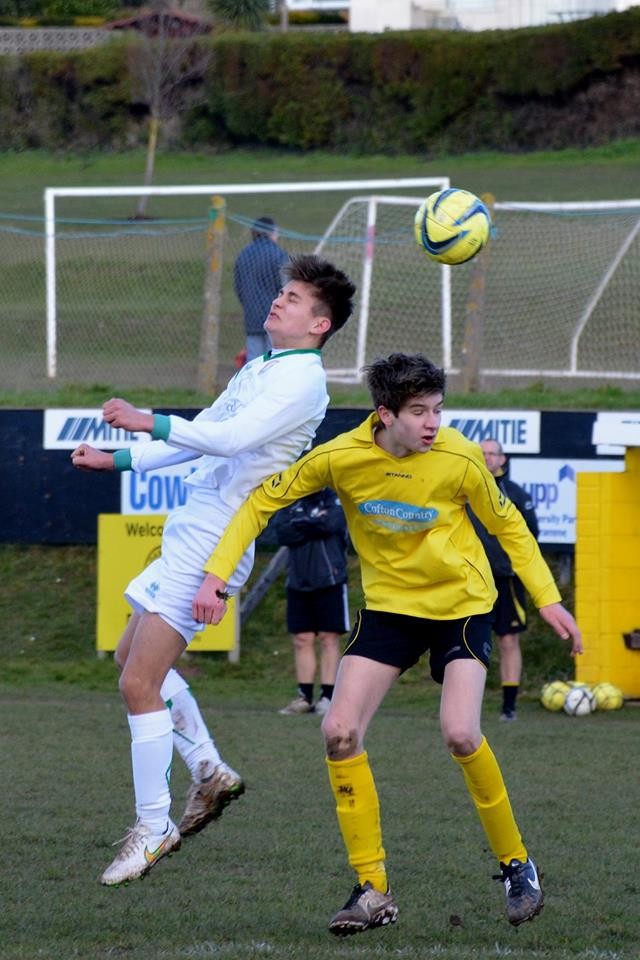 Cullompton 1 – v - Sidmouth 6… Saturday 14th February 2015 .. Match Reports by Paul Newbery and Jon Miller
Phenomenal. That's how coaches Jon Miller and Paul Newbery defined their teams performance away to previously unbeaten title favourites Cullompton. In fact Cully had only conceded 5 goals all season but were on the end of a Sidmouth performance that ranks up with the best from the Sidmouth side.
Newbery went on to say 'the boys were outstanding. Their discipline and determination, coupled with their indisputable talent means that if they turn up on the day, they can literally beat anyone you put in front of them. All of these elements came together today and performances like this are the result.'
Sidmouth untypically started quickly and within 10 minutes were two up, two goals from set pieces with Jonny Dun and Jamie Newbery scoring from close range. But Cullompton got into their stride and started to challenge Sidmouths defence. With centre backs Tom Orchard and Mark Pearse in their best form, Cully's dangerous strike force were limited to the occasional breakthrough where the talented hands of Fin Marks, his first appearance in goal for four years, kept them at bay.
Wingbacks Tim Jones and Jack Dewinton started to link up well with Joe Miller and Connor Murphy in midfield and match control was regained. Freddie King and Ty Wellman's movement kept opening up Cully's defence, the later playing in odd boots after his own boot split, borrowing footwear from dad come linesman Roger. This lead to two further goals of the highest class. First Jamie's Newbery athleticism saw him fly through the air and head in from the penalty spot via the underside of the bar. Then Ben Gosse, comfortable playing up a year showed his talent by a deft curling shot from the corner of the box nestling into the top corner.
Unsurprisingly Cully came out strong after the break. Glovesman Marks continued with his impeccable performance, displaying high quality handling and shot stopping. Against the run of play Sidmouth were awarded a penalty with sweeper Newbery claiming a hatrick with a cool penalty, rolled down the middle as the keeper dived away. Jonny Dunn completed the rout with the sixth, a cool, calm driven finish that typifies his performances this season. To Cully's credit they kept going and achieved a late, soft goal.
Jon Miller explained that 'the result puts us 8 points clear at the top but with games in hand the teams around us still have control. But we did all we could do today, three points and a 10 goal sway on goal difference against our greatest rivals. The league is wide open and the title race is on.'
Pinhoe 0 – v – Sidmouth 6 … Saturday 7th February 2015
Sidmouth 3 – v – Cullompton 3 Saturday 24th January 2015
Sidmouth 3 – v – Dawlish 0 Saturday 3rd January 2015
Sidmouth 6 – v - Ottery St. Mary Saturday 29th November 2014
Sidmouth 1-v- Cullompton 1 ... Saturday 1st November 2014 ... Match Report by Jo Newbery
Sidmouth played at home to unbeaten Cullompton in a top of the table clash. Sidmouth changed their formation to combat Cullys direct approach but it backfired when Cully went in front after 5 minutes, & thereafter were all at sea & could have gone further behind. Gradually Sidmouth produced some fluency in their passing with Freddie King & Jack de Winton combining & it wasn't long before de Winton was fouled in the box & King stepped up to score to level the scores. Both sides for the rest of the half created chances but the scores were still level at the halftime whistle. Second half Sidmouth came out with Tyler Wellman & Joe Miller controlling the midfield & from a Connor Murphy free-kick Jamie Newberys header hit the bar & drop down on the line & was then cleared. Then de Winton was through on goal but the keeper saved, from a Forsyth cross Miller slid in with goal gaping but his touch went wide. Newbery & his fellow defenders kept the Cully forwards quiet & when King went on a run he seemed certain to score but his shot was just too high. In the final minute de Winton's shot was brilliantly saved by the Cully keeper to leave Sidmouth frustrated to only draw 1-1 & be denied the win that they deserved.
Sidmouth 2 - v – Thorveton 0 … Saturday 25th October 2014
Thorveton 4 – v – Sidmouth 1 … Saturday 11 October 2014
Sidmouth 3 -v- Exwick 3... Saturday 27th September 2014... Match Report by Jon Miller
Sidmouth's seven match winning start to the season came to an end with an enthralling, high quality top of the table draw. Sidmouth were left disappointed, having let a two goal lead slip twice.
Exwick were quick out of the blocks, bossing the ball and territory. The home side withstood 10 minutes of pressure and were fortunate to score through Joe Millers speculative shot. However this kicked Sidmouth into life and dominant play resulted in Jonny Dunn smashing home from close range. Against the run of play Exwick were awarded a soft penalty and scored to reduce the deficit but just before the break Freddie King out jumped the Exwick defence to power header Sidmouth back in to a two goal lead.
The coaches warned of complacency after last weeks slow start to the second half, but unfortunately control of the game was lost and two identical goals saw Exwick draw level. In the dying moments Sidmouth had the chance to take the three points but a heavy pass denied the energetic Tom Orchard the chance to take the glory.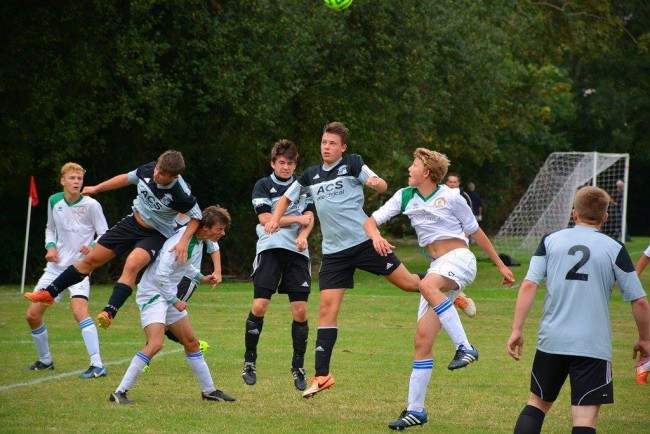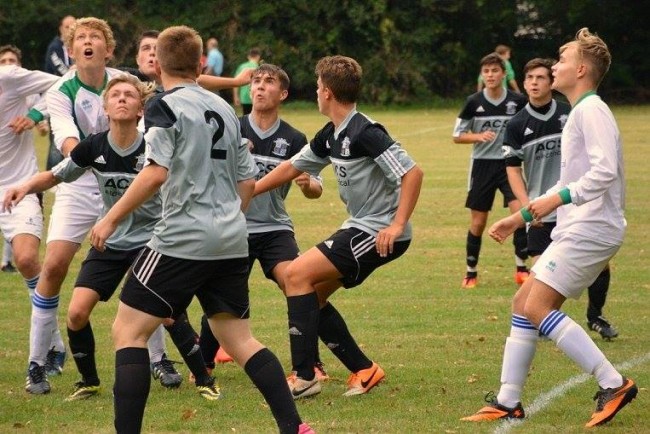 Sidmouth 4 - v - Elmore 2 ... Saturday 20th September 2014
Sidmouth 6 – v – Pinhoe 1 Saturday 13th September 2014
Sidmouth Under 16s continued their flying start with a sound victory in the League Cup, beating Pinhoe 6.1. Notoriously slow at the start of the season, the team have been out of character taking great form from pre-season friendlies into the league.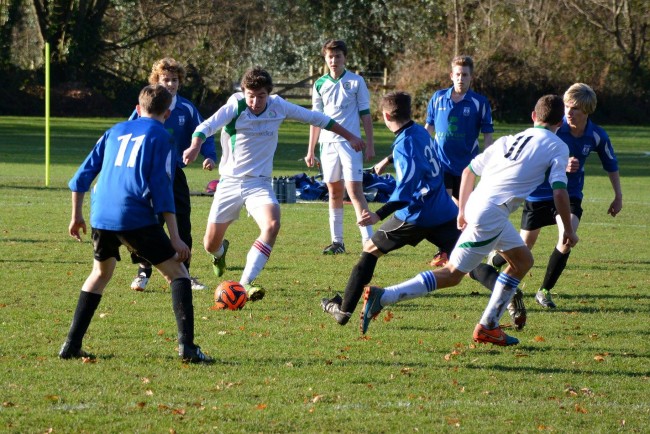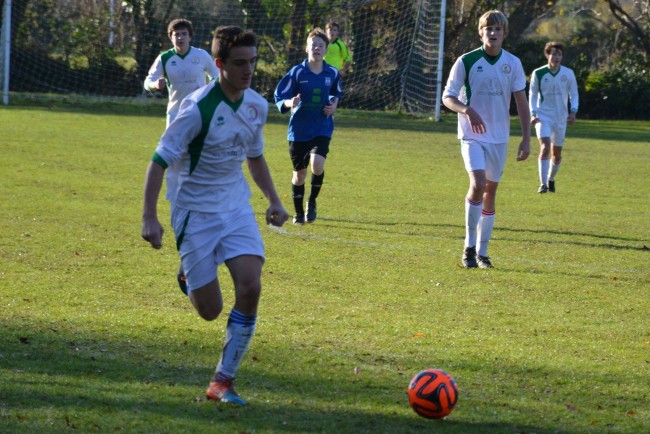 Alphington 0 - v - Sidmouth 2 ... Tuesday 9th September 2014... Match Report Jon Miller
The biggest test however was the first league match on Tuesday evening against ex League Champions Alphington. In a game that would give Sidmouth a real measure of their progress and potential, the team featured strongly in a face paced, athletic and fiercely competitive match. Ten minutes from time Sidmouth took the lead through King, creating a storm of pressure from Alphington on the Sidmouth goal. With the team hanging on and deep into injury time King broke to deliver an outrageous yet precision 'rabona' cross for Jonny Dunn to send the support wild with a drilled header from the penalty spot; broad agreement as the best youth goal those in attendance had seen. So Sidmouth set the early pace in the League and have buried some demons, breaking through to the second round of the League Cup for the first time in four years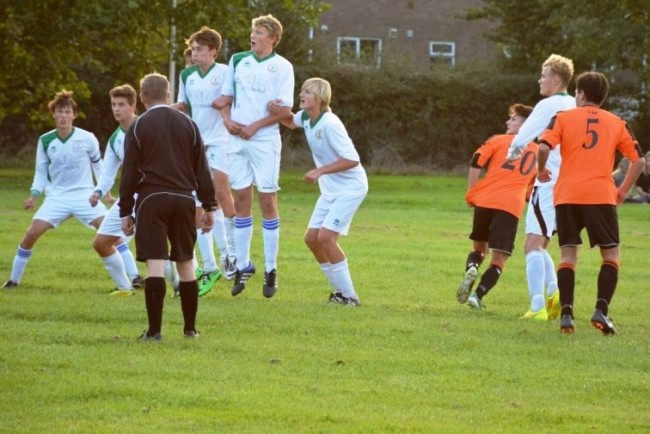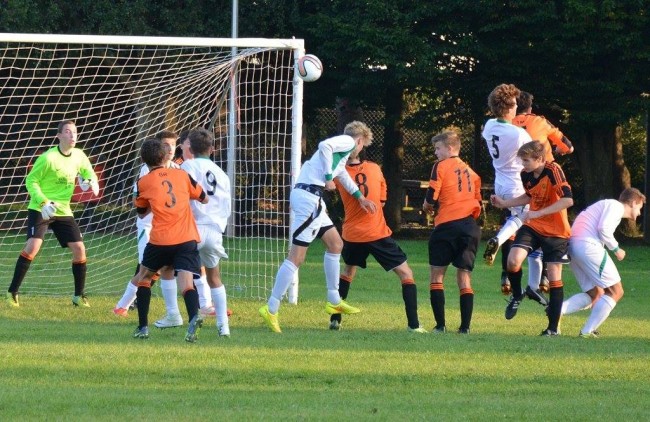 Match Reports Exeter and District Under 16th League Cup
Sidmouth 6 – v – Pinhoe 1 Saturday 13th September 2014
Sidmouth Under 16s continued their flying start with a sound victory in the League Cup, beating Pinhoe 6.1. Notoriously slow at the start of the season, the team have been out of character taking great form from pre-season friendlies into the league.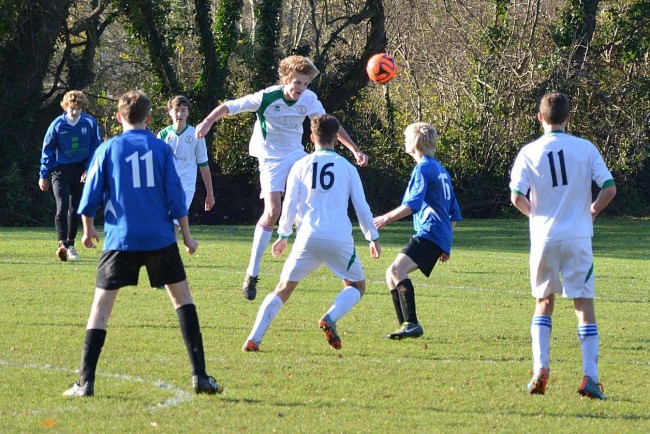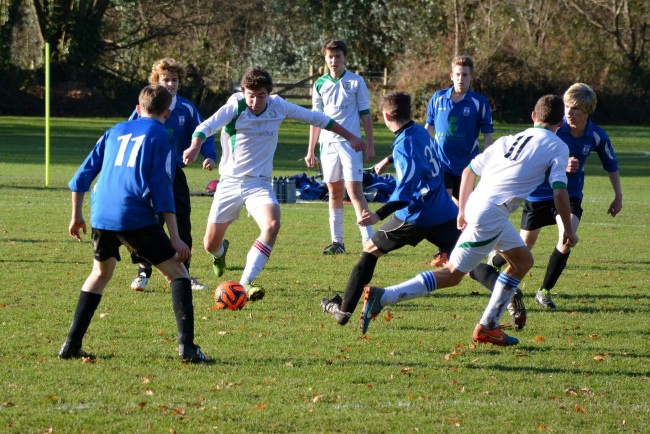 Seaton 2 – v – Sidmouth 4 ...Saturday 4th October 2014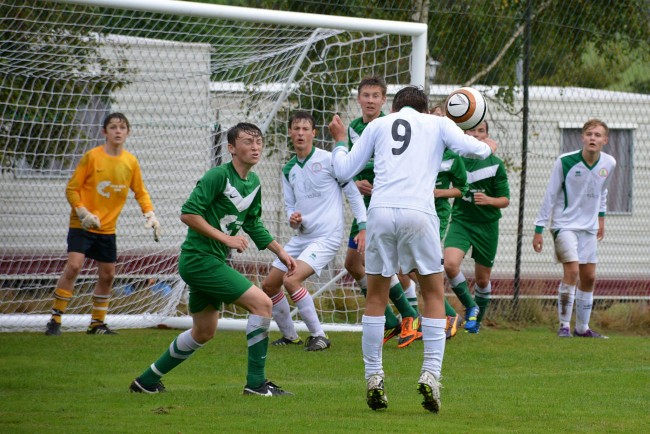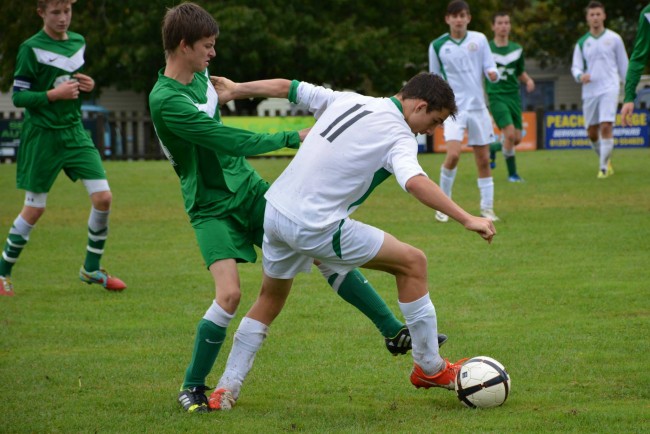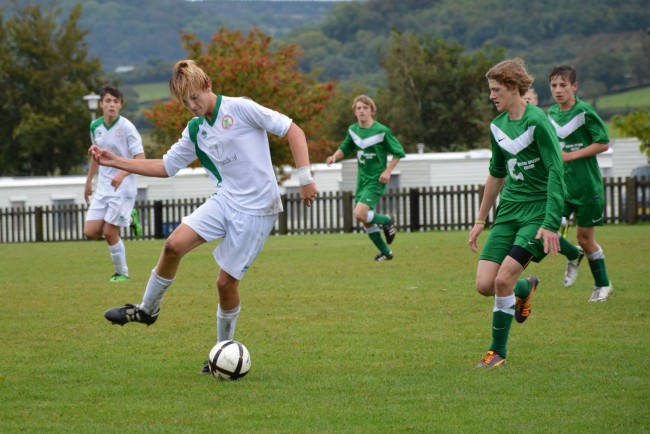 Ottery St Mary 2 – v – Sidmouth 4 ...Saturday 22nd November 2014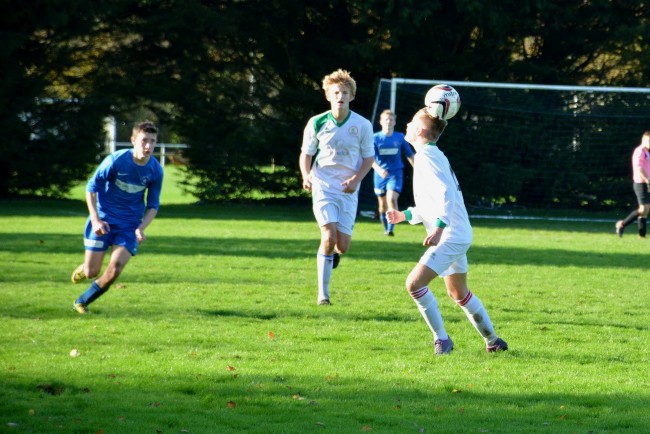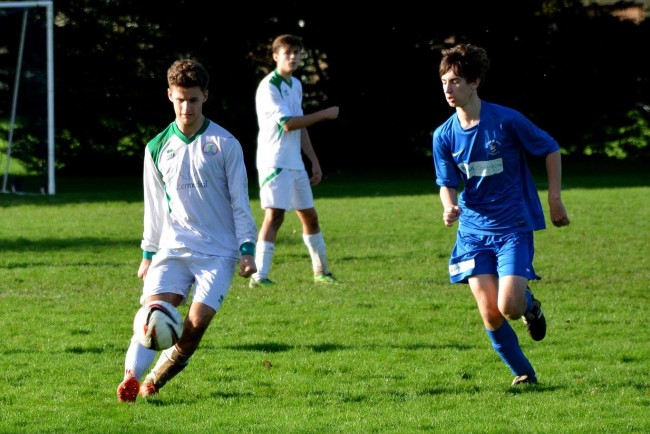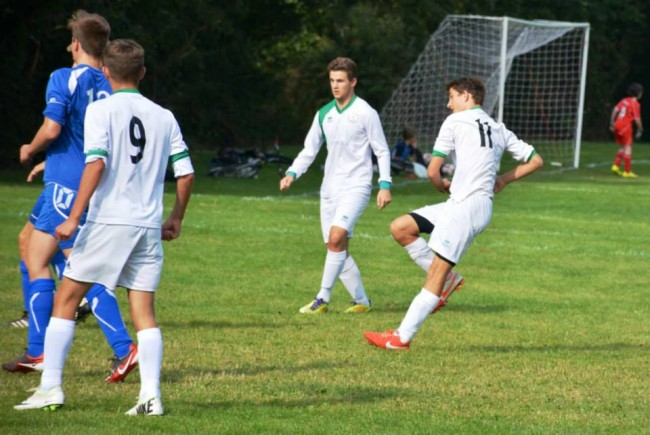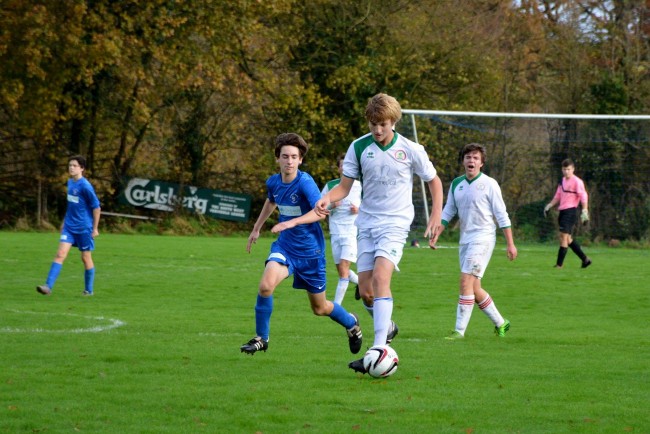 Alphington 2 – v – Sidmouth 1 ..... Saturday 10th January 2015
MATCH REPORTS (DEVON CUP)
Plymstock 3 – v - Sidmouth 0 .... Sunday 23rd November 2104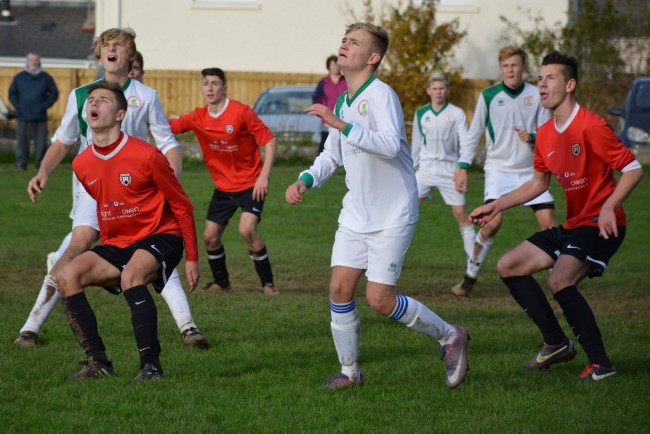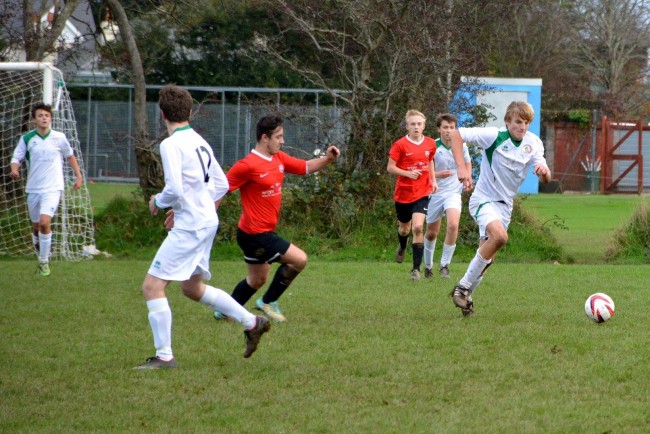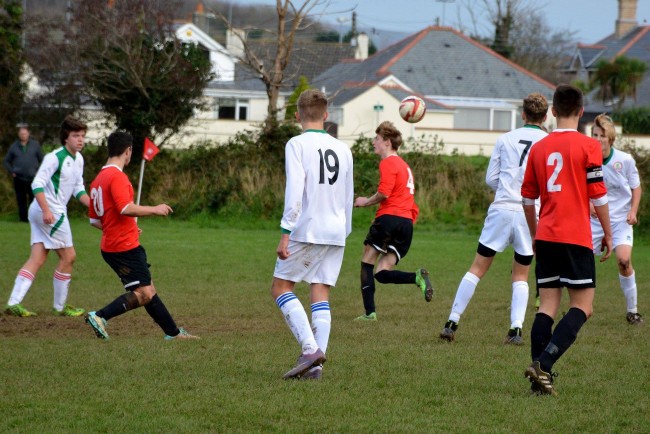 Sidmouth 3 - v - Honiton 0 ...... Sunday 12th October 2014