Sidmouth Raiders 1 North Tawton 1 - 27/02/16
Raiders back in action with entertaining score draw.
Incredibly this was Sidmouth Raiders first game since December 19th, 70 days ago!
North Tawton on the other hand were fresh from last weeks convincing 7-1 victory over Whipton Youth .
However , Raiders showed no sign of being ring rusty and started the first half brightly relishing the chance to enjoy their first taste of competitive football of 2016.
Zak Lascelles was in lively effervescent form causing the North Tawton defence all sorts of problems with his persistent running and getting into great goal scoring positions. It was no surprise when Zak Lascelles got on the end of a move created by a great Yan Mercan cross to finish with aplomb.
Once the second half was underway it was a different story with the match becoming very even and chances created at both ends. Ned Selley demonstrated that he was growing in stature as Raiders custodian with some great saves and defenders Jack Goodman and Yan Mercan were also proving difficult to beat.
Just as it looked as Sidmouth were going to hold out for the victory a spell of pressure from North Tawton resulted in the equalising goal.
Raiders debutant Joe Norris was brought into the fray and looked to be a very useful addition to the team offering plenty of skill and speed and Jamie Salter provided some deft touches.
All in all the two teams will be satisfied with the result and their respective performances and both served up an entertaining game played in the right spirit.
Sidmouth Raiders 4 Whipton Youth 4 - 19/12/15
In the Bleak Midwinter, Raiders serve up a Winter Wonderland.
Sidmouth Raiders took part in a real Ding Dong Merrily on high Salcombe Regis
The first go-al, the Raiders did play,
was to certain poor defenders in fields in the fray,
in fields Whipton played defending so cheap,
in a cold winters midst that was so deep,
Go-al, go-al, go-al, Go-al,
straight from the boot of Zac Lascelles.
Dashing from the throw,
in a move he'll make them pay,
down the wing we go,
Freddie's on his way,
Frank's got skills galore ,
making spirits bright,
what fun it is to shoot and score,
past the goalie who's alright.
Jingle bells, Zac Lascelles,
Hattrick all the way,
oh what fun it is to score ,
in a close game open play, Hey!
Jingle bells, Jingle bells,
Jingle all the way,
Oh what fun it is to draw.
in a great game played today.
Sidmouth Raiders 8 Moors Rhinos 3 - 12/12/15
Outstanding Raiders Decimate Cobras
Raiders were a joy to watch as their attacking free flowing football decimated the Cobras. Sidmouth stated their intent by forcing two corners in the first twenty seconds and soon after the ball was in the back of the net, unfortunately it was the Raiders net!
Shortly afterwards Frank Long effortlessly stroked the ball into goal to level the score after a fine Sidmouth passing move. This triggered a period of stunning attacking play with Zac Lascelles and Frank Long linking up to devastating effect. Raiders stormed into the lead when a delightful Reuben Bennett assist found the increasingly impressive Zac Lascelles who fired home.
Another great Sidmouth passing move lead to Raider's goal number three, also scored by Zac Lascelles .Goal four was scored in a similar fashion by who else , Zac Lascelles . A little later Frank Long skilfully slotted home to make it 5 - 1.
Raiders weren't finished yet and wing wizard Freddie Dorman produced a wonderful cross for Zac Lascelles to gratefully beat the Cobras keeper for the sixth goal. Moors replied to double their goal tally and the Raider's scoring was completed by Long and Lascelles bagging another goal each. Cobras completed the scoring for the match with a consolation goal late in the game.
Zac Lascelles proudly went home with the match ball, however it was an outstanding team performance with the hard-work the players have put into training this season undoubtedly paying dividends on the pitch.
Sidmouth Raiders 1 Feniton1 - 05/12/15
Raiders Have Supporters 'On Edge Of Their Seats'
Sidmouth started the match with only 8 players against a full Feniton team complete with substitutes. Raiders would have been buoyed by their recent fine form but mindful of the fact that they needed to play with energy and determination to get anything out of this game. It was Sidmouth who soon showed their intent through Freddie Dorman who had a great effort denied him and which looked like it may have even crossed the line. Shortly afterwards, Zac Lascelles found himself in space in a great position and fired home to make it one nil Raiders.
In the second-half Feniton started to gain momentum and were able to bring on fresh legs, Sidmouth had to defend resolutely, through Jack Goodman, Reuben Bennett and goalkeeper Ned Selley. Sidmouth by this point were soaking up a lot of pressure and Miles Lewis was on hand to make crucial interceptions and was also able to start some rapid counter attacking moves.

Eventually Feniton were able to find a way through , via a freak goal to level the scores.

Raiders had their chances with some great assists from Josh O'Connor to find the forwards, only for them to be denied by the in form Feniton keeper or shot shoot centimetres wide.
Raiders took the plaudits for another great performance and contributing towards an exciting game
which had their supporters 'on the edge of their seats.'
Sidmouth Raiders 11 City Raiders 0 - 29/11/15
Raiders Open The Scoring Floodgates
Sidmouth Raiders convincingly won the battle of the 'Raiders' by thrashing their Exeter based rivals.
The way the Sidmouth Raiders have been performing recently they have have been threatening to open the goalscoring floodgates which they duly did with avengence against City.
Raiders dominated this game from start to finish with Sidmouth able to play with all members of the team contributing to this great win. Jack Goodman was moved to a midfield position where he proved his versatility by looking very comfortable in this role and was unlucky not to score. In defence Reuben Bennett was in particularly combative mood .
Josh O'Connor & Frank Long topped the scoring charts with four goals (a double brace) each, Zac 'attack' Lascelles scored two and a Freddie Dorman goal completed the scoring.
North Tawton Youth FC 1 Sidmouth Raiders 0 - 21/11/15
Sidmouth go home empty handed but with pride intact
Sidmouth Raiders travelled to the farthest extremities of the Devon and Exeter youth league facing North Tawton youth in the midst of a windstorm.
An enthralling match of excellent football ensued ,despite the conditions, with Raiders wisely playing the ball on the floor and dominating possession, with North Tawton posing a threat on the counter attack.
Frank Long showed his abilities with some sublime skills , however the opposition goalie was also in great form. Wingers Jamie Salter and Freddie Dorman were getting into good positions and posing problems for North Tawton, but their skilful football and superior possession was not able to be converted into goals.
Second half, North Tawton came back into the game but with Raiders keeper Ollie Keast making some great saves and defender Jack Goodman reading the game so well they were able to snuff out any NT attacks. Sidmouth themselves almost opened the scoring with Ned Selly unlucky not to get on the end of an inviting Raiders cross.
Just when a nil nil was looking inevitable North Tawton broke free and were able to find the net, to cruelly leave Sidmouth going home empty handed but with plenty of confidence for the rest of the season.
Twyford Gladiators - 07/11/15 - Match Postponed
Dawlish 4 Sidmouth Raiders 1 - 24/10/15
Raiders excel in battle against adversity
Sidmouth travelled to Dawlish for the first time , in a real battle against adversity. A decimated Raiders team faced in form unbeaten Dawlish , Sidmouth playing the whole game without their main goalkeeper and with only 8 players and no subs.
Raiders held their own in the first half and were able to play some great football in the wide open spaces that the near full size pitch offered. Stand-in goalie Owen Baldwin was in great form as both a stopper and a sweeper, unfortunately just before half time Dawlish opened the scoring.
Second half , Sidmouth equalised through Frank Long who waltzed through the Dawlish team, on a run reminiscent of Best/Gazza in their prime and slotted the ball home.
Raiders' legs were beginning to tire and despite a heroic and impressive display, the one player advantage , and fresh legged Dawlish substitutes being brought into the fray resulted in Dawlish finding the net three more times.
Sidmouth can be proud of their of performance , their never say die attitude and the level of football played which at times was outstanding.
Sidmouth Raiders 7 Honiton Demons 1 - 10/10/15
Seaton 6 Sidmouth Raiders 2 - 03/10/15
Raiders Play Their Part in 'Game of Two Halves'
In the world of football cliches a game of two halves is one of the most infamous, and for Sidmouth Raiders game against their close rivals Seaton it proved very accurate summary of the match.
Raiders found themselves with an uphill struggle with Seaton using the slope to their advantage, to quickly break on the attack . Whenever Sidmouth countered they found the Seaton back line resolute and not afraid to use the offside trap. The first half finished five nil in the home team's favour.
In the second half Sidmouth were completely rejuvenated and started playing with belief and determination to get back into the game. The Seaton goalie had to be on top form to deny the Raiders .
Suddenly, Josh O 'Connor kept the ball in play when all looked lost and found a great cross for Frank Long to apply the finishing touch, 1-5. Seaton then replied with another goal against the run of play , 1-6. However, Raiders were to have the final say with a great Josh O'Connor goal to make the final score overall 2-6 , with Sidmouth unquestionably winning the second half contest.
Whipton Youth 5 Sidmouth Raiders 2 - 26/09/15
Moors Cobras 2 Sidmouth Raiders 5 - 19/09/15
Raiders continue their sparkling form
Sidmouth Raiders continued their sparking form with another dominant and impressive display against Moors Cobras.
Almost immediately after the kick off Josh O'Connor was on the end of a Freddie Dorman cross to direct the ball into the net.
Chance after chance was created with the shots raining in on the Cobras goal.
the Raiders did find the net again only to be disallowed for offside.
Raiders persistence paid off and it was only a matter of time before they overcame the persistent offside trap. Zac Lascelles doubled the score to make it 2 - 0.
An excellent Owen Baldwin brace either side of Cobra goal made it four one. Frank Long's long runs from deep had caused Moors problems all game and he finally got the goal he deserved to complete the Raiders goals tally, with Cobras getting a late consolidation , final score five two Raiders.
Feniton Youth 2 Sidmouth Raiders 5 - 05/09/15
Sidmouth Start Season In Style
Sidmouth Raiders started the season in encouraging style with an emphatic victory over Feniton Tigers.
It was the Raiders who earned their stripes by roaring into the 2015/16 season in style!
After a great deal of early Sidmouth pressure Feniton finally caved in as Frank Long skilfully slotted home following a neat assist from Josh O'Connor. However, Feniton equalised completely against the run of play to leave the scores level at Half-time. Raiders continued to dominate the game with some great passing and pressing creating numerous chances , and found the Feniton keeper in top form.
From a Raiders point of view all the team were playing to their potential and close season acquisition Jamie Salter was looking impressive , finding space and deftly creating numerous chances.
The Raiders scoring was doubled when Frank Long rounded the goalie and walked the ball into the net . After Feniton handled in the box, Josh O'Connor smartly despatched an unstoppable penalty to make it 3-1 Raiders.
Feniton broke away again to score , but Raiders responded well as Frank Long scored the fourth Sidmouth goal completing his first hat-trick of the season with a cheeky flick.
Second half, energetic trio, Owen Baldwin, Zac Lascelles & Ned Selley were all introduced into the fray . It was Owen Baldwin completed the scoring with a satisfying scintillating shot to make the final score 5-2 . This went some way towards the score justly reflecting the Raiders almost total dominance of this match. It would be impossible to pick a man of the match with all players all playing to their strengths
and combining expertly to make Sidmouth Raiders look like a very formidable proposition this season.
Sidmouth Raiders Team Line-Up 2015-16 Season - Thanks To New Sponsors Chatham Limited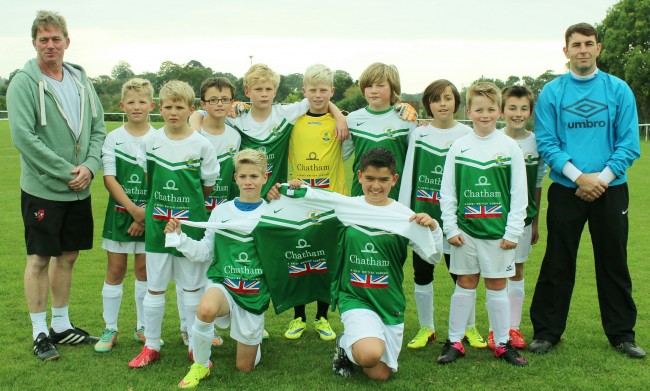 Raiders line up back row from left to right, Merv Salter (assistant coach), Zac Lascelles, Owen Baldwin, Jamie Salter, Jack Goodman, Ollie Keast, Reuben Bennett, Ned Selley, Josh O'Connor, Freddie Dorman, Mark O'Connor (coach).
Front row left to right Frank Long, Yan Mercan.
Missing from photo Miles Lewis.